Delaware Limited Liability Company is considered the most widely-selected type of business entity in the State of Diamond. This blog article is a can't-miss guide for foreign investors.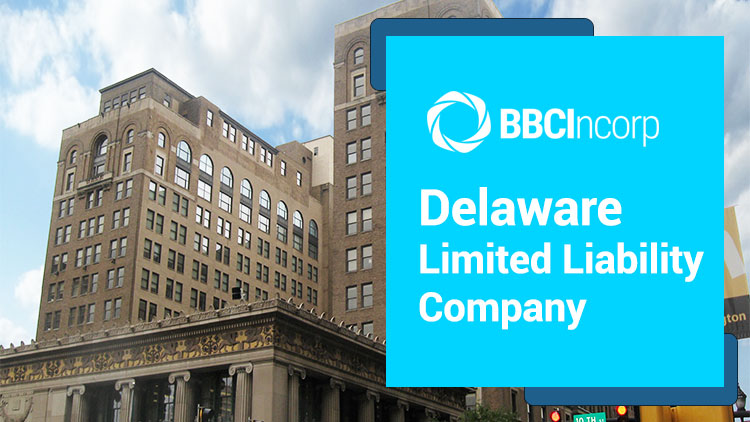 1. What is a Delaware limited liability company?
Delaware limited liability company (LLC) is the most widely-selected type of business entity in Delaware, especially for non-US residents. It is evident that there were 165,910 Delaware LLCs incorporated in 2019, according to statistics of the Delaware Division of Corporations. Ranked second in terms of the popular type of company is Corporation, which constituted at 45,405 in total.
A limited liability company in Delaware is a separate legal entity that integrates many of the good attributes between corporations and partnerships. It is commonly known as a pass-through entity for tax purposes.
Delaware LLCs are well governed by the state statute. Delaware Limited Liability Company Act which is clearly specified in Chapter 18, Title 6 of Delaware Code, is the key law for any existing and would-be LLCs in Delaware. It is worth mentioning that LLCs are strongly attached to contracts or LLC agreements, meaning there is no obligation for this type of entity to follow all regulatory requirements. This, outstandingly, facilitates the high degree of flexibility of LLCs in Delaware.
2. What are common types of Delaware LLCs?
Delaware limited liability companies can be divided into different types.
Based on the State in which the LLC is established: Domestic LLCs vs Foreign LLCs:
Delaware domestic LLCs refer to LLCs registered in accordance with the laws of the State of Delaware. A domestic LLC may have one or more members.
Foreign LLCs are registered under the legal system of other states of the US, or of other countries outside the US. Note that LLCs organized outside of Delaware must register with the Secretary of State of Delaware before conducting business in this state.
Based on the number of members/ownership of the LLC: Multi-member vs Single-member Delaware LLCs:
The number of LLC members can considerably affect how that LLC would be treated by the Internal Revenue Service (IRS). Particularly, a Delaware domestic LLC is categorized as a single-member LLC and a multi-member LLC.
Single-member Delaware LLC: The company only has one member who takes full control over the company.
Multi-member Delaware LLC: The company has at least two members sharing the control of the company. Proportions of profits or losses allocated among these members shall be determined by the LLC. Normally, there is no maximum number of members in this type of LLC, except in the case that LLC opts for S-corp status for tax purposes.
Delaware Series LLCs – Another distinct type of Delaware LLC that you may feel interested in
This is a uniquely designed structure in Delaware. Many states do not have and may not recognize this type. Businesses can organize a parent LLC and then incorporate a series of separate LLCs under the parent one. They are called Series LLCs.
Delaware Series LLC is typically ideal for real estate investors. The biggest perk for choosing Delaware Series LLCs is cost-saving. Evidentially, the protection series LLC just needs to pay one-time franchise tax and registered agent fees as one single entity, regardless of how many series to be held in that series LLC.
Noticeably, each series can also act as separate entities, meaning each can go into its own contacts, have limited liability protection, and even elect its desired tax treatment.
3. Why forming Delaware LLCs but not others?
Non-resident aliens are more likely to prefer Delaware LLCs to other types of business entities.
One striking reason is business laws in Delaware. This, in fact, is the result of the well-established legal system in the Diamond State. The corporate-friendly laws in Delaware represent cutting-edge efficiency and high levels of flexibility, which entices most foreign investors. The Delaware Court of Chancery is in the spotlight when coming to business-related lawsuits. It is also renowned as the base of the US corporation case laws.
You should not miss out on the simplicity of incorporation in Delaware. This is crucial for most startup businesses and investors. There are fewer requirements of required documents for LLC formation in Delaware as compared to some other states in the nation. The same goes for procedures of maintaining a limited liability company in Delaware. These LLCs do not need to file annual reports or hold annual meetings like other types.
Delaware LLCs are attached to many tax benefits as well. Remarkably, there is no corporate tax on the LLC's income arising from outside of the US. The State also imposes no tax on intangible assets, making it ideal to be home to holding structures. For non-resident aliens of the US, they can earn an exemption of the US federal taxes for their non-US business activities as well.
It is also noted that by establishing an LLC in Delaware, companies can have a chance to easily remove many corporate formalities, namely minutes, meetings, bylaws since they can self-regulate in their LLC Operating Agreement.
Wish to learn more about other merits of forming Delaware LLCs? Read our blog Advantages & Disadvantages of Delaware LLCs
4. What are the key features of a Delaware limited liability company?
As aforementioned, Delaware LLC is a hybrid assortment of stand-out features between corporations and partnerships. Such hallmarks favor both investors and US non-residents, making LLC the most widely-selected type of company in Delaware. It is a distinct legal entity and totally separate from the owners of the company.
One more difference of Delaware LLCs from corporations is the LLC Operating Agreement. This is a contract composed by the members of the company which specifies all related matters of the LLC such as the structure, management, and operation of the company. This agreement is special as it is excellently flexible and can be customized according to the members' desires, not mandated to follow some of the state laws like other types of business entities.
Furthermore, limited liability companies in Delaware are also combined with the following attributes:
Ownership. Delaware LLCs do not have directors and shareholders but include managers and members. With just one member, you can still register a Delaware LLC.
Liability. Members of LLCs in Delaware hold limited liability only to the amount of their investment into the company. To simply put, managers and members shall not personally be responsible for debts and obligations of the LLC.
Asset protection. Personal assets of Delaware LLCs' members are well protected in the event the company falls into debts and other legal or financial insecurity.
Tax structure. A limited liability company in Delaware is a pass-through entity for tax purposes. It means it would not be taxed at the corporate level. For federal tax purposes, there are different ways on how a single-member and multi-member LLC can be taxed. Do scroll to the next part to get more insights into taxation for an LLC in Delaware.
Anonymity. Delaware LLCs are given better privacy as compared to corporations. A limited liability company in Delaware offers a high level of privacy. Accordingly, names and addresses relating to the LLC members would not be publicly disclosed both on the formation documents and in their filings.
5. What are Delaware LLC tax rates?
Are you wondering how much Delaware LLC tax rates are?
It is good to know that a Delaware LLC not carrying on business inside of the state is NOT subject to the state corporate income tax. If you are a non-resident in the US without any US business activities conducted, you do not need to pay the US federal tax as well.
With regard to federal tax purposes for normal LLCs in Delaware, there may be some different methods on deciding how an LLC is taxed. Typically, Delaware LLCs, if not filing Form 8832 and affirming an appropriate corporation tax treatment with the IRS, must follow the below tax structure:
For a single-member LLC. It will be taxed as a "disregarded entity" in terms of tax purposes, meaning that, for income tax purposes, this entity is not recognized to have separate legal status from its owner. As a result, the sole member of this LLC must submit a tax return of its income and loss (corresponding forms) as either a sole proprietorship or a corporate branch treatment.
For a multi-member LLC. From two members or above, Delaware LLCs are treated as a partnership, and therefore they shall pay income tax as a partnership. In such cases, the individual partners are those who will be taxed according to their shares of ownership.
Annual tax. All limited liability companies incorporated in Delaware must be subject to an annual tax of $300 by 1 June each year.
6. What are the costs and requirements for incorporating a Delaware LLC?
To embark on a business venture in Delaware as an LLC, determining associated fees and conditions before establishing is relatively crucial. Below are keynotes of costs and requirements you should consider:
Costs included: Two must-pay types of Delaware LLC costs are the filing fee of the Certificate of Formation, and the fee of reserving your company name with the Delaware Division of Corporations. Some businesses may wish to save time and have things done efficiently, seeking trusted incorporation service firms is a wise choice. But, keep in mind you should prepare an amount known as service fees for such fast-and-convenient use of service. (Normally, incorporation firms will involve all related fees in their packages)
Save your money with BBCIncorp's Delaware Formation Packages
BBCIncorp has closely partnered with Wise and Payoneer to offer effective banking solutions for Delaware LLCs. Tax filing is also a matter of concern for most Delaware LLCs incorporated by non-US residents, and the good news is that TaxHub, our partner, can help with your tax situations in an efficient manner. Privileges from TaxHub for BBCIncorp's clients are 10% discount code, plus a free 30-minute CPA consultation with specialists.
Naming requirement: Eligible names when registering an LLC in Delaware must meet certain criteria as prescribed by the law.
Registered office and registered agent: It is required that any LLC registered in Delaware must have a registered office (not mandated to be a place of business in Delaware) and a registered agent within the state. As a compliant duty, all LLCs need to maintain their registered agent annually.
7. How to set up a Delaware LLC?
Delaware company incorporation is made easy with straightforward procedures. A limited liability company in Delaware can be set up with 3 simple steps:
Decide on the company name. The proposed LLC company name in Delaware needs to satisfy certain requirements. In particular, the name must end with "limited liability company", "LLC", or "L.L.C", and it should not be identical to any other existing company names. An approved company name would be granted a reservation for 120 days.
File an LLC Certificate of Formation. There are some corresponding forms for each type of limited liability company in Delaware from the government. Applicants can choose to self apply or seek assistance from incorporation service providers for the Certificate application with the Division of Corporations. Note that the company name, name, and address of registered agents are must-have information to acquire the stamped Certificate.
Get the stamped Certificate. The final result tends to be informed during several weeks, depending on the service you have selected. Once you have received the filed Certificate of Formation for your Delaware LLC, you complete the registration process.
Read our blog How to Register an LLC in Delaware (in Only 3 Steps) to find out more!
8. What are additional requirements?
Business licenses and permits. To legally operate a business in Delaware as an LLC, you must apply for certain business licenses with the competent authority in Delaware. Both online and mailing applications are acceptable. In addition to the state licensing matters, your company may be required to obtain business licenses at the federal and local levels as well.
Foreign qualification. Assume you incorporate an LLC in Delaware, but wish to conduct business in another state of the US. In such cases, you are required to obtain a qualifying foreign certificate (Certificate of Authority) with that other state. In many cases, a Certificate of Existence may need to be submitted along with the filing of your foreign qualification.
Change of classification. Changing the classification is able to significantly impact the tax status and related advantages on your entity in Delaware. Remarkably, Form 8832 is used to determine how LLCs are classified for federal tax purposes. They can be treated as a corporation, a partnership, or a disregarded entity. You can get a sample of this form here.
Dissolution of a Delaware LLC. Limited liability companies in Delaware can be dissolved involuntarily by court order, or voluntarily by the members of the companies. How an LLC in Delaware is dissolved will be discussed in our upcoming blog articles.
Are you about to incorporate a limited liability company in Delaware? It is a wise choice to have an incorporation service provider like BBCIncorp to get everything done for you. Save your time and save your money as our all-inclusive package can meet the different demands of your business. You may now need more information about this most common type of company in Delaware, so just feel free to contact us now.