As a small but beautiful country situated in Southeast Asia, Singapore is long known for its ideal environment to invest in. It is undeniable that this country has a lot to offer in terms of a pro-business environment, a favorable tax system, and a top-notch banking system. And now the important question arises, how to set up a company in Singapore?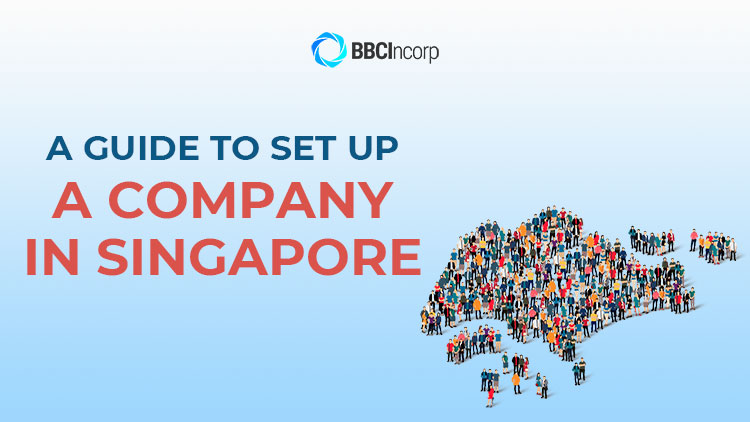 Let's buckle up, and take a glance at our guide on how to set up a company in prestigious Singapore!
1. Reason you should opt for Singapore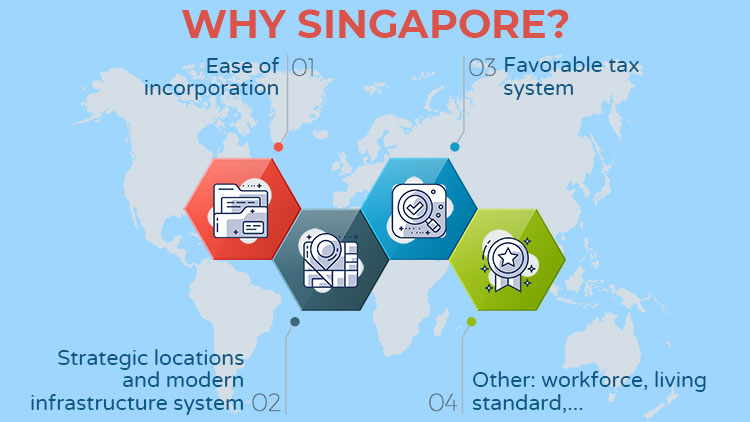 Like many other foreigners, if you still wonder why you should open a company in Singapore, below are the reasons that make you make up your mind:
Ease of incorporation: submit your required documents and application online and get your company ready in 24 hours.
Favorable tax system: low tax rates and many beneficial schemes are what your company needs to legally pay lower bills.
Strategic locations and modern infrastructure system: easier to conduct business overseas and operate your company.
Other perks: a highly qualified workforce, great living standards, open immigration policy, and exquisite intellectual property regime.
2. Five steps to set up your company in Singapore
With the following easy-peasy steps, you will know how to set up a company in Singapore in no time!
Step 1: Pick your ideal business structure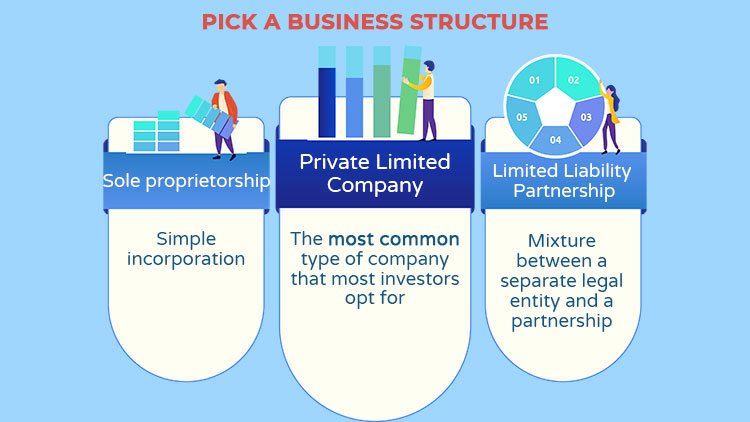 Though the first thing to do is pick your company type, you still need to perform a pre-step called: Evaluation. You must evaluate your company's needs and sizes, your financial ability, and your company's features that you seek before choosing the best-suited types of business structures.
Below are the most common types of business structures in Singapore:
Private Limited Company (Pte. Ltd). It is no doubt that this is the most common type of company that most investors opt for.
Sole proprietorship. Most business owners go for this type of business structure because of its simplicity in terms of incorporation.
Limited Liability Partnership. This one is an interesting business type: a mixture between a separate legal entity and a partnership.
Registering a company in Singapore can be a little bit different between business entities. However, this article shows you the incorporation process of the most common business type – a limited company.
Step 2: Select your company formation services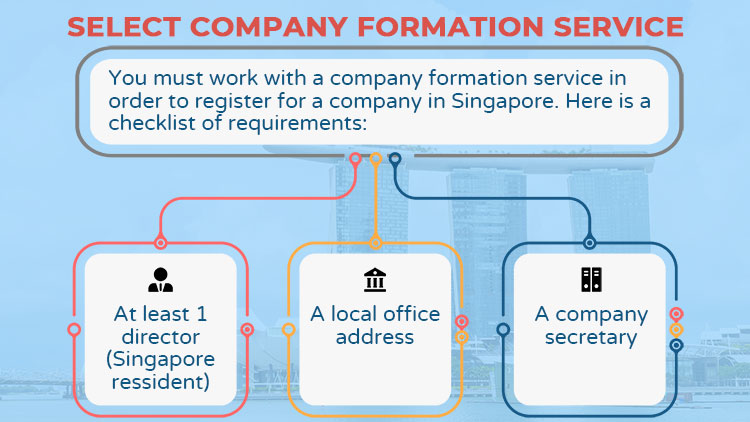 In Singapore, the Accounting Corporate Regulatory Authority (ACRA) is in charge of all business registration and all business operations. And as per this national agency, in order to register a company in Singapore, you must work with a company formation service and have them submit the application on your behalf.
Here is a checklist of requirements that you need to fulfill:
Have at least 1 director who is a Singapore resident
Have a local office address
Have a company secretary
Be noted that having a company secretary can be assigned within 6 months after the incorporation succeeded.
Step 3: Choose your company's name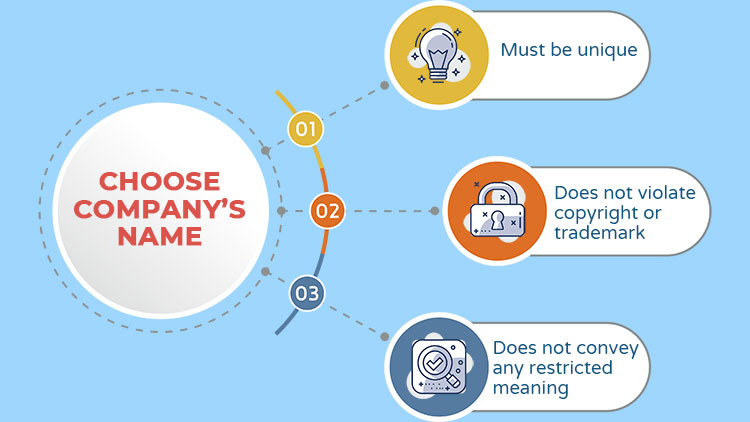 After finishing the above steps, the next step is to choose a unique name for your company. Below are some criteria for choosing a company's name in Singapore:
The name should be unique and completely different from the existing ones (reserved ones included).
The name is obliged to not violate any copyright regulations or commit any trademark infringements.
The name does not imply any vulgar, obscene sense, or even prohibited terms.
The incorporation service provider that you pick in the last step will be the one registering this name on your behalf via BizFile Portal. ACRA will put your name under examination and give the approval within hours later.
Still, the waiting time for approval can be longer (up to a few days) if your company's name needs to get approval from another government agency. Your company's name can be reserved for a maximum of 120 days.
Step 4: Proceed to register your new company
Now you are almost all set to process the company formation. But first, you need to submit the required documents to your service provider as they are the one who is responsible for the incorporation process on your behalf.
The fundamental requirements include: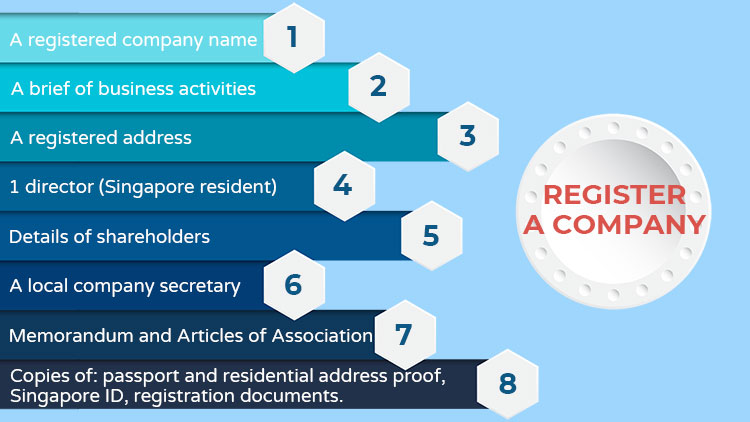 Step 5: Receive your incorporation result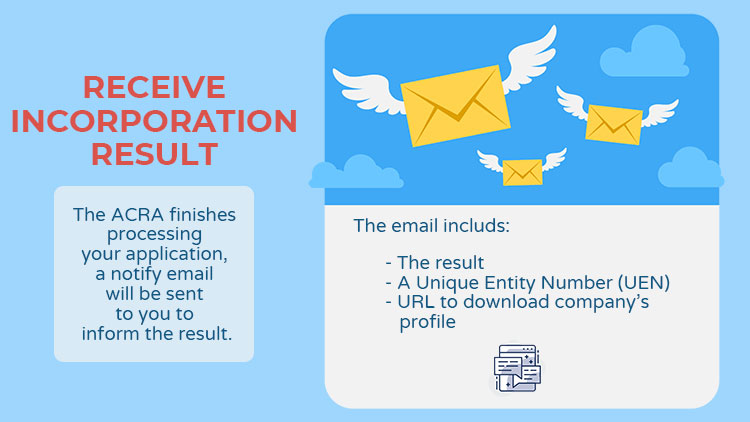 Taking advantage of the BizFile Portal, the incorporation process only takes 24 hours. As soon as the ACRA finishes processing your application, a notify email will be sent to you to inform the result.
This email also acts as an online registration certificate of your company if you register your company successfully. The email also includes a Unique Entity Number (UEN) – the number that is used with all company transactions with government agencies.
What's more? The email also contains a special URL that you can access and download your company's business profile.
3. Additional steps after incorporation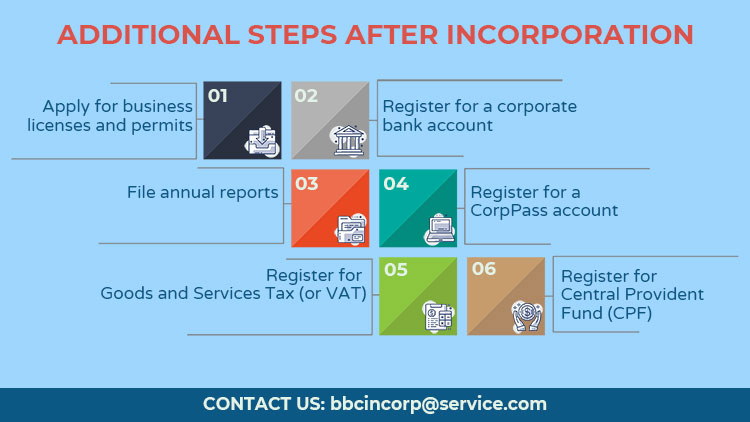 3.1 Business license and permits
So, your company is ready to run its businesses, theoretically. Be noted that some business sectors in Singapore are obliged to have a business license or permit.
If you are about to start a business in the following fields, make sure you get a corresponding business license/permit:
Restaurants
Institutes with educational purposes
Travel agencies
Financial agencies
Goods import or export
Employment agencies
GoBusiness Licensing is a newly-developed portal that makes applying for a license/permit easier than ever. However, an expert's advice is necessary for this situation.
3.2 Corporate bank account
When it comes to the corporate bank account in Singapore, there is a wide range of prestigious banks to choose from. To make the competition more intense, a lot of banks have carried out many favorable policies and services that business owners (like you) can benefit from.
Our recommendations are:
If you're into local banks: DBS, OCBC, and UOB
If it's international banks that you prefer: HSBC, Citibank, and Standard Chartered
One drawback of Singapore banks is that a direct meeting is compulsory in order to open a corporate account. Still, ever since the pandemic, many banks have offered online meetings for bank account opening services.
3.3 Annual maintenance filings
Finally yet importantly, to legally manage and maintain your company, you must comply with the following requirements:
Hold the annual general meeting
Appoint a company secretary (within 6 months after the successful incorporation)
Appoint an auditor (within 3 months after the successful incorporation)
Appoint an auditor
Pick Financial Year End (FYE)
Maintain statutory registers
File annual reports
3.4 Other issues
Register for a CorpPass account. CorpPass is an official and only login method for a company to make transactions with the government.
Register for Goods and Services Tax (GST). You may know of GST in a more common name – VAT. According to the Inland Revenue Authority of Singapore, if your company's taxable turnover exceeds S$1million, you must register for a GST.
Register for Central Provident Fund (CPF). This is a scheme with the purpose to encourage employees to fund their future needs (including retirement, healthcare, and housing).
4. Conclusion
At the beginning of this article, we all agree that Singapore offers tons of benefits for foreign investors. But now, the easy and straightforward incorporation process is what sets Singapore apart from other countries. Check out our Singapore Incorporation Service.
Should you have any questions in terms of how to set up a company in Singapore, we – BBCIncorp are always here to help. Drop us your queries at service@bbcincorp.com.