It is crucial for any entrepreneur to make a decision on where he/she wishes to register their company. "Offshore", "Onshore", "Mid-shore" terms refer to different types of jurisdiction in which a company can be registered. In this article, we will shed light on key differences between offshore and onshore company, together with discuss some features of mid-shore model.
1. Onshore vs Offshore company: Differences in its nature
1.1. Definition "offshore" vs "onshore"
Getting started with the term "offshore" can make you easier to understand this type!
Offshore generally indicates another place, regardless of its land or water-based, situated outside of your national boundaries. So, what is an offshore company? An offshore company refers to an entity incorporated or registered in jurisdictions that provide favorable tax treatments, especially tax-free or low tax advantage. A key highlight for any offshore company is that it is not allowed to carry out any business activities within the jurisdiction where that company is incorporated/registered.
There's a striking contrast between onshore vs offshore company.
An onshore company illustrates the entity registered or incorporated in a nation and its sole purpose is to conduct business within that particular country. An onshore company does not attach to any kind of preferential tax treatments like the offshore company. Due to this distinct feature, most onshore companies are typically registered in an economically developed jurisdiction with a high tax rate applied.
1.2. Advantages of onshore vs offshore company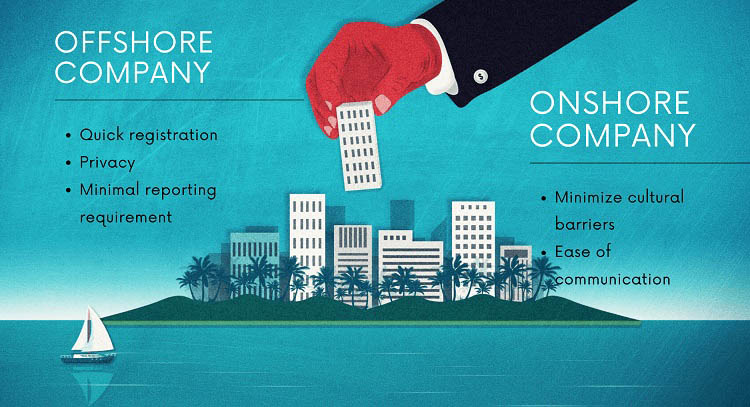 Every year, there are millions of offshore companies to be registered in popular offshore financial centers, namely Belize, Seychelles or The British Virgin Island. New start-ups, entrepreneurs, SMEs or foreign investors have been considering the use of offshore structures as the trend!
Many may wonder:  Why choose an offshore company? Well, in addition to a range of tax benefits, an offshore company can bring you a range of advantages:
Can be registered quickly just for several days, or even 24 hours.
Can obtain more financial and privacy-related advantages. Evidentially, an offshore company, more often than not, can benefit from:

Minimal financial and auditing requirements
No monetary control
No obligation for company owners to reside in the offshore host country
Another key difference between onshore and offshore lies in its incorporation process. You can have an offshore company incorporated through a faster and simpler procedure compared to that of an onshore company.
On the opposite side, an onshore company is a widely-used option thanks to two key benefits as below:
Minimize cultural as well as language barriers for foreign business;
Offer ease of communication process as well as monitoring the business outsourced projects thanks to the same time zone
1.3. Disadvantages of onshore vs offshore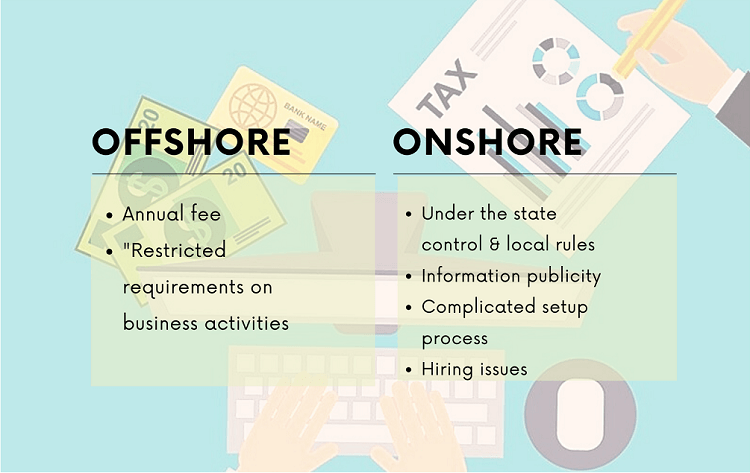 Despite some of its outstanding features, using an offshore company has some drawbacks as the followings:
Normally, offshore companies are subject to a fixed amount of fees on an annual basis.
In order to be qualified as a legal offshore company, the particular company also must satisfy certain requirements of which its business activities should not fall into some "restricted" categories for conducting business as per in the rules of the offshore jurisdiction.
It is also noteworthy that making the decision on the best-fit offshore jurisdiction for a company can take much of time and require great efforts of research. It is highly recommended that you should engage a trusted service provider to save time and resources if you are planning for offshore company formation.
Onshore companies, on the contrary, link with some challenges that onshore seekers should take into account:
Onshore companies are more likely to conduct most of their businesses in the country of registration; therefore, they are required to comply with the state control and the local set of rules as well.
Unlike offshore company which can benefit from non-disclosure treatments in some offshore jurisdiction, identity details of onshore company owners are less privacy. Most information of beneficial owners of an onshore company is normally divulged to the public.
For an onshore company to be established you also need to prepare for a more complicated process and more money to deal with the hiring and training of employees.
2. Mid-shore: Feature between onshore vs offshore company
It may be lesser-known when it comes to the "mid-shore" term.
As its name denotes, "mid-shore" stays somewhere between "offshore" and "onshore". In fact, a mid-shore company is an entity that is featured of both offshore and onshore. This type typically is suitable for non-resident companies who wish to expand the business internationally with various partners throughout the world.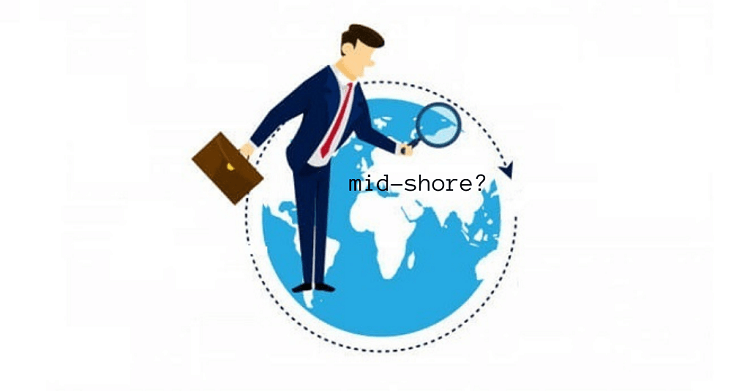 It is noted that despite bearing similar facilities like offshore jurisdictions, mid-shore locations set out specific structures and procedures for the company incorporation.
Mid-shore company is a combination of offshore and onshore ones; thus, it also offers a fair tax rate for business with all international laws regarding tax transparency guaranteed, and allows them to open bank account worldwide. The increasing popularity of mid-shore jurisdiction for company incorporation is obvious, and it is believed to be a more preferred option for international companies in the future.
Examples of some common mid-shore countries include:
Singapore
Hong Kong
Malta
Cyprus
Labuan
Ireland
UAE
3. Onshore vs Offshore vs Midshore Company: Where should I choose?
Now you know difference between onshore vs offshore company. The onshore company is a good choice for the proximity and easy communication, meanwhile mid-shore company is growing its popularity for great features between onshore and offshore. Remarkably, offshore companies now are to be a top of trend for most investors looking for doing business overseas by dint of its attractive benefits.
Different types of companies will be appropriate for different companies' goals and demands. It is important to distinguish these types and consider whether offshore, onshore or mid-shore is best suited to your company.
Still feel uncertain about your best-suited type of company? Don't hesitate to contact us via email service@bbcincorp.com, or drop us a live chat with our expert!