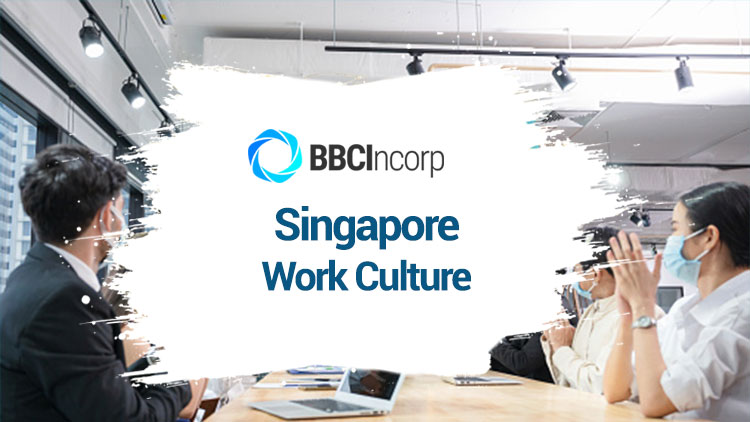 Singapore has been ranked as one of the top working environments among other countries due to favorable working conditions, thriving economy and stable political system. However, there are stills certain traits uniquely pertaining to the local workforce caused by its ethnic diversity and Asian-rooted culture.
If you are planning to start a business venture or a career in Singapore, it is necessary for you to have a look into its work culture in order to avoid culture shock and quickly migrate to the dynamic and talented workforce.
1. Overview of Singapore Work Culture
For a significant period of time, more and more foreign businesses have made their presence in Singapore and invested much of their resources into the economy, due to many particular reasons. Therefore, it appears to be the case that the work culture in Singapore has gradually become a mixture of the culture in the East and that in the West.
As of June 2019, there are 4.03 million residents (citizens and permanent residents), which accounts for more than 70% of the population, and the non-residents take the rest 30%, approximately 1.68 million.
Furthermore, the growing number of businesses has also made Singapore become a highly competitive environment. Thus, it is crucial for you to learn and adapt to Singapore work culture, whether you are a business owner or an employee.
2. Culture Diversity
Singapore is well-known for being a multi-radical and multi-cultural country. The majority of 76.2% of its citizen population is Chinese, 15% is Malays and 7.4% is Indian.
Due to multiple cultures, there 4 official languages which are Malay, English, Mandarin and Tamil. Among them, Malay is the national language meanwhile English is considered as the main language for both working and education.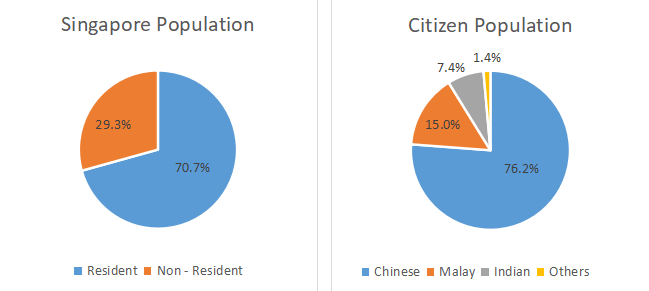 These facts indicate that Singapore work culture is much more Asian-oriented. To be more specific, compared to the West, the work culture in Singapore may be more hierarchical, group-focus, and stricter with more rules.
So, the advice here is that you should spend some time on learning the work culture of Asian in general, and particularly that of Chinese and Malay, since they account for most of the Singapore population. Commonly, respect should always be the first priority. Thus, being respectful to your business partners or colleagues is very important when working in Singapore.
3. Hierarchical Working System
Unlike the work culture in some Western countries where staff can openly exchange ideas and ask questions to their managers or colleagues, the Singapore work culture is likely to go the opposite direction. This is where many Westerners may experience a culture shock when working for local Singapore companies.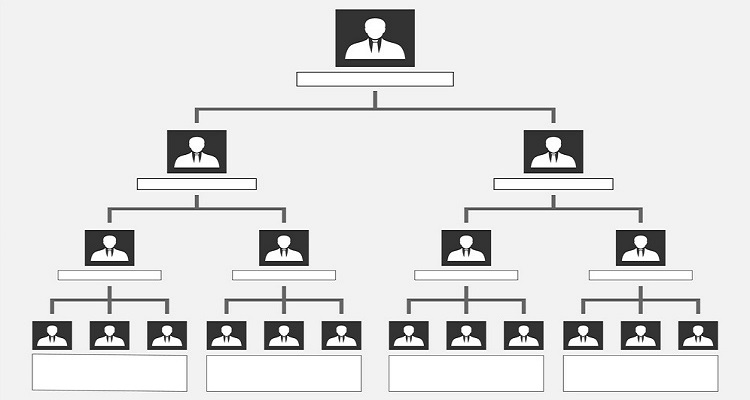 The way Singaporean works is to follow a hierarchical working structure. It means that the power of making decisions commonly lies in the hand of people who have higher positions. Lower-level employees normally just accept and work according to orders without much questioning.
So, if you are a businessman, it is better for you to work directly with the managers or higher positions since they have more power to finalize decisions and easily influence others. Moreover, make sure that you show enough respect to them, especially when they are older than you, as well as avoid criticizing openly and directly. Learn your way to speak up your opinions smartly can be a big contribution to success when doing business with a Singaporean.
4. Following Rules
Singapore is also well-known for having a large number of rules and regulations and the people hardly violate any of them. There is no exception for workplace.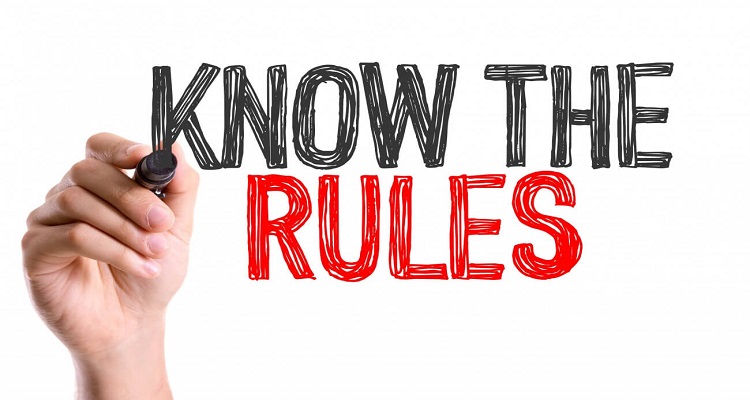 Like other Asian work cultures, people usually establish some working patterns or certain ways of doing tasks for others to follow. They mostly avoid many changes in working as well as in an organization. So, people tend to stick to a set of rules and arguing against them is not very common.
Furthermore, local bosses and employers normally do not encourage their staff to go on with some crazy ideas. Still, creativity is needed for work but only to some reasonable extent.
However, due to more and more foreign companies are coming to the city-state and the effect of globalization, many businesses are giving more freedom to individuals as well as encourage them to work creatively.
5. Group Priority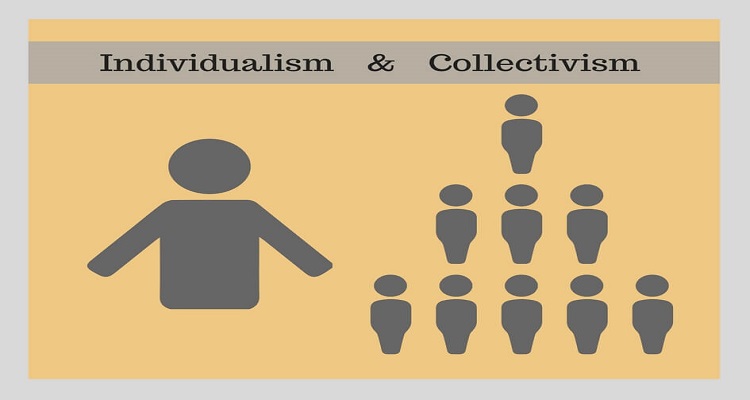 Local companies prefer collectivism over individualism. It means that they prioritize the result of the whole group rather than an individual. Unlike Western countries where an individual usually strives for themselves and gets recognition, Singaporean prefer working for achievements as a team in which everyone has their own responsibilities and then share rewards together.
6. Working Hours in Singapore
For common practice, normal working hours in Singapore of work are:
Up to 9 hours/day or 44 hours/week if working 5 days or less per week; or
Up to 8 hours/day or 44 hours/week if working more than 5 days per week.
According to the Employment Act, the maximum working hours are 12 hours per day. Also, an employee can work overtime up to 72 hours per month with payment at least 1.5 times the hourly basic rate of pay.
In fact, over the years, Singaporean have been considered one of the hardest working labors in the world. They are well-known for the workaholic culture. Many experts believe that the reason is due to the competitiveness among businesses.
Others claim that long-hours working has become a part of the Singapore work culture. It is a norm for people to spend time to socialize at work and stay longer hours at their office to get the work done although it can be done the following day.
According to the statistics from the Ministry of Manpower, the total paid working hours of an employee in Singapore were 46 hours per week from 2009 to 2014. Then, the figure slightly decreased over the next few years, down to 44.7 hours per week in 2019. On average, a Singaporean worked overtime 2.7 hours per week in 2019.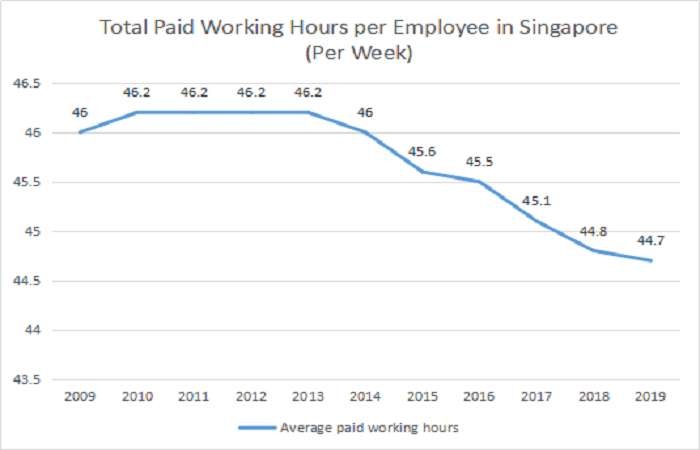 Since the people have bad balance between work and life, the government has announced some policies to avoid the workaholic culture, which results in a drop in total paid working hours in Singapore. Particularly, the working days in Singapore have been gradually reduced over the years. However, overall, the working hours in the city-state are still higher than many Western countries.
7. Conclusion
Singaporean workforce is a diversity of multiple cultures in which Chinese account for the most proportion. Hierarchical relationships are very important in Singapore and collectivism is usually preferred. In addition, long-hours working can also be considered as a part of the Singapore work culture due to the competitiveness among businesses.
However, since foreign businesses are coming to Singapore more and more, it can be expected that the work culture in Singapore will experience some changes in the next few years, especially among the young generations.
Ready to incorporate in Singapore now? We offer top-notch Incorporation as well as Work Pass services in Singapore. Should you have any questions, message us for free consulting!