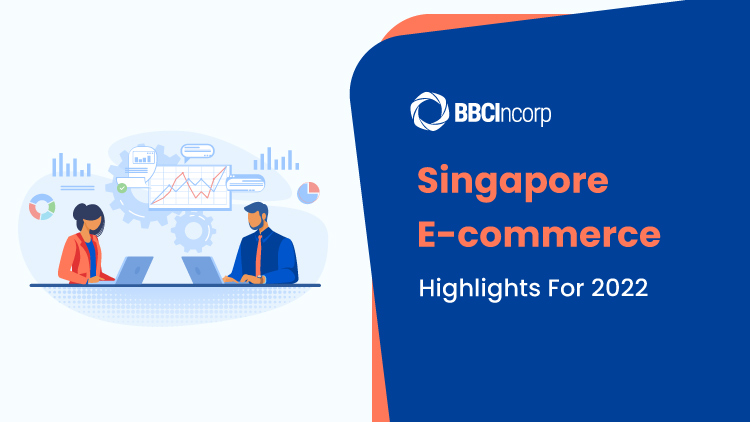 The e-commerce landscape in Singapore has undergone a dramatic transformation in recent years. The proliferation of mobile devices and broadband connectivity has driven a boom in online shopping, with consumers increasingly turning to the internet for their shopping needs.
However, the Covid-19 pandemic has had a major impact on the e-commerce sector in Lion City, with many businesses forced to close their doors or pivot to online-only operations. After the back-to-normal period, there are some Singapore trends that are likely to emerge and you should know about them.
How did the pandemic impact the global e-commerce industry and Singapore e-commerce?
It's no secret that the COVID-19 pandemic has impacted businesses all over the world.
One of the most immediate impacts of the pandemic on e-commerce was a significant increase in online shopping. With people across the globe being ordered to stay indoors, many turned to online shopping as a way to get the items they need without having to leave home. This uptick in online shopping led to soaring sales for many e-commerce businesses.
However, the pandemic has also created some challenges for e-commerce businesses. One of the biggest challenges was shipping delays. The increase in demand for delivery services led to delays in shipping times, as well as higher shipping costs. Decrease in foot traffic for businesses that have a brick-and-mortar presence that might cause a decline in sales was another problem.
And have you ever heard about the surge in e-commerce fraud?
A report from ScamAlert Singapore showed that scams cost the Singapore economy over S$201 million in 2020, and e-commerce scams appeared as the top five scams of concern in the year 2021. This trend is likely to continue as criminals take advantage of the increased number of people shopping online.
The current state of Singapore's e-commerce
The pandemic has had a profound impact on e-commerce in Singapore. The most significant change has been the dramatic increase in online shopping.
Global e-commerce trends report conducted by JPMorgan indicated Singapore e-commerce has currently made up 11 percent share of total retail. And there is 68 percent of Singapore people spent on online shopping. With this usage, a conservative compound annual growth rate (CAGR) of 8.7 percent is predicted for 2024.
The top biggest international e-commerce platforms in Singapore include Shopee, Lazada, and Amazon. A striking highlight also reflects that cross-border e-commerce has gained much popularity in the online shopping culture of the city-state.
The current e-commerce sector in Singapore is relatively potential, despite the challenges posed by the pandemic. Online sales have grown rapidly in recent years, and are expected to continue to grow in the coming years.
Top Singapore e-commerce trends and forecast for 2022
As the world increasingly moves online, businesses must adapt their strategies to stay ahead of the curve. This is especially true in Singapore, where e-commerce is booming.
There are several key trends driving this growth.
Mobile shopping trend and the support of ultra-fast 5G in Singapore
Singapore has high levels of internet and mobile penetration, with almost 90% of the population accessing the internet regularly. In addition, Singapore has a large and affluent population, with many consumers having disposable income to spend on online purchases.
The trend that is already evident is the shift towards mobile commerce. With more people spending time on their smartphones and tablet devices, there is a growing demand for mobile-friendly e-commerce platforms and apps. This trend is likely to continue in the coming years, as businesses increasingly cater to the needs of mobile shoppers.
Singaporeans are heavy users of mobile devices. Remarkably, the implementation of ultra-fast 5G in Singapore from 2021 is expected to leverage the growth of mobile shopping. Mobile commerce accounted for half of the e-commerce compared to desktop-based shopping in Singapore (roundly US$3 billion markets in 2020), reported in the Global e-commerce trends report.
Singaporeans prefer cards for online payment
Clients tend to prefer flexible payment methods. The greater convenience and hygiene, as well as the increasing availability of contactless payment options during pandemics, have led to the growing popularity of contactless payments. Credit cards and digital wallets are in favor.
Singapore has a high credit card penetration rate. This makes it easy for customers to make online purchases. The 2021 e-commerce payments trends report: Singapore country insights by WPL showed that 63 percent of transactions of Singapore's citizens tend to pay the plastic when purchasing online.
Furthermore, buy now and pay later (BNPL) services that provide interest-free financing solutions will continue to increase in popularity, allowing consumers greater freedom.
As consumers want the option to select their preferred payment method while shopping, businesses starting an e-commerce business in Singapore that provides various payment options are more likely to encourage customers to buy more, minimize cart abandonment, and establish trust.
Top e-commerce products categories set to boom for 2022
When it comes to e-commerce in Singapore, there are a few key product categories that are set to boom in the next few years. Here are some of the top e-commerce products categories that you should keep an eye on.
Clothing and fashion. This is one of the most popular e-commerce categories globally (US$326 million in 2020, according to Statista), and it is only set to grow in Singapore in the coming years. A number of factors are driving this growth, including an increase in online shoppers and a growing preference for convenient and hassle-free shopping experiences.
Electronics. Consumer electronics with valued market of US$1.9 billion in 2020 have become one of the most widely-used niches. This is driven by a combination of factors, including the increasing popularity of online shopping, the growing number of consumers who are comfortable making big-ticket purchases online, and the availability of a wide range of products.
Health and beauty. Increasing awareness of health and skincare products, a growing preference for natural and organic products, have led to a strong growth in the health and beauty category in Singapore.
Starting an e-commerce business in Singapore: Why not?
The e-commerce sector in Singapore is forecast to grow significantly in the next few years, driven by rising internet penetration and mobile usage rates. The year 2022 is projected to witness the considerable growth in Singaore e-commerce. This growth will be fuelled by continued investment in infrastructure and initiatives to support businesses and consumers alike.
With such a digital-savvy population, exploiting and expanding into Singapore as an advertiser or publisher presents a fantastic chance. And starting an online business will be a smart idea because of all the growth possibilities in the e-commerce environment.
New guide
Start reading to grow your Singapore E-commerce with minimal effort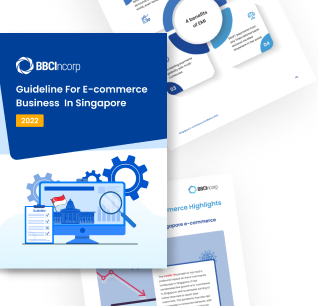 If you're planning to start an e-commerce business in Singapore and are having a lot of questions on your mind, feel free to chat with one of our friendly consultant for practical advice. Or, you can get in touch with us via service@bbcincorp.com.
Disclaimer: While BBCIncorp strives to make the information on this website as timely and accurate as possible, the information itself is for reference purposes only. You should not substitute the information provided in this article for competent legal advice. Feel free to contact BBCIncorp's customer services for advice on your specific cases.
Share this article
Get helpful tips and info from our newsletter!
Stay in the know and be empowered with our strategic how-tos, resources, and guidelines.