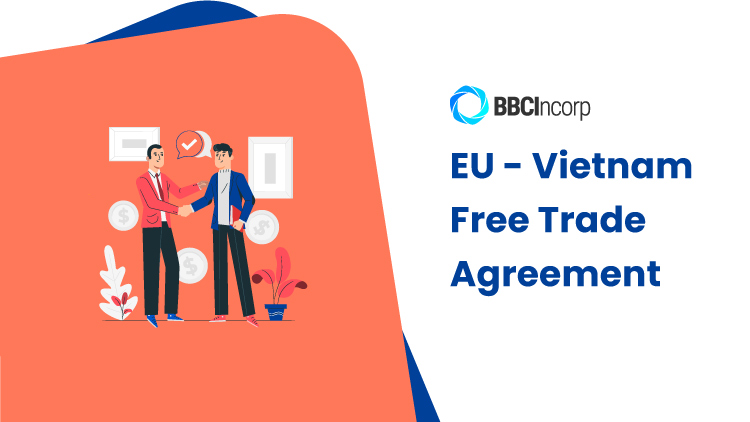 Over the past few years, Vietnam has entered into different international free trade agreements to stimulate the exchange of goods and services and create countless business possibilities in Vietnam. 
On August 1st, 2020, the EU-Vietnam Free Trade Agreement (EVFTA) came into force after nearly 10 years of negotiation. As Covid-19 has posed daunting threats to Vietnam's production and exports since early 2020, EVFTA is an incredibly crucial trade agreement for both Vietnam and the EU.
With a commitment to erase trade barriers and improve the investment environment, EVFTA is expected to remarkably jack up Vietnam's economic growth and open more market opportunities for foreign investors.
This article will cast light on the key benefits EVFTA brings to foreign enterprises and investors in Vietnam.
A glance at EU-Vietnam Free Trade Agreement (EVFTA)
Vietnam is the EU's second-biggest trading partner in the Association of Southeast Asian Nations (ASEAN) after Singapore. According to the Eurostat report, for 2021, Vietnam ranked 31st in terms of the largest export of goods to the EU (0.5%) and was the 11th largest importer (1.8%).
Inevitably, it is no surprise that the two regions have come to form a large free trade agreement to further increase the numbers. 
The EU-Vietnam Free Trade Agreement is a bilateral free trade agreement between Vietnam and the 27 EU members. One of the largest trade agreements of Vietnam – is the best way to describe EVFTA.
The EV FTA's primary objective is to encourage preferential treatment for goods and services and remove non-tariff barriers for both sides. In particular, the two parties will:
Remove almost all customs duties for certain goods;

Secure geographical indications of both parties; 

Diminish trade regulatory barriers; 

Promote sustainable development;

Increase investment opportunities for certain products and services.
Furthermore, EVFTA emphasizes the reinforcement of fundamental labor rights, sustainable development, and environmental preservation.
This milestone not only will leverage Vietnam's domestic growth but also upgrade its investment environment in the years to come. The Ministry of Planning and Investment has forecasted that by 2025, Vietnam's GDP will surge by 4.6% and its exports will increase by over 42.7%, whereas the EU's GDP will grow by $29.5 billion by 2035.
Key benefits of EVFTA for foreign enterprises and individuals investing in Vietnam
Heightening of tariffs elimination for trade in goods
Imagine how great it is to be entitled to tariff exemption when trading and operating businesses in Vietnam. 
The first perk of EVFTA is tariff elimination. Specifically, Vietnam agreed to immediately remove 48.5% of current tariffs on EU exports to the country after the agreement came into effect.
After 10 years after the entry of force of EVFTA, Vietnam will abolish 98.3% of all tariff lines, which accounts for 99.8% of the EU's export revenue to Vietnam.
This means foreign-owned companies in Vietnam, for instance, after 10 years of EVFTA implementation can be exempted from 98.3% of tariffs imposed on certain goods and materials supplied by EU members.
The supplied products and materials must be included in EV FTA's list of preferential treatment to enjoy tariff exemption in Vietnam.  As a result, the companies' expenses for import tax will significantly drop.
Improving market access for several EU goods by tariff dismantling is among Vietnam's major goals when signing EVFTA. These are the commodity groups of the EU that Vietnam commits to tariff removal:
Car and components
European cars with a sizable capacity (2500 cm3 for diesel cars and 3000 cm3 for gasoline vehicles) will be tariff-exempted 9 years after EVFTA takes effect.

All European cars will be duty-free for 10 years after the entry of force of EVFTA.  

Import duties for all automobile components will be removed after 7 years.
Pharmaceutical products
Vietnam will remove all import tariffs for 71% of EU pharmaceutical products as soon as EVFTA takes effect.

The remaining EU pharmaceutical products will be exempted from import tariffs 5-7 years after EVFTA comes into effect.
Alcoholic beverages
The schedule for termination of import duties for wines and spirits is 7 years.

Beer will be released from tariffs after 10 years.
Raw meats
Exports of EU frozen pork will be tariff-free after 7 years, while import duties of other types of pork will be removed after 9 years.

Beef will be exempted from tariffs after 3 years.

Chicken's import tariffs will be removed after 10 years. 
Raw material for textile, leather, and footwear
80% of the raw material will be free from import tariffs as soon as EVFTA takes effect.

The remaining material is scheduled to be tariff-excluded after 3-5 years.
Milk and dairy products
Vietnam will have 44% of EU milk and dairy products exempted from import duties.

The rest of EU dairy products will be entitled to 0% of import tariffs after 5 years.
Chemical substances
Vietnam will not impose tariffs on all EU chemical substances after 7 years. 
Enhancement of investment liberalization
EVFTA not only grants tariff barrier elimination but also facilitates further investment opportunities in many economic sectors.
Vietnam commits to liberalizing its business environment by providing a higher level of market access than its commitments to WTO. As a result, it creates a wide-open investment playground for EU enterprises and investors in many services sectors as follows.
Business services
Vietnam ensures new market access for EU investors in many types of business services including:
Building-cleaning services

Packaging services

Rental or leasing of machinery and equipment services

Trade fairs and exhibition services

Nursing services
Financial services
Within 5 years from the effective date of EVFTA, Vietnam will allow EU credit institutions to invest 49% maximum in two commercial banks of Vietnam. 
However, this commitment does not apply to the four joint-stock commercial banks in that Vietnam holds the majority of shares, namely BIDV, Vietinbank, Vietcombank, and Agribank.
Environmental services
Vietnam will allow EU investors to provide nature and landscape protection services and sanitation services.
Computer services 
Vietnam ensures the increase of investment opportunities in innovative computer technologies for EU investors. Hence, EU technology providers are granted a wide range of options to penetrate the Vietnamese market which is high in demand for computer technology. 
Telecommunication services 
For telecommunication, Vietnam allows EU investors to set up 100% foreign-owned companies offering value-added telecommunication services or internet services using a third party's facilities. Of course, stringent regulatory disciplines are applied to strengthen the regulatory authority. 
Distribution services
Vietnam agrees to completely remove the requirement of an economic needs test (ENT) on outlets for retail services 5 years after the Agreement's entry into force. The country, however, reserves the right to implement distribution system planning on a nondiscriminatory basis. 
Furthermore, various manufacturing sectors are included in Vietnam's commitment to investment openness for EU investors are:
Food and beverage

Tires

Machinery 

Plastic products

Construction material
Generally, investors, when investing in Vietnam, must come from the 27 EU countries to enjoy benefits from EVFTA. The specific level of benefits depends on the specific product (some products will be more benefited than others based on the modification of tariff policy).
In time, Vietnam will turn into a more prosperous business hub for ambitious EU investors after the implementation of EVFTA. 
Improvement of intellectual property protection
When it comes to intellectual property, there is no doubt that intangible assets represent half of a company's success. Patents, licenses, and franchises, for instance, are great sources generate income. Therefore, intellectual property protection is an indispensable part of a pro-business environment.
To better support inventors to truly benefit from their innovative creations and protect them from imitation in Vietnam, the country has guaranteed that it will improve intellectual property rights (IPR). The following important IPR categories that Vietnam focuses on are:
Geographical indications
Immediately after EVFTA takes effect, Vietnam will impose geographical indications (GIs) protections for 169 EU products on its market. Some renowned European delicacies that are protected from geographical origin imitation are:
Feta cheese

Champagne 

Parmigiano Reggiano cheese

Rioja wine
As a result, businesses and farmers producing the 169 products under GIs security will benefit most from EVFTA. 
Copyrights
Vietnam will take hard measures to protect copyright owners when their works are illegally distributed through communication technology, the Internet for example. In particular:
Adequate legal protection against the circumvention of technological measures (namely hacking and encryption) is strictly applied. 

Vietnam will increase the prohibition on alteration or erasure of electronic's rights management information. 
Trademarks
WIPO recommendations on the protection of prominent trademarks are applied immediately. Vietnam has also acceded to imposing the obligation of usage requirements and protection against the misleading use of names. 
Patents
Vietnam will allow patent holders to extend patent protection in case marketing authorization procedures are postponed. 
Designs
Vietnam commits to extending the period of protection for designs to 15 years by joining the Hague Agreement Concerning the International Registration of Industrial Designs.
Development of e-commerce
The world is entering a digital era. And Vietnam, like many other nations, is catching up with the trend incredibly rapidly. Thereby, the Southeast Asian country has become an outstandingly booming e-commerce hub filled with prosperity.
To pave the way to e-commerce development between Vietnam and the EU under EVFTA, the two sides have committed to not placing import taxes on electronic transactions. 
Furthermore, both sides will adhere to several rules on e-commerce to further develop a transparent digital economy, namely:
Liability exemptions for online intermediaries (to increase legal certainty for internet access providers and e-commerce platforms).

Adequate treatment of unsolicited electronic commercial communications (spam).

The interdiction of customs duties on electronic transmissions.
EVFTA opens another door for EU organizations and individuals – the door to Vietnam's digital growth. 
Challenges from EVFTA to Vietnam's economy
Apart from the advantages, EVFTA poses some downsides to Vietnamese businesses.
Firstly, EVFTA will trigger fierce competitive pressure for local businesses as more international rivals will penetrate the local market. Agriculture and technology sectors, in particular, are likely to face intense competition with foreign players.
Nevertheless, this is a healthy competition, which will motivate local firms to adapt and upgrade their product's quality. And at the same time, consumers are exposed to a wider range of options. 
Additionally, Vietnamese businesses need to satisfy the highly strict requirements on investment procedures, customs, trade facilitation, technical standards, and so on proposed by the EU.
This is a driving force for the Vietnamese government to thoroughly reform and strengthen trade regulation as well as tax structures. 
Overall, these challenges from EVFTA do not bring Vietnam's economy down. They will gradually transform Vietnam into a vastly dynamic, transparent environment for local and international businesses. 
Conclusion
In summary, the EU-Vietnam free trade agreement marks a breakthrough in empowering trade and e-commerce between Vietnam and the EU.
Nonetheless, EVFTA comes with certain challenges for domestic producers. Certainly, it will take years of implementation and constant improvement to fully function. 
With that being said, Vietnam with EVFTA will be a goldfield for determined entrepreneurs to build businesses, and investors to plow their money into. Doors are open, don't hesitate to step through.
If you are thinking of starting a business in Vietnam, make sure to have a look at our article on how to start a business in Vietnam as a foreigner.
Should you have any questions about starting a business or investing in Vietnam, drop us a chat message or send an email via service@bbcincorp.com!
Disclaimer: While BBCIncorp strives to make the information on this website as timely and accurate as possible, the information itself is for reference purposes only. You should not substitute the information provided in this article for competent legal advice. Feel free to contact BBCIncorp's customer services for advice on your specific cases.
Share this article
Get helpful tips and info from our newsletter!
Stay in the know and be empowered with our strategic how-tos, resources, and guidelines.