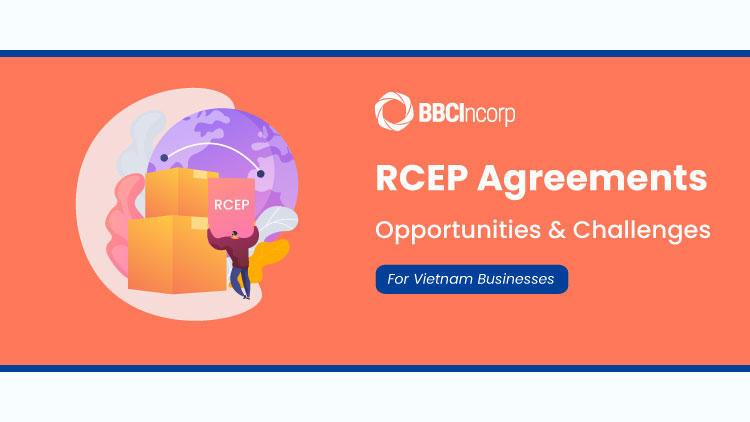 You may have heard of some international free trade agreements (FTAs) to which Vietnam has signed, such as the Trans-Pacific Partnership (TPP), the Comprehensive and Progressive Agreement for Trans-Pacific Partnership (CPTPP), and European Union Vietnam Free Trade Agreement (EVFTA).
The most recent agreement is the Regional Comprehensive Economic Partnership (RCEP), which came into force on January 1, 2022.
Let's take a closer look at how the RCEP agreement benefits Vietnamese businesses.
Overview of RCEP
What is it?
RCEP is a free trade agreement between ASEAN and its five major trading partners: Australia, China, Japan, Korea, and New Zealand.
With RCEP member countries accounting for 30% of the world's population and nearly a third of global GDP, RCEP is regarded as the largest trading bloc up till 2021.
This is the most recent agreement signed by Vietnam in 2021. The agreement expands Vietnam's export markets for agricultural and aquatic products, garments, textiles, and footwear.
Furthermore, the free trade agreement provides Vietnam with access to higher-quality or lower-priced goods while increasing competition for Vietnamese businesses.
Main purpose
The main purpose of RCEP is to increase economic integration, expand regional trade and investment for all member countries, and reinforce the global value chain. The agreement is expected to reduce tariffs on imports by 90% for all signatories over 20 years.
The agreement includes:
All tariffs, investment, services, and intellectual property conditions and requirements that contribute to the global value chain;
A common set of origin rules, as well as commitments to trade in goods;
Specific conditions apply to some service trading sectors, such as finance, telecommunications, and professional services.
Vietnam's benefits under RCEP
Let's explore the impact of RCEP on businesses, especially for startups and SMEs in Vietnam.
Benefits
The following are the benefits that Vietnamese businesses are expected to gain from the RCEP agreement:
Reduction of tariffs & duties
RCEP includes various tariff schedules and commitments to reduce or eliminate trade barriers between member countries.
Below are the commitments made by Vietnam in terms of tax reduction in RCEP:
ASEAN: 90.3%
Australia and New Zealand: 89.6%
Japan and Korea: 86.7%
China: 85.6%
All ASEAN countries and the five partners have agreed to reduce or eliminate tariffs on trade within the RCEP zone by 83-89% and to eliminate 90-92% of tariffs for intra-ASEAN trade.
Vietnamese businesses that meet the required conditions under the RCEP agreement will receive preferential tariff treatment, lowering tariffs on exports to other countries.
Aside from that, tariff liberalization allows Vietnamese firms to access a wider range of suppliers from other member countries for product manufacturing.
Rules of origin (ROO)
Unlike other FTAs, RCEP simplifies the procedures for determining which goods are subject to specific regulations, which are applied to all countries in the RCEP region.
A product is considered to be originating if it is:
Wholly obtained in a member country;
Produced in a participating country with materials originating in one or more other RCEP countries;
Produced in a member country with materials from other countries outside the scope of the RCEP and must meet specific rules of goods.
In such circumstances, Vietnam can import input materials or parts from other member countries to reduce manufacturing costs. When a product meets the requirements outlined in the agreement, it will be eligible for preferential tariff and duty treatment throughout the RCEP region.
A made-in-Vietnam garment, for example, could be made with fabric imported from a Chinese supplier and thread imported from Korea. If the product meets the ROO guidelines, it will be eligible for preferential tariffs when traded with other countries in the free trade zone.
Potential exporting market
With 15 countries participating in RCEP, Vietnamese businesses will have greater market access, facilitating exports with high-purchasing-power customers. Increased product demand from other countries also raises the need for employment, lowering the country's unemployment rate.
Advanced technical cooperation
As a member of RCEP, Vietnam works closely with countries that have the most advanced technological capabilities. This collaboration enables Vietnamese businesses to effectively improve production performance, raise product quality, and reduce manufacturing costs.
Challenges
In addition to the numerous benefits that Vietnam is expected to receive from the trade agreement, the RCEP also presents some challenges.
Competitive market
Competition in the local market will be fierce due to an increase in the number of overseas goods and service providers.
There is also more freedom to trade and import goods between countries in the region under the RCEP conditions. As a result, domestic businesses in Vietnam risk losing domestic customers if they cannot compete with overseas products in terms of price or quality.
On the bright side, this will encourage Vietnamese companies to improve product quality and variety, as well as increase technology investment in the manufacturing, agricultural, and fisheries sectors.
Losing distinct advantages
Although preferential tariffs in the RCEP are advantageous, they may pose a challenge to Vietnamese businesses.
Because other countries will also benefit from the tariff treatment, Vietnam's current preferential treatment is no longer a distinct advantage over other countries in the trade zone.
Before the implementation of the RCEP, China had to pay a 30% tariff on footwear leather imported into Japan, whereas Vietnamese businesses paid only 5% due to the Vietnam-Japan Free Trade Agreement (VJFTA).
However, when the RCEP is implemented, China will also receive preferential tariff treatment, depriving Vietnamese businesses of their one-of-a-kind advantage.
Risk of dependence
The RCEP will increase the number of imported products, potentially increasing reliance on other countries.
If imports exceed exports, Vietnam will have to rely on a foreign power to meet domestic demand, causing a foreign currency recession.
Impact of RCEP on industries in Vietnam
With RCEP participation, most of Vietnam's business industries will benefit from the agreement's terms.
The broad scope of RCEP is expected to increase demand for exporting products significantly. Furthermore, foreign investors will be able to export their products to the Vietnamese market.
The following domestic industries are expected to benefit from RCEP:
Telecommunication
Information & Communication Technology (ICT)
Agriculture, textiles, footwear, and automobiles
Regardless of the current uncertainty in global supply chains, Vietnamese companies will benefit from a stable market for production and export for a long time.
Thanks to supply chain facilitation, hi-tech companies can efficiently import electronic chips and related materials from South Korea or Japan for domestic production. Tariff preferences will be granted to export in RCEP countries.
With the primary existing strength in agriculture and fisheries, Vietnamese businesses providing agricultural and aquatic products will significantly expand under the RCEP. Vietnam has a great opportunity to gain a strong position and competitive advantage in the trade zone.
Conclusion
Vietnamese businesses are expected to benefit greatly from the country's participation in the RCEP.
With fewer trade barriers and tariffs, Vietnamese businesses have more opportunities to expand goods exports to larger markets and access a wider range of overseas goods and services.
Foreign investors who want to participate in the Vietnamese business network can now use RCEP to maximize business growth.
For more information regarding business opportunities in Vietnam, get in touch with us via service@bbcincorp.com for practical advice.
Disclaimer: While BBCIncorp strives to make the information on this website as timely and accurate as possible, the information itself is for reference purposes only. You should not substitute the information provided in this article for competent legal advice. Feel free to contact BBCIncorp's customer services for advice on your specific cases.
Share this article
Get helpful tips and info from our newsletter!
Stay in the know and be empowered with our strategic how-tos, resources, and guidelines.