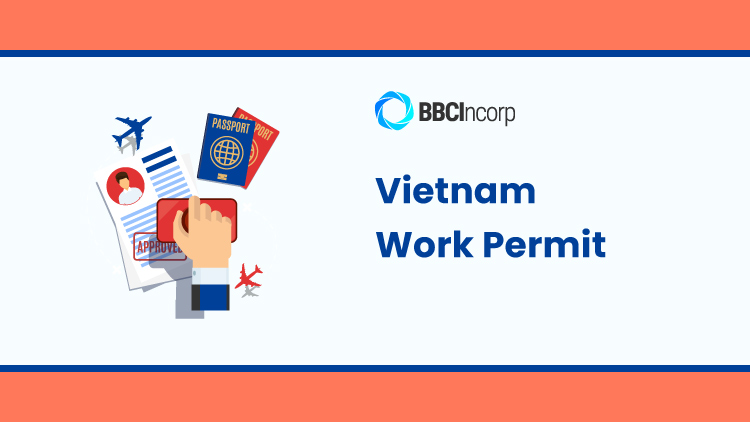 Planning to work in Vietnam and don't know how to get a work permit? Not everyone can obtain a work permit in Vietnam, and if you do, here are the required documents and procedures.
Vietnam work permit requirements
Issued by the Department of Labor – Invalids and Social Affairs, a Vietnam work permit is an official certificate that allows its holder to work in Vietnam legally.
However, foreigners can not apply for it directly, they will need the assistance of their employers or a service center in Vietnam. Additionally, if you are planning to get a temporary residence card or a working visa, then the Vietnam work permit is not a thing to miss.
To be eligible for applying for a work permit in Vietnam, foreign applicants must meet the following requirements:
At least 18 years of age
A manager, executive director, or expert with technical skills and knowledge necessary for the job
Have a good health condition that meets the job's demands and criteria
Free of criminal records in their country or a national security offense; not facing any criminal prosecution at the time being nor not serving a criminal sentence by the Vietnamese and foreign law enforcement during the assignment
Required documents to apply for a Vietnam work permit
Below is a list of required documents that your employers and you have to prepare before the expected working date:
Vietnam work permit request form (form No.7 issued along with Circular No. 40/2016/TT-BLĐTBXH)
Health check certificate at either foreign facilities or Vietnam issued within 12 months
Criminal records issued within 6 months. For applicants that have stayed in Vietnam, they are required to provide only Vietnamese criminal records
Approval certificate that allows the employer to use foreign workers from the Ministry of Labor – Invalids and Social Affairs or from the People's Committee where the employer is situated. Be noted that this certificate should be applied for at least 20 days before the expected recruitment date
Certified copies of passport and valid visa
Certified copy of your certificate or degree
Working experience confirmation document from former employers
Two 4 x 6 (cm) photos taken on white background without glasses and neatly groomed hair
Other miscellaneous documents related to employment contracts depending on types and natures of employment i.e. service provision contract, the appointment paper of foreign workers, etc.
Tips on Opening a Vietnam Bank Account
As a person from another country, how can you open a bank account in Vietnam successfully without encountering problems? If you plan to open a bank account in Vietnam for your personal or business purposes, here are some practical factors you should consider.
Personal bank accounts in Vietnam for foreigners
Required documents for personal bank accounts
Banking Fees
Common banking options for expatriates
International money transfer
Business Bank Account in Vietnam for foreign enterprises
Types of business bank account
Requirements to open a business bank account
Find out more on Foreigner Guide: Opening A Bank Account In Vietnam
Processing time and fee for a Vietnam work permit
The cost of a work permit in Vietnam is variable and depends on several factors, including the type of permit, the length of stay, and the applicant's country of citizenship. This amount may also vary depending on the province or city in which you will be working.
The processing time for obtaining a work permit is typically 20 days in total, comprising half a month for the approval of the demand to hire foreign workers, and 5 days for the grant of a work permit.
The procedure should be completed at least 30 days in advance of the foreigner's expected start date to avoid any delays.
How to get a work permit in Vietnam (application process)
As stated earlier, foreigners can not apply for a Vietnam work permit directly, they will need help from their employer or a service agent. With that being said, your employer or agent in Vietnam is required to follow these steps to get you the Vietnam work permit:
Step 1: Fill in a declaration form then submit all required documents as prescribed above to the work permit-granting agency via the online portal. The electronic work permit application should be done at least 7 working days in advance of the foreign worker's expected starting date.
Step 2: Wait for work permit approval via email within 5 working days from the previous submission. If submitted documents are not legally satisfactory, the agency will also notify applicants of the reasons for rejection.
Step 3: Submit the prepared documents (physical copies) directly or by post to the work permit licensing agency after receiving the work permit approval via email for checking, comparison, and storage according to regulations.
Step 4: Wait to receive your Vietnam work permit as it will be delivered to the employer or your agent directly or by post within 8 working hours after receiving the full required documents.
Vietnam work permit exemptions
Even though foreigners are required to obtain a work permit to work in Vietnam legally, there are certain circumstances where one can get a work permit exemption certificate. This certificate works exactly like a work permit, which is also valid for up to 2 years and serves as a basic condition to apply for a temporary residence card. Foreigners who are eligible for work permit exemption in Vietnam are:
Individuals with a working period not exceeding 3 months within a year either to offer services; or to deal with complicated problems in Vietnam that cannot be fixed by the internal workforce
A member of the BoD of joint-stock companies in Vietnam
A shareholder or owner of a limited liability company in Vietnam
Head of representative offices and directors of international projects or non-governmental projects in Vietnam
Lawyers who have a professional practice license under the Vietnam Law on lawyers
Cases included in International Treaties to which Vietnam is a member
Students and trainees undertaking internships
Internal transfer within enterprises that engage in 11 service industries in Vietnam's WTO commitments
Professionals entering Vietnam to provide advisory services or to perform other tasks of programs and projects that are ODA-funded
Professionals who are authorized by the Ministry of Foreign Affairs to practice communications or journalism in Vietnam
Professionals transferring from foreign agencies or organizations to Vietnam to teach or conduct research in international schools or professionals who are permitted to teach or conduct research in education and training institutions by the Ministry of Education and Training
Volunteers
Experts, managers, CEOs, or technicians entering Vietnam to offer services for a period not exceeding 30 days
Foreigners entering Vietnam due to international agreements to which central or provincial agencies and organizations are signatories under the law
Other cases directly decided by the Prime Minister at the Ministry of Labor – Invalids and Social Affairs' request
Vietnam work permit extension and replacement
Your Vietnam work permit is only valid for 2 years, but shall not exceed the working period articulated in the employment contract. If you wish to renew your permit and continue to work in Vietnam, you need to apply for a work permit extension 45 days before the expiry date.
It is quite simple to apply for a new work permit, as long as the applicant is continuing the job or service for which they were initially granted the permit. The requirement documents are pretty much the same as the first work permit application:
Request form for a work permit extension from the employer under regulations of the Ministry of Labor – Invalids and Social Affairs (the MOLISA)
Health check certificates from hospitals or clinics that are appointed by the Department of Labor – Invalids and Social Affairs
Two 4 x 6 (cm) photos taken on white background without glasses and neatly groomed hair within 6 months
The original work permit (still valid for at least 5 days but no more than 45 days)
Approval of the need for recruiting foreign workers from the People Committee or Department of Labor – Invalids and Social Affairs
A notarized true copy of related documents pertaining to the labor contract contingent on types and natures of employment
Imagine the consequences of working in Vietnam without a legal working permit. Deportation and a hefty fine are not something to gamble on. But all that hassles can be out of your way as long as you obtain a Vietnam work permit.
Helpful Note
In case you're having problems regarding your Vietnam Work Permit or planning to work in Vietnam but don't know where to start, BBCIncorp is here to help!
Contact us via service@bbcincorp.com and let us know about your situation and receive practical advice from our team!
Disclaimer: While BBCIncorp strives to make the information on this website as timely and accurate as possible, the information itself is for reference purposes only. You should not substitute the information provided in this article for competent legal advice. Feel free to contact BBCIncorp's customer services for advice on your specific cases.
Share this article
Get helpful tips and info from our newsletter!
Stay in the know and be empowered with our strategic how-tos, resources, and guidelines.