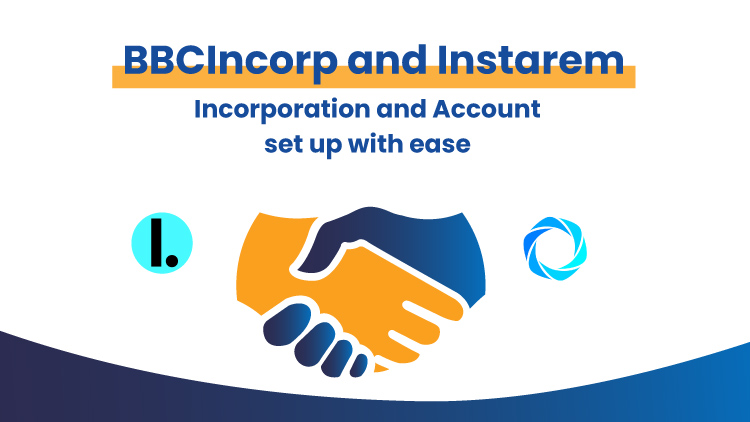 BBCIncorp is glad to announce our partnership with Instarem, one of the industry's leading international payment firms.
With common goals in mind, BBCIncorp and Instarem will strive to work towards valuable ideas and provide innovative solutions for clients through upcoming partnership offerings.
What to look for in this partnership?
As a business owner, you need a payment method that is straightforward, affordable and guarantees efficient operations.
BBCIncorp and Instarem have teamed together to deliver such a practical solution for quick and convenient business payment services, resolving any problem regarding company formation and bank account opening.
More than that, we are dedicated to providing timely assistance for technical problems or account-related concerns anytime you need it.
To assist you with signing up and making the most of your Instarem account, we have put together a brief guide (See Section 3 below).
About Instarem
Overview
Instarem, based in Singapore since 2014, is a digital cross-border payments service provider committed to fast, cost-effective, and safe banking for businesses in 55 countries worldwide.
The company offers useful solutions covering all banking needs of businesses such as global account creation, cash flow management, money transfer, and so on.
With over six years in business, Instarem has become a trustworthy partner for customers, small businesses, and professionals, ensuring transparency and real-time fraud prevention measures for total peace of mind.
Outstanding services for global businesses
Simplified business payment with multi-currency wallet and real-time conversion rate
Converting unused corporate credit card limit into interest-free* working capital for business expenses
Multi-currency collection accounts to boost global operations and optimize payments
* up to 55 days; may vary depending on the terms and conditions of an individual's card issuing bank
Short guide to using Instarem
Let's walk through a short guide to using Instarem, specifically focusing on:
Signing up and verifying Instarem business account
Sending money with Instarem account
Signing up and verifying Instarem business account
The initial sign-up requires you to provide the following information:
Email
Phone number
Registered business name
Country of registration
Once your account is registered, you'll be asked to provide additional information for account verification. You should ensure your personal or business details match the official documents (which you'll be required to upload as a soft copy).
Personal information (e.g., name, address, phone number)
Employment status
Income source
Details of the major owners/shareholders of your company (for KYC procedure)
Additional specifications may be required depending on the country of registration (e.g. EIN for US businesses, UEN for Singapore businesses, etc.)
Note
Documentation requirements may vary according to your business type
Who can sign up for Instarem?
Instarem serves small-to-medium businesses (SMBs) globally, including the USA, UK, Malaysia, Singapore, Europe, Hong Kong, and Australia. However, companies must be registered and have a physical presence in these countries to sign up.
Supported business types and industries
Instarem accepts any business type and industry (except those under the restricted activities in Instarem's terms and conditions for SMEs). Being a Fintech startup themselves, Instarem is particularly interested in supporting tech companies
Cost and time to apply
There is no signup or subscription fee. Instarem's transaction fees are charged per transaction. On average, it takes 2-3 business days for the activation of your business account.
Sending money with Instarem account
Once your account is approved, you can initiate transfers on Instarem dashboard by entering the details of the recipient and the amount of money you want to send in a preferred currency (USD or local).
Where can you send money to using Instarem
You can send money to recipients in any foreign country that's supported by Instarem, which can be converted to local currency in the following countries:
Asia: Hong Kong, India, Indonesia, Malaysia, Nepal, Pakistan*, Philippines, Singapore, South Korea, Sri Lanka, Thailand, Vietnam*
Europe: Austria, Belgium, Bulgaria, Croatia, Cyprus, Czech Republic, Denmark, Estonia, Finland, France, Germany, Greece, Hungary, Ireland, Italy, Latvia, Lithuania, Luxembourg, Malta, Monaco, Netherlands, Norway, Poland, Portugal, Romania, San Marino, Slovakia, Slovenia, Spain, Sweden, United Kingdom
North America: Canada, Mexico
South America: Argentina, Chile, Colombia, Peru
Oceania: Australia
* for Pakistan and Vietnam, you can only send payments to individuals – businesses are not allowed
Looking forward to new collaborative projects!
Through this exciting collaboration, both BBCIncorp and Instarem will have the opportunity to provide useful products and services to worldwide entrepreneurs.
Hit the perks of effective startups: incorporate your company, set up an Instarem account, and get your business up and running in no time – completely online!
Want to learn more about how BBCIncorp and Instarem can benefit your company? Check out our offer and stay tuned for further partnership updates.
Disclaimer: While BBCIncorp strives to make the information on this website as timely and accurate as possible, the information itself is for reference purposes only. You should not substitute the information provided in this article for competent legal advice. Feel free to contact BBCIncorp's customer services for advice on your specific cases.
Share this article
Get helpful tips and info from our newsletter!
Stay in the know and be empowered with our strategic how-tos, resources, and guidelines.