Company Registration in Singapore
Private Limited Company
Pro-business environment with corporate income tax capped at 17%
Partial tax exemption scheme for companies and new startups in Singapore
Avoidance of Double Taxation Agreements with over 70 countries
Investment Guarantee Agreements with 41 countries
Free Trade Agreements with 26 countries
The largest corporate banking centre in Asia
Excellent standards of livings
Well-developed financial markets and system
At least one director
Local registered address
Incorporation accomplished within 3 hours
Customized company package
No hidden fee
All-in-one service

Bring your next business venture online
Say goodbye to traditional paperwork and embrace the convenience of online business incorporation.
Enjoy a hassle-free experience as you bring your business to life.
Say goodbye to traditional paperwork and embrace the convenience of online business incorporation.
Enjoy a hassle-free experience as you bring your business to life.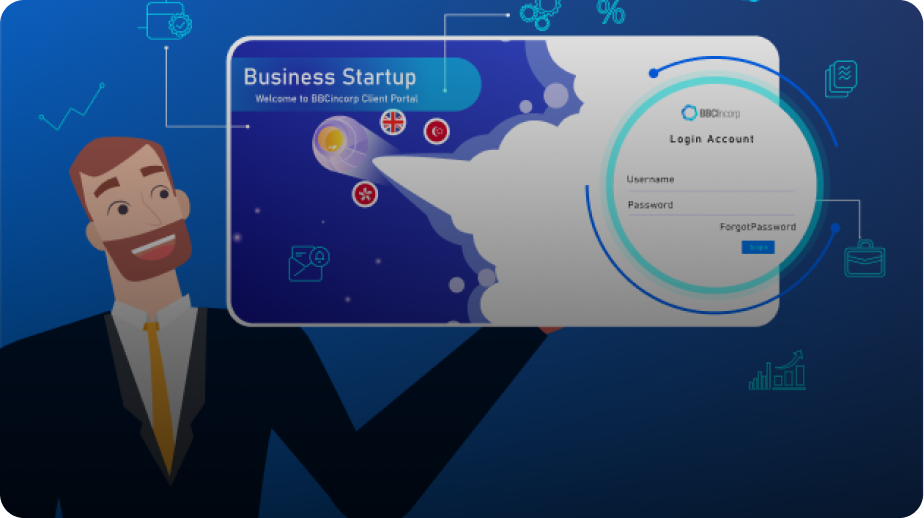 BBCIncorp Client Portal -
Bring your next business venture online

Experience a streamlined process that puts you in control. Start at your own pace and minimize waiting time for back-and-forth email communication.
Digitally sign and share documents securely, eliminating the need for physical signatures and cumbersome paperwork. So you can collaborate with your partners with ease.
Effortlessly declare your information with our standardized forms and organizational charts. Simplify the KYC process and gain peace of mind with our digitized solution.
Centralized management portal
24/7 access to company documents on high-security cloud infrastructure. And no worry about key compliance deadlines with auto reminder.
Company Incorporation For Locals And Foreigners
Singapore's company formation process varies depending on your residency.
Whether you're a local resident or a foreign entrepreneur, trust us to guide you through the complexities of company incorporation with ease.
For Local & Permanent Residents
Hassle-free process tailored to locals and permanent residents. Start your business journey confidently.
Get Started
For Foreigners
Expert guidance for foreigners. Fulfill legal requirements, appoint resident director, and launch successfully.
Get Started
Singapore company formation process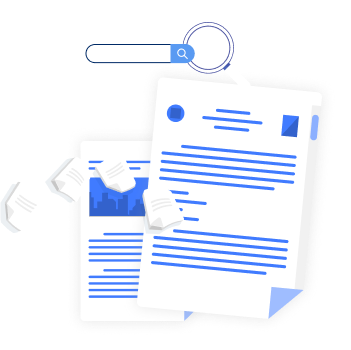 Step 1:
Select company name and types
To set up a company in Singapore, you must first acquire a name that's available and in line with statutory requirements.

Typically, there are universal guidelines to choosing a name for your business: availability, appropriateness and uniqueness. As for choosing an entity type, it's best to go with the one that suits business needs to the most.
Step 2:
Submit application
You will need to ascertain information on the directors, shareholders, or other key personnels, in prelude to submitting them along with your chosen company name to the Accounting and Corporate Regulatory Authority (ACRA).
Step 3:
Apply for business license
By law, all companies must obtain a business license as either as a sole trader or a registered business. Depending on the nature of your business, additional vetting by industry-specific inspectors and consulting agencies may become a prerequisite before your application is approved.
Step 4:
Open a bank account
The final step before your company can get off the ground is to open a bank account.

Neobanks like Aspire, Wise, Payoneer can speed up the process exponentially with their cloud-based solutions. For a more robust option, you can also consider opening traditional bank accounts in Singapore which is considered a banking hub on a global scale.
Step 5:
Stay compliant
Singapore is among the top jurisdictions for doing business in its region. This presents a higher compliance ceiling for those who wish to incorporate here, with key requirements being the annual returns filing, registered office maintenance, etc.
What documents to prepare?
Passport of all shareholders/directors

Address proof of all shareholders/ directors i.e. identity card, bank statement, driving license, utility bill

10-seconds selfie video of each member holding his/her passport, and speaking their name, passport number, and the service you need

Singapore incorporation checklist download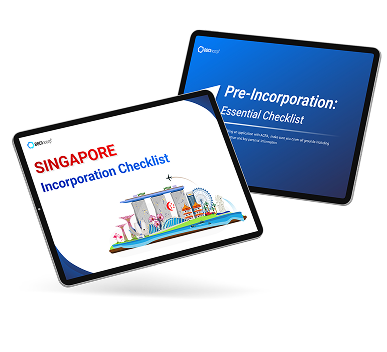 Chart out a clear roadmap towards company formation with our Singapore Incorporation checklist. Start your journey with the following insights on
Company pre-incorporation requirements

Compact guideline of application procedures

Checklist of business licenses

Post-incorporation and annual compliance keynotes
How we register your company
in 4 easy steps
1
Place your order
Enter our online order platform for easy onboarding experience and tailor your orders. We have different packages and additional services that suit your goals. All information filled in is secured over 256-bit encrypted line.
2
Make payment
Your settlement can be made online via Credit card, Debit Card. Bank wire transfer is also acceptable.
3
Collect and verify KYC documents
Once we've received your payment, our customer service will contact you to process the neccessary paperwork. We'll guide you to properly prepare documents for incorporation via KYC online form. And you can also access our digital Client Portal to proceed with the incorporation steps and keep track of the process anytime, anywhere.
4
Singapore company registration
The electronic documents are ready after 1 working day of Singapore company registration, and it takes 3-7 day for courier the original ones.
Company Name
Check
Check if your company name is available today with our Entity Name Check Tool.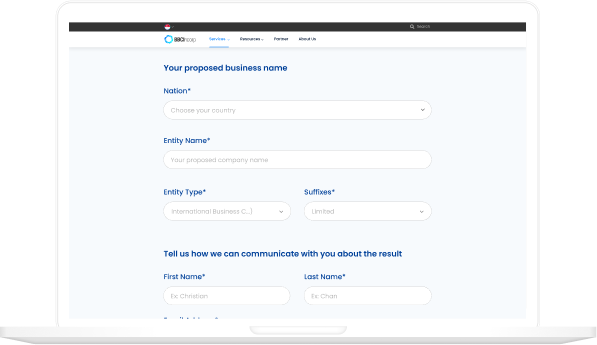 Wish to get a hassle-free Singapore company incorporation?
Just get in touch with us. We typically response within 2 hrs.
Frequently Asked Questions
incorporation
corporate structure
compliance tasks
taxation
Get helpful tips and info from our newsletter!
Stay in the know and be empowered with our strategic how-tos, resources, and guidelines.