Last week, BBCIncorp successfully hosted our very first webinar – "From Idea to Reality – Easy Company Formation in Singapore for Vietnamese Businesses".
The webinar took a deep dive into the journey of Vietnam-based companies venturing into the Singaporean market, featuring real-life perspectives, discussions, and useful resources for those expanding businesses to Singapore.
What did the webinar cover?
This webinar is part of BBCIncorp's ongoing mission to provide helpful resources for our customers who seeking to launch companies in Singapore, including
Story and real-life experience from Vietnamese businesses in Singapore
Discussion on the Singapore business environment
Details of the company formation process in Singapore
Compliance and taxation issues when doing business in Singapore
Audience interaction and Q&A session
Inspiring stories from Vietnam businesses
The webinar's success was driven by two important speakers, Mr. Long Tran, and Mr. Hao Ho, sharing their journey of thriving in the Singapore landscape.
Mr. Long Tran – Founder of Cosugames
The event kicked off with a captivating talk by Mr. Long Tran, the Founder of Cosugames. Cosugames specializes in Metaverse solutions, utilizing Unreal Engine and Web3 technologies to create immersive gaming and social experiences.
During his talk, Mr. Long mentioned his experience of establishing a company in Singapore. He highlighted the advantages of being based in Singapore, such as easier investor engagement and access to global resources.
Mr.Long also emphasized the challenges he faced while entering the Singapore market such as a lack of knowledge about Singapore's local regulations as well as potential legal pitfalls that may arise during the launching.
Mr. Hao Ho – Assistant Manager to Chairman of Beincom
Mr. Hao Ho, the Assistant Manager to Chairman of Beincom offered a unique perspective during the discussion. Beincom, a finance information and education company, empowers individuals with a comprehensive understanding of the financial market. Specializing in cryptocurrency and stock investments, they offer valuable insights and expert guidance on every step of the investment journey.
Throughout the conversation, Mr. Hao shared essential information regarding the company's vision, its strategies for expansion, and the challenges faced in extending Beincom's presence into Singapore. He also offered practical advice to aspiring entrepreneurs looking to establish their ventures in Singapore.
Insights from BBCIncorp's representatives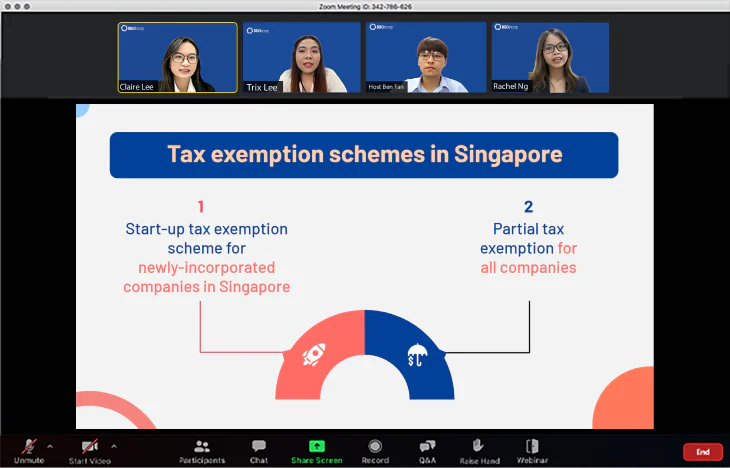 The webinar was further enriched by representatives from BBCIncorp, specifically focusing on two important areas: Business Loan Financing Schemes and Tax Exemption Schemes.
According to Ms. Trix Lee, Head of the Market Research Department at BBCIncorp, the Business Loan Financing Scheme offers several advantages. These include a low-interest rate and a high success rate of application. Business owners can access resources from 500,000 SGD to 30 million SGD without the obligation to repay within 5-15 years.
Moreover, the tax exemption scheme presents an appealing opportunity for Singapore businesses. Under this scheme, startups and companies have the potential to save up to 125,000 SGD per year.
Ms. Trix Lee discussed the process of applying for government schemes, offering a clear step-by-step guide and instructions to help navigate the registration procedures easily. Additionally, she offered advice on the importance of selecting a reliable corporate service to ensure that all application is correctly filled out and submitted.
Interactive Q&A session with participants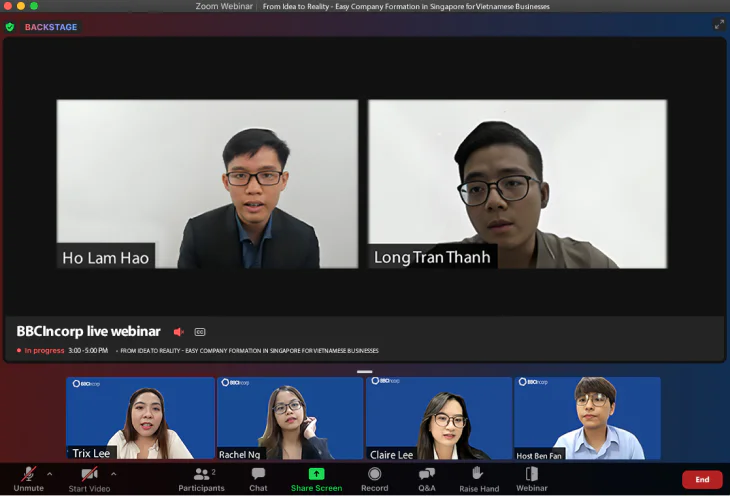 Notably, the Q&A session received a wide range of questions posed by the enthusiastic audience, covering various topics of interest such as:
Tax exemptions in Singapore
Obtaining government grants and incentives for technology companies
Understanding the nominee director's duties and responsibilities
Navigating the process of acquiring licenses for Vietnam retail businesses in Singapore, among others.
The speakers addressed these inquiries by drawing from their personal experiences and expertise, making the session an invaluable resource for attendees seeking practical insights.
In conclusion, the webinar created an informative platform for business owners, entrepreneurs, and stakeholders expanding their operations to Singapore.
We would like to express our sincere gratitude to all the speakers and participants who contributed to the success of this webinar. Stay tuned for our upcoming events and opportunities to engage with industry experts and successful entrepreneurs.
About BBCIncorp Pte Ltd
Established in 2019, BBCIncorp Pte Ltd is a part of the renowned BBCIncorp Group. We pride ourselves on being recognized as a Registered Filing Agent by ACRA, indicating our commitment to excellence and credibility.
We focus on helping Vietnamese clients leverage the benefits and resources available in Singapore, whether through setting up a business or expanding their operations in the region.
Disclaimer: While BBCIncorp strives to make the information on this website as timely and accurate as possible, the information itself is for reference purposes only. You should not substitute the information provided in this article for competent legal advice. Feel free to contact BBCIncorp's customer services for advice on your specific cases.
Share this article
Get helpful tips and info from our newsletter!
Stay in the know and be empowered with our strategic how-tos, resources, and guidelines.