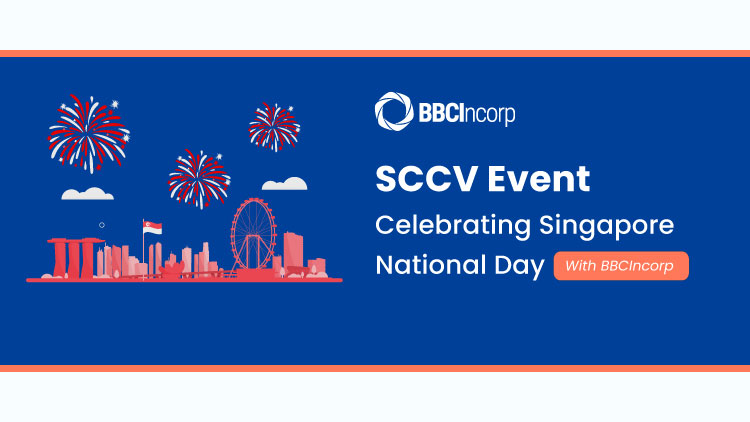 BBCIncorp is excited to announce its participation in the 58th Singapore National Day Celebration – Onward As One!
Organized by the Singapore Chamber of Commerce in Vietnam (SCCV), this event will be held on August 9th at The Intercontinental Saigon in Ho Chi Minh City. It's a wonderful opportunity for BBCIncorp to demonstrate our support for both the Singapore and Vietnam business communities.
The event aims to bring together business leaders and decision-makers from Singapore and Vietnam to commemorate the nation's independence, celebrate its progress, and honor shared values.
Alongside a remarkable lineup of speeches, this celebration promises a warm atmosphere for business networking, fostering stronger ties between Vietnamese and Singaporean businesses.
Singapore and Vietnam: A symbol of growth and collaboration
2023 marks a significant milestone as Vietnam and Singapore celebrate the 50th anniversary of diplomatic relations and the 10th anniversary of strategic partnership.
Over the years, Vietnam and Singapore forge a dynamic and mutually beneficial growth for both nations.
Foreign Direct Investment (FDI) plays a notable role in this relationship. As confirmed by the Ministry of Planning and Investment (MPI) of Vietnam, Singapore emerged as Vietnam's largest foreign investor, injecting US$978.4 million in the first half of 2023.
This accounts for an impressive 31.6% of Vietnam's total foreign capital investment, solidifying Singapore's crucial role in boosting Vietnam's economy.
Moreover, the bilateral trade between these two dynamic nations reached a significant S$31.3 billion in 2022, marking a substantial increase of 16.4% year-on-year. This growth not only highlights the mutual economic influence but also places Vietnam as Singapore's 11th-largest trading partner in the same year.
Recognizing the potential in Singapore's open business environment, many Vietnamese businesses have seized the opportunity to establish their presence in the country.
Their contributions span various sectors, including real estate, technology, game development, and e-commerce, creating a wide array of employment opportunities for Singaporeans, further strengthening mutual prosperity and bilateral partnership.
The upcoming SCCV event will serve as a great platform to celebrate these strong economic ties and progress made over the past years, while also looking toward future collaborations.
BBCIncorp: Connecting businesses with upcoming opportunities
As a multinational corporation founded and based in Singapore, BBCIncorp has assisted numerous businesses in navigating the complexities of international markets, fostering the expansion of Vietnam companies into Singapore and vice versa.
With our extensive knowledge and expertise, we are fully committed to enhancing economic collaboration between these two dynamic nations, thereby driving the growth and prosperity of businesses in both countries.
The SCCV event presents a great opportunity for us to promote in-depth partnerships and open up a multitude of possibilities for businesses ready to expand into Singapore.
We are thrilled to be attending the SCCV event, where we will celebrate Singapore's National Day and explore upcoming opportunities for businesses ready to expand into Singapore.
Our team is also looking forward to engaging with fellow attendees and discussing how we can collaborate to further strengthen the economic ties between Vietnam and Singapore in the future.
For more information on the event, refer to the SCCV website.
Save the date: August 9th, 2023
Time: 5:00 PM – 8:30 PM
Visit our booth: Booth 9th – Ballroom, Intercontinental Saigon, Corner Hai Ba Trung St. & Le Duan Blvd, District 1, Ben Nghe Ward, HCMC, Vietnam
We look forward to seeing you there!
Disclaimer: While BBCIncorp strives to make the information on this website as timely and accurate as possible, the information itself is for reference purposes only. You should not substitute the information provided in this article for competent legal advice. Feel free to contact BBCIncorp's customer services for advice on your specific cases.
Share this article
Get helpful tips and info from our newsletter!
Stay in the know and be empowered with our strategic how-tos, resources, and guidelines.