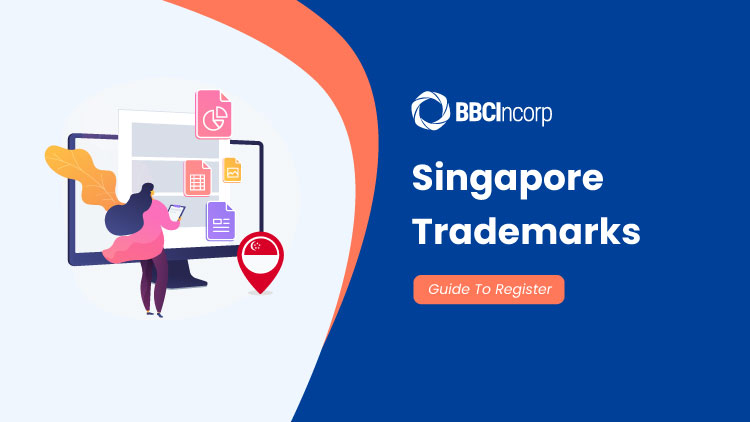 Every business, at a certain point, needs to create and have its own trademark. A trademark is crucial to be registered since it helps a company protect its identity. Let's find out what a trademark is as well as other related aspects and ultimately learn about how to get your trademark legally registered in Singapore.
What is a trademark in Singapore?
A trademark can be a letter, word, name, numeral, drawing, device, brand, label, shape, color, aspect of packaging, sound, or a combination of these. Its main purpose is to distinguish a business from its competitors. It also means it considerably helps customers recognize and recall easily a company along with its products and services. Therefore, it can be said that a trademark contains and bring significant value to its owner.
It appears to be common when a company put a symbol ® or ™ next to their trademarks. Apparently, the two symbols are pretty much different from each other. To be clear, ® refers to registered and protected trademarks under the laws. By contrast, ™ indicates unregistered ones.
Refusal of trademark registration in Singapore
According to the Trademark Act, there are absolute and relative grounds for refusal of registration. To make it convenient for you, we list below some of the most common cases in which trademarks are rejected from being registered in the city-state:
Trademarks that are devoid of any distinctive character

Trademarks that designate the kind, quality, quantity, intended purpose, value, geographical origin, the time of production of goods or of rendering of services, or other characteristics of goods or services

Trademarks that are contrary to public policy or to morality

Deceptive trademarks that misrepresent the nature, quality, or geographical origin of the goods or services

Trademarks that are confusing or identical to already registered ones, especially well-known ones.
To see all the grounds for refusal of registration, click here.
Advantages of registering a trademark in Singapore
As mentioned above, a trademark helps customers recognize and recall products or services from a specific business. It means that it can bring significant monetary value to its owner.
Then, registering for a trademark will avoid other competitors from copying and using it, thus it protects the identity of your business. Under the laws, if someone misuses your trademark, you can protect it without much evidence needed other than the fact of your registration and the proof of another company using your trademark. Otherwise, you have to deal with a trial that is long-lasting and very costly.
Furthermore, a registered trademark is also an asset or intellectual property of a business. As an owner, you can either sell it or grant a license for commercial use by third parties. Thus, a source of revenue will be added to your pocket.
How to register trademark for a company in Singapore
It is the Intellectual Property Office of Singapore (IPOS), under the Ministry of Law, that handles trademark registration in the city-state. You can apply either online or personally submit the application on IPOS. The process usually takes around 8-12 months from the full receipt of the required documents.
Generally, your application will go through the process described as follows:
Step 1: Create your trademark
The first thing you have to do is develop your own graphical representation of the trademark to submit. If it has some important details, you should describe them clearly in the application. Please remember to review all the grounds for refusal of registration in the Trademarks Act, which we mentioned above, in order to avoid your trademark from being rejected.
Nevertheless, you should carry on research before creating your trademark. It means that you have to make sure your trademark has not been registered by anyone else before. This is especially important because the fee for registration is non-refundable.
To search through existing trademarks, you can use the e-service IP²SG.
Step 2: Identify the class of goods or services
You must state the number of classes of goods or services which you want to register the trademark for. Please take note that you can pick more than one class.
There are 45 classes, including 34 classes for goods and 11 classes for services, listed in the International Classification of Goods and Services as prescribed by the Nice Agreement to classify trademarks.
To see general information about the classes, click here.
To see the full details of the classes, click here.
Step 3: File the application
The application generally requires:
A request for the registration of the trademark in Singapore
Name and address of the applicant
A clear representation of the trademark
List the goods or services in relation to which the applicant seeks to register the trademark
A declaration to use the trademark in good faith
As for payment, it shall be made via IP2SG's payment platform. You can expect to receive payment instructions via email within 3 working days after the trademarks office receives your form submission. The application fees vary depending on the method of your application:
If you apply online, then the fee is S$240 per class if you choose goods and services from a pre-approved database or S$341 per class if you do not use the pre-approved database and indicate your own specification for goods and services.
If you apply manually, then the fee is S$374 per class.
For all fees regarding trademarks, click here.
Note: In case you want to register a trademark for more than one class, you can submit either one general application for all the classes or a separate application for each one.
Step 4: Being reviewed and examined
IPOS will review the application to see whether (a) it is complete, (b) it complies with the provisions of the Trademarks Act, and (c) the fees have been paid. Next, your application will be examined to make sure the trademark is registrable according to the Singapore Trademark Laws and it has not been already registered by others.
If there is any wrong, the office will inform you and give you 4 months to respond and resolve the problem. Upon failure to respond within the given time, your application will be rejected.
Step 5: Being published
Upon successful completion of the above steps, your application then will be published and made available to the public. Within 2 months from the publication, any interested party will be able to oppose the registration of the trademark.
If the IPOS receives an objection from an opponent, you will be notified and must respond. A decision on the application will be made after hearing both parties.
Step 6: Receive your certificate of registration
If there is no objection to your trademark by any party or you can resolve all of them, then a certificate will be issued. Your trademark will be protected for a period of 10 years and you have to renew it after that.
International trademark
You can also register and protect your trademark in many countries in the world via the Madrid Protocol. It is an international system for obtaining trademark protection with more than 100 countries as its members.
In 2000, Singapore joined and became a member of this system. Therefore, you can file an additional application to register your international trademark with the IPOS instead of applying in every relevant country separately. Please take note that the protection is only valid in the list of countries that are members of the Madrid Protocol.
Furthermore, there are several criteria that you need to meet before applying for an international trademark:
The applicant must have trademark registration in Singapore and the goods or services in the international application must be the same as that in Singapore; and
The applicant must:

Be a citizen in Singapore; or
Have a business in Singapore; or
Be domiciled in Singapore; or
Have a real and effective industrial or commercial establishment in Singapore.
Conclusion
The more your business expands, the more it needs to register for a trademark. Registering for a trademark in Singapore is crucial for the identity of your company since it helps you prevent other competitors from copying and using it. You can apply either online or manually by yourself or by getting an agency to design and apply for a trademark for you. If you have any questions, feel free to message us!
Disclaimer: While BBCIncorp strives to make the information on this website as timely and accurate as possible, the information itself is for reference purposes only. You should not substitute the information provided in this article for competent legal advice. Feel free to contact BBCIncorp's customer services for advice on your specific cases.
Share this article
Get helpful tips and info from our newsletter!
Stay in the know and be empowered with our strategic how-tos, resources, and guidelines.