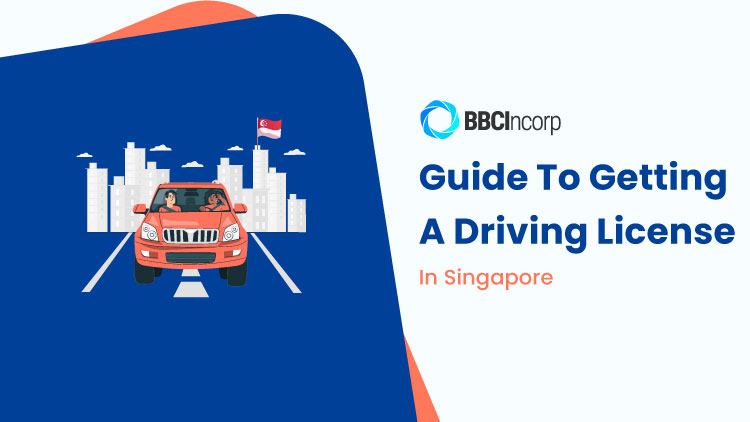 Driving licenses are crucial for mobility and independence in Singapore, a vibrant country where efficient transportation is essential for both residents and visitors.
As a foreigner aspiring to obtain a Singapore driving license, you would have to familiarize yourself with the requirements, since the government imposes strict criteria and examinations to promote road safety.
This article will guide you through the key points and essential steps to help you achieve your goal of becoming a licensed driver in Singapore. Let's explore together and get started on your journey toward obtaining a Singapore driving license.
Eligibility requirements for a Singapore driving license
Applicants must meet the following key requirements to get a Singapore driving license: residency status, age range, medical fitness, a clean record, and passing the mandatory tests.
Residency status
Your residency status plays a significant role in determining the requirements and procedures for getting a Singapore driving license.
If you are either a Long-term Visit Pass holder, a Work Permit holder, or a Permanent Resident in Singapore, you may be eligible to apply for a new Singapore driving license. Depending on your specific residency status, the detailed criteria and application process will differ, so make sure to consult the official guidelines provided by the authority.
Suppose you are a short-term visitor in Singapore, typically staying for less than 12 months, then you may not be qualified for the process. However, you can still drive in Singapore using a valid foreign driving license or an international driving permit (IDP) issued in your home country, as long as it is accompanied by your license.
Age range
The age requirement varies depending on the types of driving licenses in Singapore you are applying for. Generally, the minimum age is 18 years old for the Singapore License Class 3 (Manual cars or motorcycles) or 3A (Auto cars or motorcycles). Particularly, the minimum age requirement is as followed:
Class 3/3A (Passenger Cars): 18 years old
Class 2B (Motorcycles with engine capacity up to 200cc): 18 years old
Class 2A (Motorcycles with engine capacity between 201cc and 400cc): 19 years old
Class 2 (Motorcycles with engine capacity above 400cc): 20 years old
Class 4/4A (Heavy Vehicles): 21 years old
The age requirements are intended to promote a higher level of maturity and responsibility among individuals before they are granted the privilege to drive specific vehicles.
Medical fitness
As part of the application process, you must undergo a medical examination conducted by a registered medical practitioner approved by the LTA. This requirement applies to all applicants, regardless of their residency status.
The examination evaluates different aspects such as vision, hearing, and blood pressure, as well as the overall physical and mental health. Additionally, the medical practitioner will ask you about any existing medical conditions or disabilities that could affect a person's ability to drive.
In some cases, specific medical conditions or disabilities may necessitate further evaluation or documentation. For instance, individuals with certain vision impairments may be asked to provide detailed reports from ophthalmologists or optometrists.
Upon completing the medical examination, the results are submitted to the Traffic Police, along with the other required documents. The authority will carefully review the medical report and make a decision regarding the applicant's eligibility for a driving license.
Clear record
The LTA requires individuals to provide information about any previous traffic violations they have committed speeding tickets, reckless driving, or other driving-related offenses. In addition to traffic offenses, the LTA also takes into account individuals' criminal records.
However, having a history of traffic offenses or criminal convictions does not mean you will be disqualified from obtaining a driving license. Each case will be reviewed individually by the LTA, which considers factors like the severity of the offense, the time that has passed since the incident, and any rehabilitation steps taken.
By maintaining a clear record, not only do you increase your chances of getting a driving license, but you also contribute to creating a safer driving environment in Singapore.
Examination
After fulfilling the necessary documents pertaining to the aforementioned criteria, you are now eligible to enroll for the assessment of driving skills and knowledge.
The licensing process in Singapore includes two main types of examinations, which includes:
Theory Tests (Basic and Final); and
Practical Driving Test (PDT).
In the upcoming sessions, we will provide detailed information about these examinations.
Obtaining a driving license in Singapore goes beyond simply passing the exams. To become a competent driver, you need to engage in continuous learning, practice driving techniques, and stay updated with the latest road regulations.
Guidelines for Driving Theory Tests
In this section, we will explore the essential characteristics of the theory tests. Understanding these guidelines would be imperative to guarantee thorough preparation for these fundamental examinations.
Basic Theory Test (BTT)
The Basic Theory Test is a computer-based multiple-choice test, usually consisting of 50 questions, and you will have a specific time limit to complete it.
How to book and take the BTT
The process of booking and undertaking the Basic Theory Test (BTT) in Singapore entails several sequential steps. Please follow the guidelines below to ensure a smooth and efficient experience:
(1) To register for the BTT, you can visit either the official website of the Singapore Traffic Police or any designated driving test centers. Make sure to check if you meet the eligibility requirements and have the required identification documents before proceeding.
You will be able to choose from three qualified test centers across Singapore:
Singapore Safety Driving Centre (SSDC)
Bukit Batok Driving Centre (BBDC)
ComfortDelGro Driving Centre (CDC)
(2) Select a convenient date and time for your BTT from the available options. Keep in mind that popular time slots may get booked quickly, so plan in advance.
(3) To proceed with the test, you need to make a payment. The cost of the Singapore driving license test is SGD 6.5, and you have the option to pay online or at designated payment centers.
(4) On the scheduled date and time, arrive at the designated driving test center. Bring along your identification documents, such as your identity card or passport, as well as proof of payment. After completing the BTT, you will receive an immediate provisional result.
Final Theory Test (FTT)
Before you can take the practical driving test, you must pass another theory test, called the FTT. The process and cost for the FTT are identical to those of the BTT.
You can schedule your test at any of the three driving centers. After successfully passing the FTT, you will have a two-year window to complete your Practical Driving Test (PDT).
Details on the Practical Driving Test
After passing the theory tests, you are ready to take your practical driving exam. However, there are several practice steps you will need to go through before the actual examination.
To prepare for the actual practical driving test, you will need to apply for a Provisional Driving Licence (PDL). The PDL allows you to learn and practice driving on the roads under the supervision of a qualified driving instructor in the front seat next to you.
In order to apply for a Provisional Driving Licence, you need to log in via Singpass and pay the application fee (cash or NETS).
Attending driving lessons
Starting from December 2019, all driving students must complete three sessions on a driving simulator before they can schedule their practical driving test. Thus, it is essential to enroll in driving lessons at an accredited driving school.
To find a driving school or instructor that matches your preferences regarding location, availability, and services, you should review the options carefully. Then you can visit their official website or contact them directly for further details regarding the registration process.
It is recommended to select a service provider who can assist you with signing up for the actual practical driving test. Alternatively, you can also register directly through the official channels provided by the Singapore Traffic Police or the LTA.
Taking the practical test
After you have completed your driving lessons, the next step is to register for the Practical Driving Test (PDT). This test, conducted by a driving examiner appointed by the Traffic Police, is divided into two parts, each lasting approximately 45 to 50 minutes.
Preliminary Driving Assessment (PDA): conducted at the driving circuit and focuses on assessing your basic driving skills and vehicle handling.
Road Test: conducted on the actual roads and aims to assess your ability to drive safely, follow traffic rules, and interact with other road users.
During the test, you will be evaluated on your vehicle control, observation skills, adherence to traffic rules, and overall driving competence. If you do not pass the practical driving test, you will have the opportunity to retest after a certain waiting period.
Steps to the Singapore driving license attainment process
Now that you have familiarized yourself with the required tests, let's look at the overall process to acquire a license. If you're a first-time examinee in Singapore who wants to get a driving license, below are the steps you should follow:
Step 1: Enroll in a reliable driving school
When selecting a driving school, you should choose one that is accredited by the Traffic Police.
This accreditation ensures that the school offers a reliable curriculum and training, and also adheres to the approved standards for road safety and traffic regulations.
Step 2: Attend theory lessons
Driving theory lessons play a crucial role in equipping you with knowledge and understanding of safe driving practices.
By completing the required theory lessons and dedicating time to studying the Basic Theory Test (BTT) material, you should better be prepared to tackle the examination and demonstrate your knowledge of driving principles.
Step 3: Pass the Basic Theory Test (BTT)
After finishing the theory lessons, the next step is to put your knowledge to the test and demonstrate your understanding of traffic rules, regulations, and road safety.
To do this, you must register for a suitable schedule and take the basic theory test at a designated test center.
Step 4: Learn practical driving lessons
Once you have successfully passed the BTT, the next step is to gain hands-on driving experience. This involves enrolling in practical driving lessons conducted by a qualified instructor.
Through these lessons, you will have the opportunity to develop your driving skills, acquire the necessary expertise to navigate diverse traffic situations, and familiarize yourself with the specific driving rules and norms in your local area.
Step 5: Pass the Final Theory Test (FTT)
If you are applying for a Class 3 driving license, you will be required to pass the Final Theory Test (FTT). This particular test proves your proficiency in both advanced driving theory and practical knowledge, which affirms your comprehensive understanding and readiness to drive responsibly on the roads.
Step 6: Pass the practical driving test
In order to obtain a driving license in Singapore, you will need to take a practical driving test administered by the Traffic Police. During this test, you will need to demonstrate your driving skills, your ability to follow traffic rules, and your capability to handle various road conditions.
Step 7: Submit an application for driving license
After passing the driving tests, you can apply for a Singapore driving license. To do so, you must complete the required application forms and submit supporting documents, including proof of identification and residency status, along with the applicable fees to the relevant authorities.
Step 8: Obtain your driving license
If your application is approved, you will need to apply for the Qualified Driving Licence (QDL) online so as to receive your Singapore driving license.
Once you receive your license, which usually takes around two weeks after submitting your application, you will enter a one-year probation period marked by a probation plate. During this probationary period, if you accumulate more than 12 demerit points, the Traffic Police may revoke your license.
For the most accurate and up-to-date information on the requirements and procedures to obtain a driving license in Singapore, you should consult official sources such as the Traffic Police or relevant government websites.
License conversion for foreigners
If you hold a valid foreign driving license, you may be eligible to convert it to a Singapore driving license. In this case, you will only need to pass the Basic Theory Test and submit the necessary documents (e.g. your medical records, work pass, passport, etc.) at the Traffic Police Headquarters.
A Singapore Class 3C license will be issued upon successful conversion.
Driving license collection after the successful exams
Within this section, we will discuss the steps to acquire your driving license once you have passed the examinations. The process will be based on your residency status, with separate approaches for permanent residents and foreign individuals holding valid passes.
The procedures for Permanent Residents (PRs)
PRs who have passed the practical test are required to apply for the Qualified Driving Licence (QDL) online using the Singpass account via this e-Service. Payment of SGD 50 for the application must be made using eNETS or a credit card.
Once you have applied with a qualified digital photograph and made a successful payment for your QDL online, you can expect to receive your photo card driving license within 7 working days. It will be sent to you via registered post.
Your license remains valid until your 65th birthday. Following that, it will need to be renewed every three years.
The procedures for foreigners holding valid passes
Foreigners holding valid work passes issued by the Ministry of Manpower (MOM) or Student/Long-Term Visit passes issued by the Immigration & Checkpoints Authority (ICA) are also required to apply for the QDL online using the Singpass account.
In the event that you are not eligible to apply for Singpass (e.g. holders of work permits or student passes), you will have to apply for your QDL via this e-Service using your FIN number, Date of Birth, and card serial number for login.
The driving license is valid for five years for foreigners, and it must be renewed at the Traffic Police Department one month before expiration. Stay updated on the Singapore driving license renewal deadlines and procedures to avoid any disruptions in your driving privileges.
Conclusion
Obtaining a driving license in Singapore is a significant milestone that grants you the freedom and independence to navigate the roads. It requires dedication, knowledge, and practice. You have tests to take, lessons to attend, and the decision between automatic or manual cars.
Please keep in mind that it's important to stay informed about the latest guidelines and regulations provided by official sources. Embrace the journey of becoming a licensed driver, and always prioritize safety on the roads.
Disclaimer: While BBCIncorp strives to make the information on this website as timely and accurate as possible, the information itself is for reference purposes only. You should not substitute the information provided in this article for competent legal advice. Feel free to contact BBCIncorp's customer services for advice on your specific cases.
Share this article
Get helpful tips and info from our newsletter!
Stay in the know and be empowered with our strategic how-tos, resources, and guidelines.