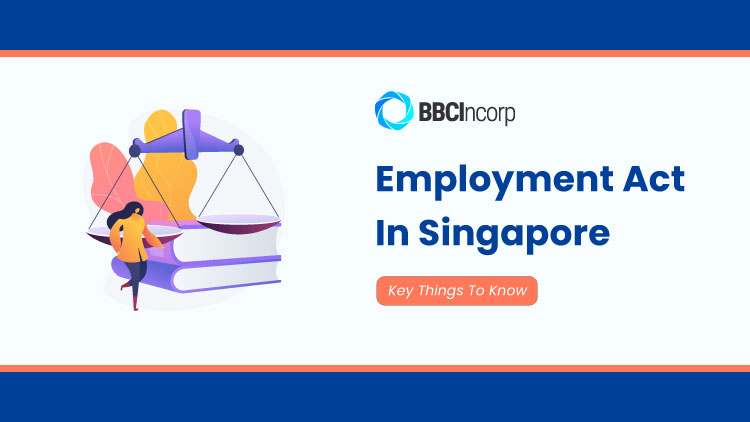 Are you new to Singapore and planning to apply for a job in Singapore? Are you an entrepreneur with a newly-establish company and wishing to hire new talents? Under either circumstance, you should know the basic regulations for employees and employers in the Singapore Employment Act in order to protect yourself as an employee or not violate them and make valid contracts as an employer.
There also have been a few amendments to the Singapore Employment Act in 2019. Therefore, we not only guide you through some of the key employee's rights and employer's duties but also point out some changes in this Act as well.
Overview of the Employment Act in Singapore
Let's go through some main points of this Act's latest update: what it is, who is covered in this Act, and what the most common regulations are.
What is the Employment Act?
The Employment Act is the main labor law in Singapore. It lays down the basic terms and conditions for employees in relation to employers.
In fact, the relationship between the two parties (employer and employees) is mainly regulated in the contract signed after negotiation, but still, it must comply with the provisions of the Employment Act. It means that employers have to draw out terms and conditions that at least meet those stated in the Act if the employees are covered under this Act.
Who is covered under the Act?
The Employment Act in Singapore covers both local and foreign employees working under a "contract of service" with employers, with certain exceptions.
Before 1st April 2019, the core provisions regulated in the Act did not apply to managers and executives whose earnings of more than $4,500. However, due to the last-year amendment, from 1st April 2019, the exclusion has been removed.
The reason behind this update is the fact that more and more managers and executives have joined the Singapore workforce. All in all, it means the Employment Act now covers all employees, including:
Managers and Executives: executive and supervisory functions, including making decisions on relevant matters, making strategies or adjusting policies as well as managing and running the business.
Workmen: one whose work involves mainly manual labor for more than 50% of the working time.
Non-workmen
According to Part IV of the Employment Act, only a part of workmen and a part of non-workmen are provided with additional protection concerning rest days, hours of work, and other conditions of service. Those particular parts are:
Workmen whose monthly salary of not more than $4,500; and
Non-workmen with monthly salary less than $2,600 (after the amendment from 1st April 2019). Before that, the threshold for the target was only $2,500.
Regarding exceptions, there are some groups of labor that are excluded and regulated by other Acts due to the nature of work. To be specific, they are:
Seafarers/Seamen;
Domestic workers;
Government-related employees.
Employees' rights and regulation
Below is the general information on a number of common regulations for the work rights and duties or benefits of employees and employers in Singapore. However, if you wish to know all the information or the whole Act, click here
Payment
The so-called "salary period" is the period in which the salary is payable and it shall not exceed one month. The employer has the right to fix the periods but if not, the salary period will automatically be one month.
Regarding the time of payment, it is regulated that the payment shall not be made later than 7 days after the end of the salary period. In addition, overtime payment, if there is any, shall be made within 14 days after the last day of the period.
Rest days, hours of work, and other conditions of service 
As aforementioned, this Part is only regulated for additional protections for only:
Workmen whose monthly salary of not more than $4,500; and
Non-workmen with a monthly salary of less than $2,600 (after 1st April 2019).
It means this does not cover Managers and Executives. The regulations comprise:
Break times
There has to be a break per 6 consecutive hours of working. If the work lasts for 8 continuous hours, then there has to be a 45-minute break with a meal.
Working hours
For common practice, normal hours of work are:
Up to 9 hours/day or 44 hours/week if working 5 days or less per week; or
Up to 8 hours/day or 44 hours/week if working more than 5 days per week.
Further agreements on working hours can be discussed and mentioned in the contract after negotiation between the two parties.
Singapore's work culture emphasizes group achievement, discipline, and diversity. However, an employee is not allowed to work more than 12 hours a day, except working under the below circumstances with a request from the employer:
An accident;
Protection of community life, national defense, or security;
Urgent operation to machinery or plant;
Unforeseen interruption of work.
In some cases, an employer can submit applications to MOM to receive permission for employees to work for more than 12 hours, but only a maximum of 14 hours.
Working overtime
Hours of overtime work are hours that exceed the normal working hours, not including break time. For overtime work, an employer must pay at least 1.5 times the hourly basic rate of pay. Thus, the formula can be seen as:
[Overtime payment = 1.5 x Hourly basic rate of pay x Number of hours of overtime working]
It is regulated that an employee can only have 72 hours of working overtime. If one wants to work more than that limitation, the employer must submit an application for exemption to MOM. Nevertheless, there are work activities that will not be granted overtime exemption, prescribed as follows:
Work requiring mental concentration to ensure safe operation;
Work involving the continuous and manual operation of machinery;
Work in extremely hot conditions or constant changes in temperatures;
Work in a compressed-air environment;
Work by young people or pregnant women;
Work requiring a vast amount of physical strength;
Work involving heights more than 3 meters;
Rest days
The employee must be entitled to 1 rest day per week without pay, and it shall be determined by the employer. The maximum interval between 2 rest days is 12 days.
However, if employees have to work on a rest day under exceptional circumstances, then the employees' benefit is to have a much higher salary. For instance, they can receive up to 2 days' salary plus overtime pay when working beyond normal working hours on rest days.
Holidays
There are 11 official holidays in Singapore and every employee is entitled to a paid holiday. However, if:
an employee is required to work on a public holiday, he/she should be paid an extra day's salary at the basic rate of pay. Any other days can be picked to be substituted for the specific holidays, only when both the employer and employee agree to do so;
the public holiday falls on a rest day; then the next working day will become a paid holiday;
the public holiday falls on a non-working day then the employee will be compensated, either with an extra day's pay or an extra day off.
Annual leave
An employee who serves at least 3 months, other than rest days, holidays, and sick leaves, shall be entitled to paid leaves through time periods as follows:
7 days for the first 12 months of continuous service with the same employer;
Additional 1 day added for every subsequent 12 months;
Maximum to 14 days of paid leave per year.
An employee who serves at least 3 months but has not completed the period of 12 months will be entitled to annual leave in proportion to the number of completed months of service in that year.
Annual leave will be taken away if an employee is absent from work without the permission of the employer, or without reasonable excuse, for more than 20% of the working days in the month or year.
Sick leave
The entitled number of days of paid sick leave shall depend on the amount of time an employee has worked. To be more specific:
At least 6 months: 14 days per year if no hospitalization is necessary, or 60 days per year if hospitalization is necessary (inclusive of the 14 days);
At least 5 months but less than 6 months: 11 days per year if no hospitalization is necessary, or 45 days per year if hospitalization is necessary (inclusive of the 11 days);
At least 4 months but less than 5 months: 8 days per year if no hospitalization is necessary, or 30 days per year if hospitalization is necessary (inclusive of the 8 days);
At least 3 months but less than 4 months: 5 days per year if no hospitalization is necessary, or 15 days per year if hospitalization is necessary (inclusive of the 5 days).
In order to obtain sick leave, an employee must present medical certificates (MCs) issued by medical practitioners. Before 1st April 2019, employers only recognized medical certificates from:
Government doctors and dentists;
Company-approved doctors and dentists.
However, due to the amendment in 2019, now, employers must recognize the MCs issued by Doctors registered under the Medical Registration Act and Dentists registered under the Dental Registration Act for granting paid sick leave.
Employment termination with notice
Either employer or employee has the right to terminate the contract of service by giving the other notice of the intended termination. According to the Act, if there is an absence of the provision for the notice period in the contract, then the notice period shall not be less than:
One day if the employment is less than 26 weeks;
One week if the employment is at least 26 weeks but less than 2 years;
2 weeks if the employment is at least 2 years but less than 5 years;
4 weeks if the employment is at least 5 years;
Employment termination without notice
Either party may terminate the contract of service without notice or terminate the contract before the expiry of the notice period, by paying to the other party the amount of gross salary which would have accrued to the employee during the period of the notice.
Moreover, either party may also terminate the contract without notice if the other party violates on purpose the terms and conditions in the contract.
Dismissal
An employer, when an employee misconduct the terms and conditions of the contract of service, may:
Dismiss that employee without notice; or
Down-grade that employee; or
Suspend that employee from work without pay for a period not exceeding one week.
Regarding wrongful dismissal, if an employee feels being dismissed for wrongful reasons or without reason at all, he/she can lodge a claim for one of the following remedies:
Reinstatement in former employment and payment of wages that the employee would have earned if not being dismissed; or
Compensation from the employer, determined by the Tribunal.
Please take note that, due to the amendment in 2019, since 1st April 2019, the Employment Claim Tribunals (ECT) along with Tripartite Alliance for Dispute Management (TADM) have held the responsibility for Wrongful Dismissal, instead of MOM.
For managers and executives, they have to work for at least 6 months, instead of 1 year as before, to be able to submit a dismissal claim. Whereas, non-managers and non-executives are required no such condition.
Conclusion
Knowing the duties and rights regulated for employees and employers in the Singapore Employment Act is very important and necessary since it keeps employees away from being unfairly exploited and helps employers to make valid contracts.
If you have any questions about hiring in Singapore, feel free to drop us a message via service@bbcincorp.com, our consultants will be in touch the soonest!
Disclaimer: While BBCIncorp strives to make the information on this website as timely and accurate as possible, the information itself is for reference purposes only. You should not substitute the information provided in this article for competent legal advice. Feel free to contact BBCIncorp's customer services for advice on your specific cases.
Share this article
Get helpful tips and info from our newsletter!
Stay in the know and be empowered with our strategic how-tos, resources, and guidelines.