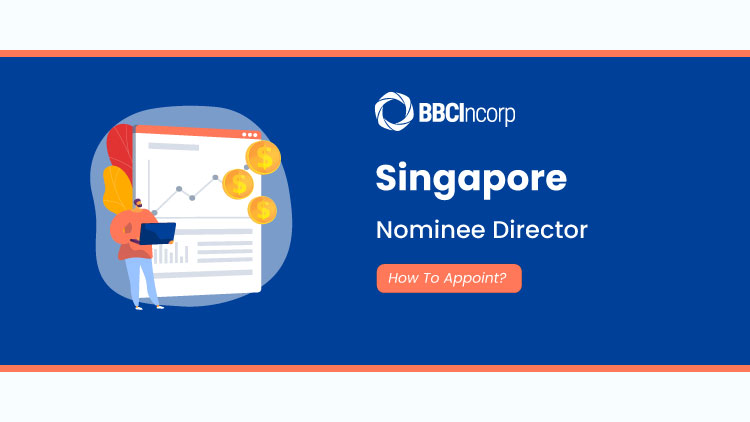 If you are a foreigner looking to start your own business in Singapore, you should be aware that all Singaporean-incorporated companies are required to have at least one resident director for compliance purposes. To meet this specific requirement, many businesses would hire a Nominee Director.
What exactly does a nominated director do? Who is capable of taking on that role? How do you go about appointing one for your company?
Ask no further because we'll cover everything you need to know about a Singapore nominee director in this article.
Why do you need to appoint a nominee director in Singapore?
More and more foreigners are moving to Singapore to start businesses and invest. This raises the possibility that these foreign-owned companies will break the law, abandon their operations, and flee the country. Common business crimes include failing to pay taxes, engaging in illegal transactions, and stealing money from customers and partners.
These risks compel the Singapore government to strengthen oversight of foreign-owned businesses, with Section 145 of the Companies Act requiring "every company to have at least one director who is ordinarily resident in Singapore."
As a result, appointing a nominee director has become increasingly common for many businesses. These directors will oversee and ensure that local companies (established by foreigners) abide by local laws.
A nominee is personally liable for the companies for which they work and may face severe punishments if the companies commit any wrongdoing. To avoid this significant risk, the nominee will do everything possible to ensure that your company does not violate any laws. For example, they will review all of your company's annual reports before they are sent to relevant governmental agencies.
Mandatory requirement to register nominee shareholders
To strengthen Singapore's corporate governance regime and reaffirm commitment to combating money laundering, the ACRA requires companies to maintain a Register of Nominee Shareholders.
Singapore and foreign companies must keep a non-public register of nominee shareholders and their nominators.
Singapore companies, foreign companies, and LLPs that cannot identify a registerable controller are required to do so.
The register of nominees is strictly confidential and must be kept at the registered offices of the company or its appointed filing agent.
What to know about a nominee director in Singapore?
A nominee is a third-party person who represents your organization when it lacks a local director to fulfill corporate responsibilities.
The term "Nominee" indicates that the director role is strictly non-executive and exists solely to satisfy Singapore's legal and regulatory requirements. As a result, it does not imply taking direct control of the business's operations (i.e., making major decisions or signing important contracts).
Regardless, a nominee can still oversee the company, perform administrative tasks, and ensure that the company is operating legally
Who can be the nominee director?
According to the Singapore Companies Act, a nominee must be:
A citizen or permanent resident of Singapore or a holder of an Entrepass work visa with a permanent Singapore address; and
At least 18 years of age
A nominee must not be:
An undischarged bankrupt (i.e., not declared by a court to be free of debts and legal constraints)
Convicted of any offense involving fraud and dishonesty that carries a prison term of more than three months
Convicted in court of three or more ACRA filing violations
Been involved with three or more companies that ACRA barred within the last five years.
Disqualified for Companies Winding Up on the grounds of National Security or Interest
Disqualified for Unfit Directors of Insolvent Companies
Disqualified for Failure to Make Returns
How to appoint a nominee director?
Follow the three steps below to appoint someone to this position:
Step 1: Sign a Nominee Director agreement
You should have a properly written document signed by the nominee who agrees to only act on your instructions.
In general, the agreement should cover the following topics:
The terms of the deal with the ND.
The powers and responsibilities of the nominee.
Clarification that the nominee is not responsible for the company's management.
Clarification that ND cannot give personal guarantees or make business decisions (e.g., signing contracts or opening bank accounts in the company's name)
The preferred method of dispute resolution in the event of a dispute
Other specific duties
Step 2: Create the Register of Nominee Directors
Once you have appointed a nominee, you must enter your nominee's information into the Register of Nominee Directors.
A Singapore-incorporated company must form and maintain a register of its nominee which contains information about the nominator. The particulars of the nominator vary, depending on the fact that whether the person is an individual or a legal entity.
The register must follow a certain template and will not be made available to the public. However, upon request from ACRA or other public agencies, your company must be able to provide the register and other related documents as well.
All companies must keep a register of nominee directors but there are some exemptions in which a company does not have to keep a register of a nominee in Singapore.
For example, if it is a foreign company or a certain type of public company. More information can be found here.
What are the risks of using nominee directors?
The biggest risks of using a nominee are losing ownership of the shares, losing confidentiality, having to deal with the fallout from the nominee's unauthorized actions, and having to pay a hefty sum in legal fees to defend your rights.
Other significant risks include:
The nominee discloses the arrangement to others, jeopardizing shareholders' identity and liability protection
The nominee violates the terms of the agreement (e.g., using company assets for personal gain or abusing the given power)
Ineffective management and control, resulting in business dysfunction
Both parties face civil and criminal penalties for regulatory violations.
The nominee becomes unreachable and fails to report to the appointing shareholders
What are the duties of a nominee director in Singapore?
In Singapore, there is no legal distinction between the powers of a nominee director and a regular director.
According to Section 157A of the Companies Act, directors can exercise all powers of a company in order to manage and run its business, except the powers that the Act or the company's constitution requires the company itself to execute instead.
Typically, your company nominee has legal responsibilities as below:
Organize annual general meetings, submit yearly returns to the Accounting Compliance Regulatory Authority of Singapore (ACRA), and
Send tax returns to Singapore's Inland Revenue Authority (IRAS)
Failure to follow the law is an offense that carries fines, penalties, and legal action
Can you be your own company's director?
You can indeed be the only director of your company. This can be accomplished by getting an Employment Pass. It is a pass issued when an existing company wants to hire you.
With that being said, you can establish your company and hire yourself as a director. Once being approved, the Employment Pass allows you to move and relocate to Singapore and you will be considered a local-resident director, meaning your company does not need a nominee anymore.
However, the process of submitting and getting an Employment Pass can last for several months. Until the pass is received in your hand, your company will still need a nominee to fulfill the incorporation requirements in Singapore.
Why should you use a nominee service in Singapore?
Hiring a nominee director on your own, without any proper written agreement, may cause serious risks to your company and valuable shares. To prevent this, it is better to hire one through a trustworthy service provider.
A service provider can select a capable local director for you and help you draft a proper agreement, particularly the clauses that place limitations on the nominee's ability to perform certain tasks for your company.
The nominee will only be present to help you fulfill the incorporation requirements; they won't visit your office or get involved in day-to-day activities. Additionally, the nominee will verify that your business is not engaging in any dubious practices by reviewing all of the reports before the papers are submitted.
At BBCIncorp, the nominee service is included in the incorporation packages, allowing you to start a business and hire a nominee at the same time while saving time and money.
We do not take deposits for a nominee in Singapore, meaning you only need to pay a one-time fee for our Singapore company incorporation package.
A nominee director helps you to meet the incorporation requirements (that is your company must have a director who locally resides in Singapore).
Using a nominee service may bring you peace of mind since the directors are professional and hired with proper contracts.
Your Singapore-based company must keep a register of its nominee which contains particulars of the nominator.
You can be the sole director of your company by getting an Employment Pass and moving to Singapore.
If you have any further questions about Singapore incorporation and nominee director, chat with our expert or drop a message via service@bbcincorp.com.
Frequently Asked Questions
How much is a nominee director in Singapore?
The fee for Nominee Director ranges from $1,800 to $3,000 per year, depending on the assessed risk level.
What is the role of a nominee director?
The primary role of a nominee director is to fulfill legal obligations in Singapore as a local (native) representative.
The nominee may only act on behalf of the company's owner and may not make any decisions on their own.
How do I appoint nominee director in Singapore?
To appoint a nominee director, you must follow two steps:
Enter into a Nominee Director Agreement
Establish the Nominee Director Register
What is a nominee shareholder Singapore?
A Singapore nominee shareholder is an individual or a corporation who registers as a shareholder on behalf of another person or acts on the direction, instructions, or wishes of another person.
Nominating a company shareholder is legal in Singapore as long as you provide valid reasons for doing so.
Disclaimer: While BBCIncorp strives to make the information on this website as timely and accurate as possible, the information itself is for reference purposes only. You should not substitute the information provided in this article for competent legal advice. Feel free to contact BBCIncorp's customer services for advice on your specific cases.
Share this article
Get helpful tips and info from our newsletter!
Stay in the know and be empowered with our strategic how-tos, resources, and guidelines.