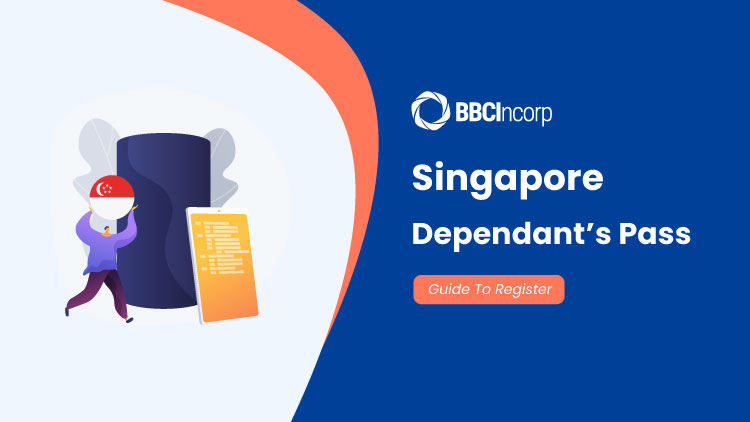 If you are a foreigner working in Singapore, chances are you long to see your spouse and kids at times. With Dependant's Pass, you can now reunite with them in this small yet prosperous city-state. Plus, they can have the right to study and work just like a local.
All that would be our discussion today: what is a Dependant's Pass? Who is it for? and how can one have it?
What is the Singapore Dependant's Pass?
Dependant's Pass is a relocation visa enabling immediate family members of a well-paid work visa holder, including Employment Pass, EntrePass, Personalized Employment Pass, and S Pass, to resettle in Singapore.
It was reported that most holders of the Dependant's Pass describe their lives as fulfilled.
This fact is straightforward simply because your family members, with this pass in hand, would be treated the same as other local citizens: they can travel in and out of Singapore and are allowed to seek jobs and work, and even incorporate a company when certain criteria are met.
The validity of your dependants' pass will be subject to that of your main pass. In other words, as long as you are able to retain your right as a work pass holder, your family members can stay in Singapore. And by the same token, if your work pass is canceled, so are your dependants'.
How can I know if my family members are eligible for Dependant's Pass?
Your dependants are in the correct position to apply for Singapore Dependant's Pass as long as these requirements are fulfilled:
You currently hold any of the main work passes – i.e., Employment Pass, EntrePass, Personalized Employment Pass, and S Pass.
You earn a salary of at least S$6,000 a month if you hold an Employment Pass or S-Pass. In the case of EntrePass, your business spending must reach a minimum threshold, and so does the number of local jobs you create
The dependant is deemed your spouse or unmarried child under 21 years old who is your birth or legally adopted child.
Other dependants who fail to meet the above criteria can have a Long-term visit pass instead. 
What documents are needed to apply for a Dependant's Pass?
Before all else, you will need to prepare these documents:
Dependant's Pass application form (FORM 12)
The personal particulars page of the dependant's passport and his/her passport-sized photo
Documentary evidence recognizing the relationship between you and your dependents
You sure will be required to submit several more documents depending on which category the applied dependant falls into.
A copy of your marriage certificate is a necessity should your legally married spouse feels like coming to Singapore.
Your personal particulars page if you share your passport with your kids.
For your juvenile children, you need to take a photocopy of their official birth certificate in which their name is specified. 
If your children were legally adopted, proof such as a copy of the adoption certificate is needed.
Additional documents are required if your children are below 12 years old.
Now that all the required documents are prepared, your dependents are all set to apply for the pass.
How can my dependants apply for the dependant's pass?
The application procedure follows a standard 4-step approach:
(1) Submitting the application
(2) Getting the pass issued
(3) Registering fingerprints and photo
(4) Receiving the card
Step 1: Submit the application
In order to register for the pass, you can consider between 2 options: online and manual application.
Online submission can be made online through EP Online. This way, however quick and convenient it is, can only be taken by the dependants of Employment Pass or S Pass holders.
One major upside of e-submission is the rather short processing time. You would be notified of the outcome within only 3 weeks from the time you feed your application and other required documents into MOM's system. Nevertheless, you should have some kind of e-payment account or debit/credit card in place to pay a fee of $105.
You would be left with no other choice rather than a manual application if you hold other types of work passes, that is, EntrePass, Personalized Employment Pass, and Employment Pass (sponsorship).
To manually submit the application, you can fill out a prescribed form downloaded from MOM, then arrange a visit at the nearest Singpost to submit the application together with other required documents. One other way is to download an application form, print and fill it out, and submit using SingPass or CorpPass.
Much like other types of passes, if your application is approved, you should expect an In-principle-approval (IPA) letter. In this case, it will be sent to the dependents – your family members.
Step 2: Get the pass issued
When the letter arrives, the dependants should organize a visit to Singapore in order to have the Pass issued. Your family members should get a move on because the IPA letter is valid for a short timeframe of 6 months for EP dependants and only 2 months for S pass dependants.
Now that the dependant has presented in Singapore, you can get the pass issued by submitting supporting documents via EP online. There is a registration fee of $225 for each pass you apply for. If you wish to obtain Multiple Journey Visas, you will be charged $30 for each issue.
Once the pass is issued, MOM will send you a notification letter, which will help the dependants travel into and out of Singapore when needed. It has a validity period of 1 month, yet it can be prolonged under certain conditions.
The letter will also advise you if it is necessary to register your fingerprints and photo. Unless the applicants are first-timers or those whose latest registrations were over 5 years, they would not be subject to this requirement.
It would also specify the timeframe prior to which the registration needs to be carried out. It is 2 weeks for dependants of Employment Pass holders and 1 week for S Pass holders.
Step 3: Register fingerprints and photo
According to MOM, if the notification states that the defendant is required to register fingerprints and photo, he/she would need to arrange a visit to a relevant MOM center and bring along the following documents:
Original passport
Appointment letter
Notification letter
Documents listed in the IPA letter and notification letter
Step 4: Receive the pass
When all is said and done, the card will be sent within 4 working days. Do note that 1 day before this delivery takes place, the authorized recipients should be notified of it via their cell phone or the email address they specified
How can my dependents renew their passes?
You can apply for renewals from 3 – 6 months prior to its expiration date depending on the main pass type, failing which would require you to apply for a new pass. After the registration takes place, you will be assessed on the basis of several criteria.
For dependants of EP or S-Pass holder, you can renew the pass by using EP online, which takes 3 weeks to process; or by post for dependants of EP (sponsorship) or EntrePass holder, which takes 8 weeks.
Can the dependents work or study in Singapore?
As long as your dependant has a Letter of Consent, which must be applied for by a sponsor on his/her behalf, he/she can have a job as other pass holders.
In addition, your kids can attend any local school in Singapore if you manage to secure a vacancy for them. It is because most educational institutions here would give low priority to foreign children. 
Can Dependant's Pass holder become a Permanent Resident?
Dependant's Pass holders are allowed to apply for Permanent Residence together with the holder of other main work passes in due course.
In this way, the outcomes of both, that is whether or not the applications are approved, would be notified at the same time.
Should you have any questions regarding Singapore Dependant's Pass. Feel free to drop us a chat message or send us an email via service@bbcincorp.com
Disclaimer: While BBCIncorp strives to make the information on this website as timely and accurate as possible, the information itself is for reference purposes only. You should not substitute the information provided in this article for competent legal advice. Feel free to contact BBCIncorp's customer services for advice on your specific cases.
Share this article
Get helpful tips and info from our newsletter!
Stay in the know and be empowered with our strategic how-tos, resources, and guidelines.