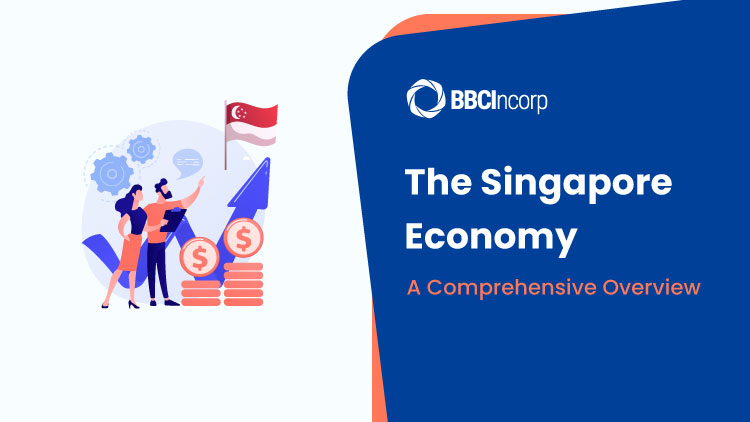 Over the past few decades, the Singapore economy has undergone remarkable growth, transforming from a third-world country to a first-world economy.
For investors, entrepreneurs, and businesses looking to expand into this region, gaining a comprehensive understanding of the Singapore economy can provide valuable insights into its strengths, challenges, and opportunities for growth and investment.
Therefore, in this blog, BBCIncorp will provide in-depth knowledge of the inner workings of Singapore's economy.
The economic background of Singapore
The economic success of Singapore is a combination of several factors, such as a free-market economy, low taxes, a corruption-free environment, price stability, high GDP, and low unemployment rates. The country has also placed a strong emphasis on education and human capital development, leading to a highly skilled workforce that is able to compete in the global economy.
The Singapore economy depends significantly on exports, primarily to China and the US. The ongoing trade war between these two countries has impacted Singapore, reducing export demand and increasing import costs. To adapt, the government is emphasizing diversification and exploring new markets, like Southeast Asia and the digital economy, to lessen reliance on traditional export markets.
The COVID-19 pandemic has brought about both challenges and opportunities for Singapore's economy. Singapore has been proactive in implementing effective measures to contain the spread of the virus, while also providing support to businesses and individuals affected by the pandemic.
At the same time, the pandemic has accelerated trends such as remote work, digitization, and e-commerce, which have created new opportunities for businesses to innovate and adapt.
Singapore's government policies
Singapore's government has implemented a range of policies aimed at promoting foreign investment and fostering economic growth.
One of the most attractive policies for foreign businesses is the tax incentive scheme, with a headline corporate tax rate of 17% and various tax exemptions and rebates.
Additionally, the government has prioritized the protection of intellectual property, allowing foreign investors to fully benefit from their investments without fear of infringement.
The Global Investor Program (GIP) is a program aimed at attracting foreign investors to the country. With a minimum investment of S$2.5 million, foreign investors can apply for permanent residency in Singapore, allowing them and their families to live, work, and study in the country.
Compared to other countries' investment visa programs, the investment requirements for GIP are relatively lower, making it an attractive option for foreign investors. The GIP program has been highly successful, with about $5.46 billion in investments from 2011 to 2022, and generating more than 24,000 jobs.
Government policies have played a crucial role in driving the growth and success of the Singapore economy, making it a top destination for foreign businesses and investors.
Economic growth and performance
The Singapore economy has performed well despite global challenges, with its GDP reaching an estimated $599 billion at the end of 2022, according to World Economics. While the GDP growth rate in 2022 is 3.6%, a decrease from the 7.6% growth rate in 2021, it is still a commendable rate of growth considering the global economic slowdown. This slowdown has been caused by ongoing trade tensions between the US and China, as well as the COVID-19 pandemic, which has disrupted global supply chains and caused a decline in global demand.
The country has also managed to keep its unemployment rate low at 2.1%, despite the challenges posed by the pandemic.
Inflation rates in Singapore have risen significantly, with headline inflation at 6.1% and core inflation at 4.1%, due to increased costs of imported goods and higher transportation and accommodation costs.
While moderate inflation can stimulate demand for goods and services, high inflation can cause businesses to suffer and consumers to struggle to afford everyday necessities. As such, businesses need to develop appropriate strategies to manage inflation by monitoring the rate and adjusting pricing strategies accordingly.
Singapore's positive trade balance has also been a driving force for economic growth, with the government's focus on diversifying markets and sectors to reduce dependence on traditional export markets.
According to EIU's Ranking, this city-state is forecasted to be the best place in the world to do business for the next five years, reflecting its attractive policies for foreign investors and entrepreneurs.
Industries in Singapore
Singapore's manufacturing, finance, and service industries have been essential to the country's economic growth, with manufacturing being the largest industry, followed by finance and services.
Despite challenges in some clusters, such as electronics and biomedical, there are opportunities for growth in other manufacturing clusters like precision and transport engineering. Singapore has become a regional financial hub in Southeast Asia as a result of favorable government policies and laws.
Because of its high level of living, first-rate infrastructure, and talented workforce, Singapore is also a desirable location for enterprises in the service industries, including tourism, healthcare, education, and professional services.
Looking towards the future, Singapore is embracing emerging industries such as fintech, biotech, and smart city solutions to shape its economic growth. Singapore has become a fintech hub, attracting numerous startups and established companies through initiatives like the FinTech Sandbox and the FinTech Innovation Lab. The biotech industry is rapidly growing, while Singapore's investment in smart city solutions has positioned the country as a leader in urban innovation.
Note
Even though Singapore is renowned for being a welcoming location for foreign investors, there are also laws and regulations in place, especially in key industries such as the financial services and real estate sectors. These include restrictions on foreign ownership of residential properties and regulations to protect local businesses.
Debt and fiscal policies
The debt and fiscal policies refer to how the Singapore government manages its money and responds to economic challenges.
Singapore's fiscal policy prioritizes public goods and infrastructure, with heavy investment in education and skills. Social spending has increased significantly in the past decade, with a focus on improving healthcare.
According to Trading Economics, external debt in Singapore decreased to SGD2,481,397 in the fourth quarter of 2022. Despite high levels of debt, Singapore's assets are much larger than its liabilities, making it a net creditor country with no net government debt.
The government has the highest credit ratings of AAA from international credit rating agencies, reflecting its strong balance sheet. The majority of the government's borrowings are for non-spending purposes, with all proceeds being invested, covering the debt servicing costs.
Thanks to strong finances, Singapore can respond effectively to crises, even though it's a small country with no natural resources. The government has been prudent and disciplined in building up its reserves, which have allowed it to deal with unexpected shocks such as the COVID-19 outbreak without borrowing heavily and passing on the financial burden to future generations.
Overall, Singapore's strong fiscal and debt policies have allowed it to maintain a stable and robust economy, despite economic challenges.
Corruption index
The Corruption Perception Index (CPI) measures perceived corruption in public sectors across countries, based on various factors such as bribery, public funds' embezzlement, and abuse of power
Singapore scored 83 out of 180 countries in the 2022 Transparency International CPI, making it the only Asian country in the top 10. According to Corrupt Practices Investigation Bureau (CPIB), the number of public sector corruption cases in Singapore has remained consistently low over the years, and international indices have consistently ranked Singapore as having an incorruptible and clean public sector.
Singapore maintains a low corruption rate, thanks to political determination, heavy punishment for corruption offenses, and a zero-tolerance culture. The government's strong stance against corruption means that corrupt behavior will not be tolerated, which promotes confidence in the country's institutions and governance.
This stability and predictability, in turn, provide a conducive environment for businesses to operate, contributing to the growth and development of the Singapore economy.
Start-up ecosystem
Singapore's start-up ecosystem is booming, with a variety of successful companies having emerged recently. Unicorns like Grab and Lazada are just some examples of innovative start-ups that have made their mark in Singapore.
Singapore's start-up scene has seen significant growth in industries such as fintech, biotech, and smart city solutions, which offer plenty of potential for new businesses. These industries have significant potential for start-ups but also come with challenges. For example, the fintech industry in Singapore is highly regulated, and start-ups in this sector need to navigate complex regulations and licensing requirements.
Incorporate Your Company With BBCIncorp
With the support of BBCIncorp, you can be confident that your business will comply with all the necessary rules and regulations. BBCIncorp offers comprehensive incorporation services and is committed to supporting you throughout the entire company registration process.
Despite the supportive environment, start-ups in Singapore still face challenges in accessing talent, funding, and markets. This is particularly true for early-stage start-ups that may struggle to attract funding and experienced employees. However, the government has responded by launching initiatives such as the Startup SG Talent program to help start-ups overcome these challenges.
Conclusion
The Singapore economy has seen sustained growth due to advantageous conditions, making it an attractive destination for foreign businesses and investors. Although challenges remain, the government still manages to overcome these setbacks, adapt and innovate in the face of adversity.
If you're considering starting your business in Singapore, BBCIncorp is here to support you! Reach out to us at service@bbcincorp.com to get expert assistance and ensure compliance with Singapore's regulations and requirements.
Frequently Asked Questions
What are the main industries driving Singapore's economy?
The Singapore economy is driven by a diverse range of industries, with 3 main sectors as below:
Manufacturing (production of electronics, chemicals, biomedical products, and precision engineering)
Finance (banking, insurance, and asset management)
Services (tourism, healthcare, and education)
What factors have contributed to Singapore's economic success?
Below are some of the most significant factors that have contributed to the Singapore economy's success:
Gaining independence
Globalizing industry and trade
Human capital development
Effective fiscal policies
Creating a market economy
Disclaimer: While BBCIncorp strives to make the information on this website as timely and accurate as possible, the information itself is for reference purposes only. You should not substitute the information provided in this article for competent legal advice. Feel free to contact BBCIncorp's customer services for advice on your specific cases.
Share this article
Get helpful tips and info from our newsletter!
Stay in the know and be empowered with our strategic how-tos, resources, and guidelines.