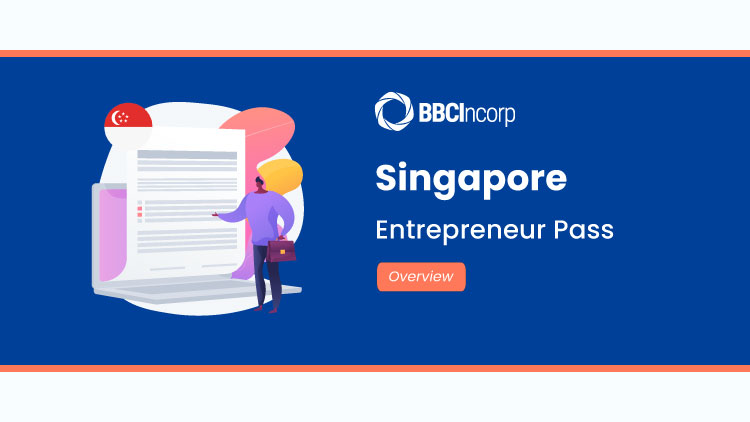 If you are an ex-pat whose sole purpose of relocating to Singapore is to stash as much money as you can, applying for an Entrepreneur Pass is your best call.
In this article, we will provide you with a comprehensive picture of the Entrepreneur Pass in Singapore.
What is an Entrepreneur Pass in Singapore?
EntrePass is reserved for foreign entrepreneurs who are setting out to build up their new businesses in Singapore. The pass gives access to the Singapore market for people of all nationalities, except for those against which an embargo was imposed.
It goes without saying that Singapore has a clear vision for long-term growth, which they believe is fueled mostly by the latest innovations in science and technology.
Therefore, if your business outlook centers on researching and developing innovative technologies, SPRING Singapore, IMDA, and NRF – the relevant authorities responsible for assessing your application, would be more likely to root for your start-ups.
What are the requirements for a Singapore Entrepreneur Pass?
In most cases, you do not need to have a college degree to be eligible for an EntrePass, which is a far cry from Employment Pass where the applicant's educational background is thoroughly scrutinized.
You know you are well-positioned to apply if you have an innovative business idea that is realistic enough to be translated into a nascent start-up. Your company must also be able to create jobs for local workers.
Generally, an EntrePass is only meant for foreigners intending to incorporate a private limited company wherein they own at least 30% of the shares. Plus, you will be asked to relocate to Singapore to oversee the business operation and activities.
It is well-advised that you register for the new company with the Accounting and Corporate Regulatory Authority only after getting the nod of approval for the EntrePass application.
In the event that you have already had your company operated in Singapore, it must not exceed 6 months old at the date you register for the pass. Otherwise, your effort may come to naught.
Pursuant to MOM, there are 3 professional statuses that are qualified for the EntrePass: entrepreneur, investor, and innovator. Depending on which endeavor you choose, the set of eligibility criteria and requirements to which you are subject would differ. We have outlined them as follows:
Entrepreneur
Your venture is subsidized with funding of at least $100,000 from one or more third parties such as government vehicles, venture capitalists, and business angels that have earned recognition from a Singapore government agency.
Your start-up is incubated by a formally recognized incubator or accelerator situated inside Singapore.
You are able to convince the authorities that you have a mindset for entrepreneurship by demonstrating that you have an excellent record of undertaking profitable ventures or you have established a vast network of business relationships.
Innovator
You have in place a registered intellectual property (IP) that gives you a competitive edge over your competitors.
You and your company partner in a research collaboration with a research institution that is formally recognized.
You maintain a distinguished record of personal achievements that are relevant to your expertise or field of research.
Investor
You propose to encourage the city-state's economic growth by deploying a large amount of capital into local companies.
You have built a portfolio of high-caliber and profitable investments.
As a side note, you should first see to it whether or not your company operating in a field that is barred from applying for EntrePass. According to MOM, they are:
Coffee shops, hawker centers, food courts
Bars, nightclubs, karaoke lounges
Foot reflexology and massage parlors
Traditional Chinese medicine (TCM), acupuncture, and herbal dispensaries
Employment agencies and geomancy
How can I apply for a Singapore Entrepreneur Pass?
All in all, the procedure boils down to (1) submitting the application; (2) getting the EntrePass issued; and (3) registering your fingerprints and photos.
Step 1: Prepare required documents
But first, take a look at this checklist of some of the requisite documents for the application of EntrePass.
An EntrePass application form (Form 8)

Proofs in the form of written documents acknowledging your qualification as an investor, entrepreneur, or innovator on the ground of the above-mentioned eligibility criteria

A comprehensive business plan which is limited to 10-page long, elaborating every particular of your business framework including, but not limited to, the products/services you offer, your analysis of the current market, your operation plan, the profile of each management team member, and other supporting documents

Personal particulars page of your passport and a passport photo of yours

Proofs in the form of written documents outlining your track record of employment and/or entrepreneurial undertakings

Profile of your previous companies registered with ACRA, if any
In addition, MOM requires applicants to file or translate all the pertinent documents into English. You could simply do this by yourself or entrust it to a certified translator.
Once you have accumulated all these papers and records, you are all set.
Step 2: Submit the application
There are generally 2 channels through which you could apply, either submitting online via the MOM website or getting right down to the nearest SingPost branch.
And of course, they will ask for a fee, which is between $105 and $115 depending on which means you choose to apply.
This is the latest update on the cost at the time this blog entry is published, yet it is advisable for you to consult the MOM website in anticipation of any possible revision.
Your application will then be vetted by MOM in concert with other relevant agencies and authorities including Singapore Standard, Productivity and Innovation Board (SPRING), and Infocomm Media Development Authority.
The period during which you are advised of the conclusion of your application is 8 weeks. In the event that your application is turned down, you might as well lodge an appeal for their reconsideration, which again will take up to 8 weeks to process.
Step 3: Wait for the pass issued
Let's assume for now that you have been granted the approval. MOM will inform you of this news by sending an In-Principle Approval (IPA) letter to the email you specified on the application form.
Upon receipt of the IPA, you are given a window of 6 months to relocate to Singapore to collect the pass.
You can get the pass issued either electrically through EP Online or over the counter at the Employment Pass Services Centre. Again, a fee of $225 is charged. You would also be required to pay $30 for each Multiple Journey Visa you hold.
In order to request the pass issuance, you would be required to prepare and submit further documents, which include:
The particulars of your passport, your current Short Term Visit Pass, or your immigration pass.
Your residential address and a local address to which you would like the card to be sent.
Contact information such as the cell phone number or email address of an authorized person to which the delivery details of your EntrePass will be sent.
And additional documents might be needed as follow:
Your Disembarkation/Embarkation Card
Documentary evidence confirming you have undergone the stipulated medical examination, which could take place in your homeland or in Singapore at your discretion
After the request for issuing the pass is approved, you will receive a notification letter with a validity of 1 month from the date of issuance to allow you to go in and out of Singapore while waiting for the EntrePass card.
Step 4: Register your fingerprints and photos
Once you have got hold of the notification letter for issuing EntrePass, you will be advised of whether or not your fingerprints and photos need registering. In most cases, first-time applicants and those whose latest registrations were over 5 years would be subject to this requirement.
If yes, then they will give you a window of 2 weeks for doing so.
The registration process is rather clear-cut. You just need to arrange a visit to the Employment Pass Service Centre (EPSC) to certify your fingerprints and photos. For registration purposes, the following documents, as stated by the MOM, are required:
Your passport
Your appointment letter
Notification Letter
Documents specified in the IPA letter and on the notification letter
Finally, an EntrePass card will be delivered to your local address declared in the previous step after 4 working days after completion of registration and document verification at ESPC.
How can I renew my Entrepreneur Pass when it falls due?
As you may or may not be aware but the EntrePass remains valid for up to 1 year and can be renewed when falling due. Except for the first renewal wherein the validity will last for 1 year, subsequent periods are extended up to 2 years.
As a measure to ensure that your business drives Singapore's growth and that you are not a burden dragging down their GDP, you will be continuously subject to scrutiny for subsequent renewals of the pass:
For the first renewal, you would be hard-pressed to make sure that:
Your business had spent a total of at least S$100,000
You create employment for at least 3 local full-time employees and 1 local professional, manager, or executive.
For the 4th year of renewal, you should see to it that:
Your business rises its spending to a minimum required of S$200,000
Your company creates jobs for at least 6 local full-time employees and 2 local professionals, managers, or executives
For the 6th year of renewal, your business should achieve enough growth for you to prove that:
Your company's spending is boosted to at least S$300,000
You have hired at least 6 local full-time employees and 3 local professionals, managers, and executives.
For the 8th year and those that follow, you are required to demonstrate each year that:
Your company spent a sum of at least S$400,000
You provide employment for a minimum required of at least 12 local full-time employees and 4 local professionals, managers, or executives.
The procedure for renewing the pass is pretty similar to when you apply for it. While only company registration information from ACRA is required for the first renewal, subsequent renewals would demand audited financial statements, central provident fund statements for your employees plus proof of business activities like corporate bank statements, invoices, contracts, and so forth.
If I hold an Entrepreneur Pass in Singapore, can my family come live with me?
If you hold an EntrePass, you are well-placed to bring your family members to Singapore by applying for a certain type of pass. On the basis of your relationship with the dependant(s), you can either apply for a Dependant's Pass or a Long-term visit Pass on their behalf.
The Dependant's Pass is reserved for those who have the closest relations with you, including your legally married spouse or your unmarried/legally adopted child below 21 years old.
Other family members of yours who do not fall into any of the above 2 categories, can obtain the Long-term visit Pass. Those eligible dependants for this pass are your common-law spouse, your physically or mentally handicapped children who are over 21, your unmarried step-children who are under 21, and your parents.
If I hold an Entrepreneur Pass, can I qualify to apply for Permanent Residence?
EntrePass holders are deemed prospective candidates for Permanent Residence in Singapore, therefore you are allowed to apply for one when the course is due.
Your application for Permanent Residence is beyond the scope of responsibilities of MOM and will be channeled to other immigration authorities where your eligibility would be appraised.
In tandem with the growing number of foreign entrepreneurs and professionals immigrating to Singapore, the criteria for acquiring this status have become somewhat stringent. Nevertheless, it is of the greatest importance to demonstrate that you and your business are adding value to Singapore and its people.
Free ebook
Get your Singapore business started with key matters covered in our all-in-one guideline
Incorporation procedure
Annual compliance requirements
Tax structures
Employment landscape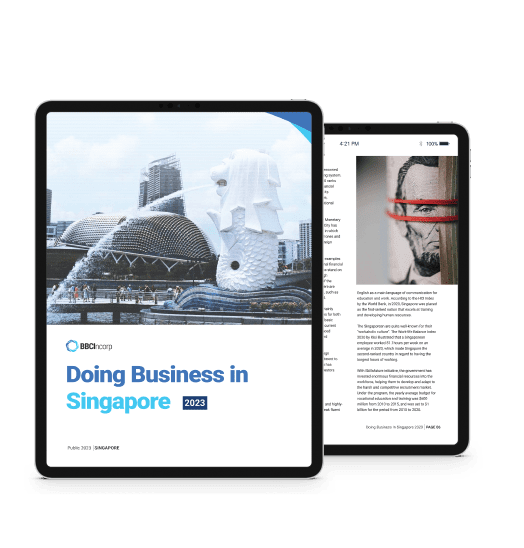 Should you have any questions regarding the registration procedure of EntrePass in Singapore, drop us a message or contact us via service@bbcincorp.com
Disclaimer: While BBCIncorp strives to make the information on this website as timely and accurate as possible, the information itself is for reference purposes only. You should not substitute the information provided in this article for competent legal advice. Feel free to contact BBCIncorp's customer services for advice on your specific cases.
Share this article
Get helpful tips and info from our newsletter!
Stay in the know and be empowered with our strategic how-tos, resources, and guidelines.