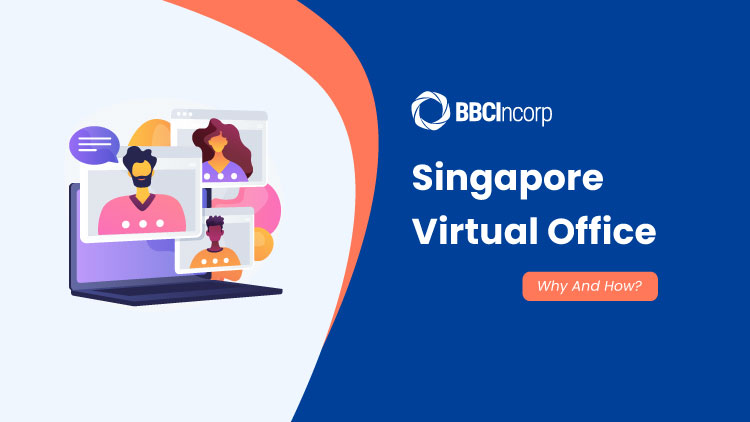 A virtual office is no longer a strange definition to businessmen all over the world. In fact, it has quickly become a global trend for many businesses in today's fast-evolving economy. Not only do virtual offices benefit start-ups and medium-sized companies, but they also play an important role in large business organizations expanding their presence to foreign markets.
Apart from the annual filing requirements, Singapore companies are required to maintain an office address in the nation. Registering for a virtual office is an effective way to fulfill such requirements.
If you are new and looking for a virtual office in Singapore now, this is definitely the right piece of article for you. Keep reading as BBCIncorp will dive into what should be taken into account when you choose virtual offices in Singapore, right after their advantages are dissected.
Significant benefits of virtual offices
As aforementioned, virtual offices indeed have some advantages over traditional or physical ones:
Cost-saving
It appears to be the case that payments for physical offices in Singapore can reach a huge number, especially for some that are located in big business centers. Not to mention the fact that other costs associated with a traditional office such as furniture, equipment, and telephone system can even add up the prices.
If your company is established for the very first time in Singapore, it may be not wise to rent or even buy a physical property to be served as a workplace with your limited budget. In this case, a virtual office is the way to go. One of the key benefits of such an office undeniably is cost-effectiveness. Lower cost is normally proportional to lower financial risk, which can be helpful for businesses wanting to venture into a new market.
The cheapest virtual office package in Singapore sometimes comprises only a mailing address, with other services optionally to be added later on. With that being said, you can start your company with much less investment for business location by choosing virtual offices instead of renting traditional ones. Furthermore, virtual offices help you save time and money spent on commuting since such offices allow remote working.
Business support
Having a virtual office means obtaining a business address through which professionalism and credibility may be demonstrated to customers if the address is located in a city center or a well-known financial area.
Along with an address, other services are also available for companies to assist in keeping the business operation on track, namely call forwarding, mail scanning, and a meeting room. Without a doubt, these services are important considerations when it comes to choosing or renting a virtual office.
Work convenience
Another essential advantage of virtual offices is that it provides employees with a great extent of flexibility. Since work can be done from a far distance, employees are given more freedom with their time management to execute their work. Not to mention that working from home individually, for some people, maybe a fantastic way to stay away from distractions which they may encounter in crowded traditional offices, hence stay focused to finish their tasks in a more effective manner.
Furthermore, far-distance working offers an opportunity to obtain a larger pool of talents, inside or outside the country, due to the fact that they need not be present at the virtual office to get their job done.
Considerations for choosing a virtual office in Singapore
In order to select the best virtual office in Singapore that gives the best value for money, here are some factors that you should take into account:
Business address
An address can tell a lot about your business and have a significant impact on your business image. Were your home address to be used as the business address, it would leave a severely negative impression on customers or business partners when they found out that you operated your business at home and used a post office box to receive emails. How unprofessional it would be!
Needless to say, the first impression is always important and it is the address that people normally look at initially. As mentioned above, an address located in a financial center can immediately deliver a creditable business image to the customers' minds. Thus, it may be ideal for you to prioritize a virtual office situated in a Central Business District in Singapore such as Robison Road, Clarke Quay, Shenton Way, and Raffle Quay.
Furthermore, accessibility cannot be overlooked. If your customers or business partners are in demand of paying visits to your office on an average frequency, make sure that the location of your virtual office is accessible for traveling convenience.
Services and facilities
One of the advantages of virtual offices is the flexibility of service choices. It is essential to check whether the provider has all the services that can meet your business's current requirements and whether other services can be added later on for future needs. Here are some of the necessary services that you are likely to need:
Call answering or forwarding
An assistant will answer your coming call or forward it to your personal mobile phone.
Mail scanning or forwarding
Instead of picking up mail on your own, you can have your virtual office operator scan and send it to your mail box, or deliver this mail to your prescribed address.
Meeting room or working space
A virtual office works best when you work remotely. But in some instances, you may be in demand of a physical place for business partner meetings or working space in a short period of time. Should it be the case, you need to make sure firsthand that your virtual office is well-equipped with amenities such as a projector and high-speed internet connection to cater to your demand right away.
The quality of facilities in a virtual office is also crucial. You surely do not want to negatively impress your business partners with a small and uncomfortable meeting room with bad or overdone decoration. To some extent, the facilities can affect the working moods and productivity of a meeting. Therefore, the onsite inspection might be worth it to check whether the facilities are still in good quality.
Prices and subscription terms
After the necessary services have been shortlisted and they are guaranteed to be supplied by the provider, the next factor you should consider is the price. A good practice to follow is you double-check in the contract what services are pay-per-use in order to avoid unwanted surcharges or additional costs.
Also, virtual office packages should be carefully chosen according to the business needs. For example, if your company expects a high volume of calls from customers, you might aim at a package with unlimited call handling. The same thing should also be considered to mail services.
In terms of subscription duration, many virtual office services in Singapore are supplied with a minimum period of 6 months. However, it is still possible to negotiate with the provider for a shorter period if needed. You should also check out the possibility of receiving a refund when canceling services before the expiration, just in case your business operation is not going to do well or you want to find another virtual office within the subscription period.
Credibility of service provider of virtual office in Singapore
Choosing the wrong or bad service provider can negatively impact the flow of your business operation in many ways. Business disruption may result in a considerable income loss and you surely do not want that.
The credibility of the service provider is another reason why you should pay a visit to a virtual office before renting to see if there is any mismatch between the service description and the actual facilities. Looking into the actual reviews from previous users would also help to get an insight into what the services are really like.
Last but not least, please be aware of any scandals or criminals related to your virtual office address in the past as this can affect your business as well.
Conclusion
Virtual offices in Singapore are becoming more common due to their advantages of low costs, great support services, and work convenience. The best virtual offices normally comprise a downtown business address, a wide range of qualifying services and facilities with transparent prices, and a good reputation of the provider. Those are also the considerations for choosing a top-notch virtual office in Singapore.
Should you have any questions related to virtual office services, or if you are looking for a virtual office in Singapore, feel free to message us via service@bbcincorp.com for answers! 
Disclaimer: While BBCIncorp strives to make the information on this website as timely and accurate as possible, the information itself is for reference purposes only. You should not substitute the information provided in this article for competent legal advice. Feel free to contact BBCIncorp's customer services for advice on your specific cases.
Share this article
Get helpful tips and info from our newsletter!
Stay in the know and be empowered with our strategic how-tos, resources, and guidelines.