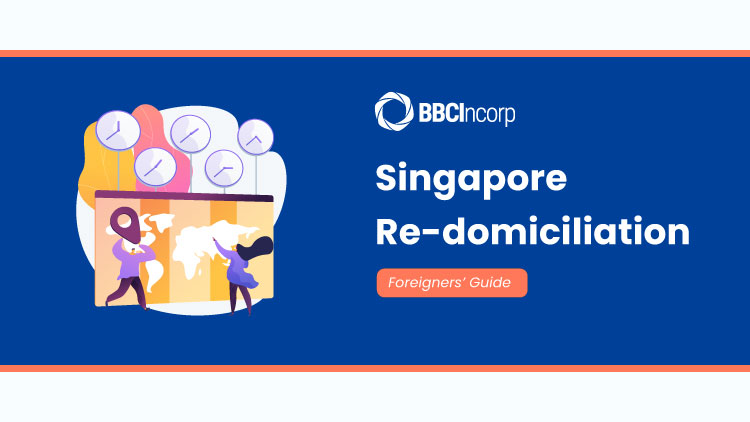 Singapore has announced an inward re-domiciliation regime that will allow foreign companies to transfer their registrations to the city-state to increase its competitiveness as a business hub.
Foreign businesses can now re-domicile and incorporate in Singapore instead of registering a subsidiary or branch. However, there are still minimum requirements that a foreign entity must meet in order to apply for such an option.
What is Re-domiciliation?
Re-domiciliation is a process in which a business entity transfers its registration from an original jurisdiction to a new one.
Following the implementation of the re-domiciliation regime in 2017, foreign companies are now permitted to re-register as Singapore companies.
Despite the similarities between establishing a company's presence and beginning operations in Singapore, re-domiciling to the city-state is not the same as setting up a subsidiary or branch.
When a foreign company seeks to establish a subsidiary in Singapore, two separate companies are formed: the parent company and its Singapore subsidiary.
The subsidiary, in particular, is a legal entity separate from the share-owning parent company and is governed by Singapore laws. Meanwhile, the parent remains a foreign company governed and regulated by the laws of that foreign jurisdiction.
A branch in Singapore, on the other hand, is only considered an extension of a foreign parent company. A branch is not a Singaporean entity, and the parent company is still subject to the laws of its original jurisdiction.
By re-domiciling to Singapore, a foreign company can be converted into a Singapore-registered company, and thus a resident company governed and regulated primarily by Singapore laws.
All of the applying foreign business rights and liabilities would then be transferred to a single re-domiciled Singapore entity.
Why re-domicile to Singapore?
The following are some of the reasons why a foreign company should consider relocating to Singapore:
Pro-business environment
Similar to a resident company, re-domiciliation enables foreign companies to freely take advantage of the political stability, business-favorable policies, and excellent-skilled workforce.
Business continuity
By applying for re-domiciliation, a foreign entity can legally relocate its operations to Singapore while retaining all corporate history, branding, and identity, which is critical for companies with a long history.
Time and cost saving
When compared to dissolving an entire company in a foreign jurisdiction and then registering a new company in Singapore, re-domiciliation is a more convenient and time-saving method.
Free Trade Agreement
Re-domiciliation allows a foreign company to benefit from Singapore's FTA memberships and business-friendly tax system.
Singapore Government Grant
Foreign corporate entities looking to operate in or relocate to Singapore are open to various government grants and schemes that support business growth.
Requirements of Re-domiciliation to Singapore
Essentially, under the Company Act, a foreign business entity is regulated to be registered as a company limited by share in Singapore after re-domiciling. Other than having the ability to adapt the legal structure of a company limited by share, the applying foreign corporate entity needs to meet the following minimum requirements:
Size
The foreign entity must satisfy two out of the following three criteria:
The value of total assets is more than S$10 million
The annual revenue is more than S$10 million
Total employees are more than 50
Solvency
All of the following criteria must be met:
Under no circumstances could the foreign entity be proven unable to pay its debts
The foreign entity has to guarantee its ability to pay debts as they fall due over the next 12 months after the date of the re-domiciliation application
The foreign entity has to guarantee its ability to pay debts in full within 12 months after the date of winding up (may it be the case in the next 12 months after the re-domiciliation application)
The total assets' value of the foreign entity is more than the value of its liabilities, including contingent liabilities
Other requirements
There must be laws regulating the overseas transfer of registration in the original foreign jurisdiction and the foreign entity must comply with all the requirements regulated in such laws.
The foreign entity has gone through the first financial year in the original jurisdiction at the time of applying for re-domiciliation to Singapore.
The application for re-domiciliation is believed to not serve improper purposes.
The foreign entity must meet the other requirements regulated in Section 7 (1) of the Companies (Transfer of Registration) Regulations 2017 such as not being under any judicial management, or not being wound up.
How to Re-domicile to Singapore
After making sure to satisfy all the above-mentioned conditions, a foreign business can begin the process of applying for re-domiciliation to Singapore, including the following steps:
Step 1: Reserving the business name
The business name can be the same as that of the foreign company before re-domiciling, as long as it is still available to be reserved in Singapore. For certainty, name research can be conducted via BizFile to check the availability of the proposed business name.
The same common practices to reserve a business name for local companies in Singapore can also be applied to the re-domiciliation application. For instance, for a higher chance of approval, the name should not violate any rules regarding trademark or copyright.
Step 2: Preparing and applying
Subsequently, the applying foreign company needs to fill in the Application form for Transfer of Registration with the following information:
Name of the foreign entity and the registration date in the original jurisdiction
Original place of incorporation
The registered office address in the original jurisdiction
Date of the last financial year-end
The new registered office address in Singapore
Proposed date of the first financial year end after re-domiciling to Singapore
Proposed Financial Year Period in Singapore
Particulars of proposed company officers, directors, and shareholders
Share capital details
Along with the application form, the following supporting documents in PDF format need to be submitted via BizFile:
A certified copy of the incorporation certificate or similar documents of the foreign entity in the original jurisdiction
A certified copy of the Memorandum and Articles of Association, or the constitution or other equivalent documents of the foreign entity in the original jurisdiction
The proposed constitution will be applied once the company has successfully re-domiciled in Singapore
A written declaration signed by all directors of the foreign entity guaranteeing that the entity satisfies all the minimum requirements (as discussed above or in Section 7(1) of the Companies (Transfer of Registration) Regulations 2017)
Upon the payment of the non-refundable $1000 and the submission of all required documents, it normally takes ACRA a maximum period of 2 months to process the application for re-domiciliation to Singapore. The mentioned processing period already includes the time required for further review for approval from additional government agencies.
Step 3: De-registering in the former jurisdiction
The outcome will be informed via email. Upon the application approval, the entity will officially be registered as a company limited by shares in Singapore. At this point, the company should also register their pre-existing charges with ACRA within 30 days and deliver new certificates of shares or debentures to their holders within 60 days.
Furthermore, the newly re-domiciled company will have to submit evidence showing the de-registration of its former incorporation in the original jurisdiction within 60 days. The period can also be extended for another 60 days by submitting an Application for Extension of Time. Each application will cost a non-refundable fee of $200.
In case the entity fails to submit such a proving document, ACRA may revoke the entity's registration for re-domiciling to Singapore.
Step 4: Wait for results from ACRA
Following the submission of your completed application, ACRA will either accept or reject it.
While ACRA reserves the right to reject applications for foreign company re-domiciliation to Singapore based on public policy considerations, your company has the right to appeal to ACRA and the Minister of Finance.
In the unlikely event that your application is accepted, you must:
Act in accordance with Singapore Companies Act
Within 60 days, de-register your company in its original place of incorporation and provide evidence to ACRA
Pre-existing charges must be registered within 30 days of re-domiciliation
Once these steps have been completed, you can proceed to the next stage of your company's journey and benefit from its new status as a Singapore-registered company. This would complete your foreign company's re-domiciliation to Singapore.
Effects of Singapore Re-domiciliation
The re-domiciled foreign company will become a Singapore company limited by share and be subject to Singapore laws. However, re-domiciliation does not create a new legal entity or affect:
The identity or continuity of the body corporate constituted by the foreign entity
The obligations, liabilities, property rights, or legal proceedings of the foreign corporate entity
Alternative Options for Re-domiciling to Singapore
There are other considerations for re-domiciliation to Singapore. Generally speaking, it is a permanent decision to re-domicile a foreign company inward to Singapore due to the fact that there is no legal provision for re-domiciling a Singapore company outward to another foreign jurisdiction yet.
Moreover, the process of re-domiciling can sometimes be quite complicated since a foreign company also must comply with the legal provisions for overseas transfer of registration in its original place of incorporation. It may be liable for stamp duty in case the transfer is deemed a share sale in local law, for example. Thus, to make sure the process will be successful later, the foreign company may need plenty of legal advice.
The alternative option, in this case, is to establish a private limited liability company in Singapore. This local private company can operate independently from the foreign company, although it may take more resources, both human and financial, to run separately the two companies in two different jurisdictions.
Conclusion
All in all, with the introduction of the inward re-domiciliation regime in Singapore in 2017, foreign companies now can transfer their overseas registration of incorporation to Singapore. However, they have to satisfy some minimum conditions regarding mainly size and solvency, along with other legality requirements.
The general process to re-domicile to Singapore comprises submitting an application and subsequently submitting evidence of de-registration in the original jurisdiction. After being approved, the company will become a Singapore company limited by share.
Should you have further questions on the process of establishing companies in Singapore, or related questions in respect of incorporation in Singapore, please kindly message our experts via service@bbcincorp.com!
Frequently Asked Questions
How long does it take to re-domicile to Singapore?
The application for transfer of registration may take up to two months to process from the date all required documentation is submitted.
This includes the time it takes to refer something to another government agency for approval or review. For example, if the company intends to carry out activities involving the establishment of a private school, the application will be referred to the Ministry of Education.
Which countries allow re-domiciliation to Singapore?
To re-domicile to Singapore, you must first ensure that your company is from a jurisdiction that allows for re-domiciliation.
Australia, the Cayman Islands, Delaware (USA), and New Zealand are among these jurisdictions.
Can a Singapore company re-domicile to other countries?
Singapore does not permit re-domiciliation, which means you cannot change your mind or re-domicile elsewhere after moving to Singapore.
As a result, if you want to re-domicile in Singapore, you should carefully consider and weigh your options before proceeding.
Disclaimer: While BBCIncorp strives to make the information on this website as timely and accurate as possible, the information itself is for reference purposes only. You should not substitute the information provided in this article for competent legal advice. Feel free to contact BBCIncorp's customer services for advice on your specific cases.
Share this article
Get helpful tips and info from our newsletter!
Stay in the know and be empowered with our strategic how-tos, resources, and guidelines.