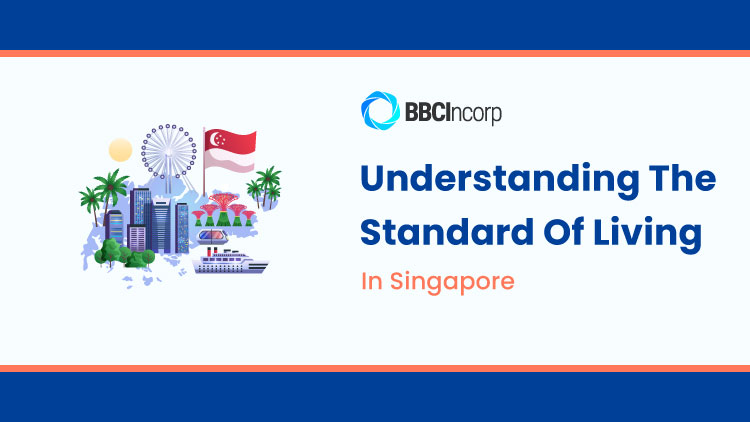 Singapore, a city-state that offers a modern lifestyle and diverse opportunities, is undoubtedly one of the top destinations for expats seeking a fulfilling life. However, what lies beneath the glimmering surface of this global city-state? Are there hidden treasures to uncover, or are there pitfalls to avoid?
In this article, we invite you on a journey of discovery as we unlock the standard of living in Singapore, and discover what this dynamic city has to offer.
Overview of Singapore
Singapore's business-friendly environment has made it a preferred location for professionals seeking career opportunities and business ventures. Located at the southernmost tip of the Malay Peninsula, Singapore has positioned itself as one of the global leaders in finance, technology, and innovation.
The city-state takes pride in its infrastructure, including the Changi Airport which has been recognized as the world's best airport for the 12th time. The country also offers a high quality of life, thanks to its advanced infrastructure and connectivity, which includes a mobile penetration rate of 93.74% and over 5 million active social media users.
The ease of setting up and managing a business in Singapore, with the incorporation process taking just 1-2 days, is a significant draw for highly skilled professionals and entrepreneurs from around the world.
With these favorable business conditions, it's no surprise that elite talent is eager to take advantage of the opportunities in this thriving city-state.
In the following section, you will discover how Singapore's exceptional living standards and abundant opportunities make it an attractive destination, whether you are seeking a dynamic career, a safe and stable environment, or simply a high-quality lifestyle.
Tax advantages in Singapore
Singapore's tax stability is a game-changer for individuals looking to maximize income and achieve their financial goals. The government has established a progressive personal income tax system, which starts from 0% and ranges up to 22% for residents, and a flat rate of 15% to 22% for non-residents.
This system ensures that individuals can keep more of their hard-earned income while still contributing to the country's social and economic development.
Another advantage is the absence of capital gains tax in Singapore. As an expat, this can be particularly beneficial for you if you are investing in the stock market or buying and selling property in Singapore.
Any profit made from the sale of assets, such as stocks, bonds, or property, is not subject to taxation. This means you can potentially earn more profits without the burden of additional taxation, providing an opportunity for wealth accumulation.
These tax advantages can increase your take-home income, potentially enabling you to afford better living conditions and cover living expenses. In addition, a lower tax rate can reduce your overall tax burden, providing more financial resources for other purposes such as saving, investing, or enjoying your life.
By taking advantage of Singapore's tax system, you can potentially build a more prosperous financial future while also enjoying an exceptional quality of life.
Employment regulations in Singapore
Singapore strongly emphasizes employee welfare, which is reflected in the country's policies and practices.
For instance, the government has established strict workplace safety regulations to protect workers from accidents and injuries, while also implementing measures to prevent workplace discrimination and harassment such as the Employment Act, the Industrial Relations Act, and the Trade Unions Act.
Additionally, Singapore's progressive employment laws ensure that workers are entitled to fair wages, benefits, and working conditions. As part of this commitment, employees in Singapore are entitled to a minimum of 14 days of paid sick leave per year, allowing them to take time off without worrying about loss of income.
The Singapore government has taken proactive steps to create a more harmonious and productive working environment through the establishment of various trade unions and organizations, such as:
National Trades Union Congress (NTUC)
National Employers Federation (NEF)
Tripartite Alliance for Fair and Progressive Employment Practices (TAFEP)
These organizations aim to protect employees from unfair treatment and discrimination in the workplace, ensuring that expats can feel confident and respected in their professional endeavors in Singapore.
With a focus on creating a fair and inclusive work culture, Singapore continues to be a desirable destination for professionals seeking a rewarding and fulfilling career.
Infrastructure and public services in Singapore
Singapore is known for having excellent infrastructure and public services, contributing to a high quality of life for its residents.
Singapore's healthcare system is anchored by a unique public-private partnership that ensures accessibility and affordability for all citizens.
This system is underpinned by MediSave, a national medical savings scheme that allows individuals to set aside a portion of their income into a personal account to pay for medical expenses.
In addition, Singapore has a well-developed pharmaceutical industry that supports the development of innovative drugs and treatments, with numerous multinational pharmaceutical companies setting up their research and development centers in the country.
As with any country, healthcare costs in Singapore are on the rise. According to a report by WTW 2023 Global Medical Trends Survey, healthcare costs in Singapore are projected to increase by 9.8% in 2023, which is a concern for many citizens.
However, the Singaporean government has been proactive in addressing this issue, taking steps to promote more efficient use of healthcare resources, enhance cost transparency, and improve the affordability of healthcare services. With its world-class healthcare system, you can be sure that you are getting the best care possible.
Singapore's healthcare system is one of the reasons why living in Singapore is desirable. With effective measures and a comprehensive approach, Singapore achieves one of the highest life expectancies in the world, as well as the reputation for a high quality of life.
Singapore's education system has been widely recognized for its commitment to academic excellence and lifelong learning. With a strong emphasis on bilingualism, mathematics, and science, Singaporean students receive a quality education that prepares them for success in their future careers.
Furthermore, Singapore is home to world-renowned institutions such as the National University of Singapore, Nanyang Technological University, and Singapore Management University, which rank highly in global university rankings.
Singapore's strong focus on education has resulted in the development of a highly skilled workforce. This has led to Singapore being an attractive destination for companies worldwide, eager to tap into a huge talent pool and establish their operations in the country.
Although Singapore's education landscape has several positive aspects, there are some limitations and downsides to be aware of.
One limitation is the competitive nature that put pressure on students to perform well academically. This pressure can sometimes lead to high levels of stress and burnout, and there have been concerns about the mental health of students in Singapore.
Another downside is the emphasis on rote learning and standardized testing, which may limit students' creativity and critical thinking abilities. Some have also criticized the system for being too focused on academic achievement at the expense of other areas such as the arts and humanities.
This approach may diminish their joy of learning and lead to a competitive atmosphere among students.
To address the challenges, Singapore is actively implementing measures to create a more comprehensive educational approach. These measures include Initiatives such as the SkillsFuture program and increased flexibility in academic pathways, which aim to develop individuals with a wide range of skills and interests.
Moreover, the Singaporean government has implemented various initiatives to make education more accessible and affordable, such as the Edusave Scheme and the Post-Secondary Education Account (PSEA), which provides financial assistance to students from low-income families and helps pay for post-secondary education.
Keep in mind that while Singapore's education system may be demanding, it can also be highly rewarding for individuals who are willing to put in the effort.
Singapore's transportation system is a significant contributor to the high quality of life enjoyed by its citizens.
With a comprehensive public transportation network that includes over 28,000 taxis, a network of more than 3,000 buses, and the MRT rail system, Singaporeans have access to reliable and efficient transportation options that can get them anywhere they need to go quickly and easily.
The MRT system is also one of the most accessible in the world, with an average waiting time of just 2.5 minutes between trains during peak hours. This means that residents can get to their destinations quickly, allowing more time for leisure and relaxation.
Although owning a car can be a challenge due to expensive fees and strict regulations on car ownership, it encourages people to use public transportation, which not only reduces traffic congestion and air pollution but also offers a convenient and affordable way to get around.
All in all, the transportation system is a crucial aspect of Singapore's high standard of living, providing residents with a clean, safe, and convenient living environment.
Technical landscape in Singapore
With state-of-the-art technological infrastructure and the fastest internet in the world, Singapore citizens enjoy access to the latest technology and innovation that improve the convenience of daily routines, such as cashless payment systems and smart home automation.
Individuals with a passion for STEM fields have a unique opportunity to contribute to the growth and development of the industry in Singapore's thriving tech scene.
Even though there is a high demand for skilled workers in the tech sector, there is currently a shortage of talent, which creates an ideal opportunity to explore your potential and make a significant impact on the future of technology.
To attract and retain tech talent, the Singaporean government is offering various incentives such as Tech.Pass program, providing qualified foreign tech professionals with a 2-year work visa, enabling them to work and live in Singapore.
Singapore's focus on innovation and technology means there are many opportunities for individuals to contribute to breakthroughs and shape the future of this industry.
Cost of living in Singapore
Living in Singapore as an expat can be relatively expensive, so it is important to plan and budget carefully for various expenses.
The housing price in Singapore can be significantly higher than in other countries. According to the CNBC article, Singapore's rental prices have been increasing due to the high demand from expats and a shortage of available housing. The article states that prices of all private residential properties in Singapore have increased by 29.7% year-on-year, which is the highest it has been since 2007.
Expats need to keep in mind that housing is typically the largest expense when budgeting for the cost of living in Singapore. You should carefully research and compare different housing options.
Education cost
When it comes to education, education cost is an important factor to consider for expats who are planning to relocate to Singapore. The city-state offers around 70 international schools for primary or secondary education, with annual fees ranging from USD10,000 to USD15,000, and up to a maximum of USD40,000.
For a more affordable option, public schools are also available with annual fees ranging from USD8,000 to USD15,000, which is roughly half the cost of an international school.
The cost of studying in Singapore varies depending on the level of education. Public universities cost SGD8,000 to SGD9,000 per year for local students, but international students' pay can be SGD10,000 or more. International students can apply for tuition subsidies, but they must work in Singapore for at least three years after graduation.
The cost of completing a Bachelor's degree for international students ranges from SGD51,840 to SGD115,350, while for a master's degree, the cost ranges from SGD46,080 to SGD133,884.
It is worth noting that the living expenses can vary based on individual living standards, with the average monthly cost of SGD1,000 to SGD3,000 for students.
Despite the relatively high cost of living, expats still manage to live comfortably in Singapore by making informed decisions and planning accordingly. Conducting thorough research and comparing various options for housing, education, healthcare, transportation, and other aspects of daily life can help you make the most of your budget and enjoy Singapore life to the fullest.
Job & career opportunities
Singapore's business environment is vibrant and dynamic, offering many opportunities for highly educated and experienced professionals. The country is very supportive of entrepreneurship, innovation, and growth, which makes it an ideal location for those seeking to establish themselves in the business world.
However, it is important to note that the competition among expats in Singapore's business environment can be intense. To thrive in this dynamic business scene, you will need to bring your best efforts and work diligently. If you are prepared to work hard and advance your professional goals, Singapore is an ideal location to pursue business opportunities in Southeast Asia.
Furthermore, Singapore's work culture may differ from what you are used to in your home country, which emphasizes punctuality, professionalism, and a strong work ethic. Achieving work-life balance may be challenging, particularly in certain industries and roles, so be prepared to adapt to these expectations and prioritize the work accordingly.
Note
Foreigners who want to work in Singapore, including managers, executives, and specialists, will need to obtain a work permit. This includes the Employment Pass and the Dependant's Pass for family members who want to come and stay in Singapore.
The application process can be complicated, but BBCIncorp provides a comprehensive immigration service to guide you through every step.
Local culture of Singaporeans
Singapore is a diverse country with a population of almost 5.9 million from various ethnic groups and religions such as Hinduism, Christianity, Islam, Buddhism, and Taoism.
The country has four official languages recognized by the Singapore government, including English, Mandarin, Malay, and Tamil, which highlights its cultural diversity.
However, adjusting to local Singapore's local customs and social norms may take some time. For instance, certain cultural practices may be unfamiliar to expats, such as avoiding certain foods during religious festivals.
It's important to be respectful of local customs and traditions and to maintain an open mind. Singapore's culture may be perceived as reserved or conservative, but embracing the local culture can lead to a more fulfilling experience both professionally and personally.
Final thought
As we have seen, Singapore offers a high standard of living with excellent healthcare, education, and tax advantages. While the cost of living may be higher than in some other countries, the benefits and opportunities available make it a desirable destination for many. Whether you are an expat looking to build your career or a family seeking a vibrant and diverse community, Singapore has something to offer.
Consider taking advantage of Singapore's high living standards with the help of BBCIncorp! Our team of experts can assist you with your Work Pass and Dependant Pass applications, ensuring a smooth and successful relocation experience.
To start your journey in Singapore, simply send us a message via service@bbcincorp.com today for timely assistance.
Disclaimer: While BBCIncorp strives to make the information on this website as timely and accurate as possible, the information itself is for reference purposes only. You should not substitute the information provided in this article for competent legal advice. Feel free to contact BBCIncorp's customer services for advice on your specific cases.
Share this article
Get helpful tips and info from our newsletter!
Stay in the know and be empowered with our strategic how-tos, resources, and guidelines.