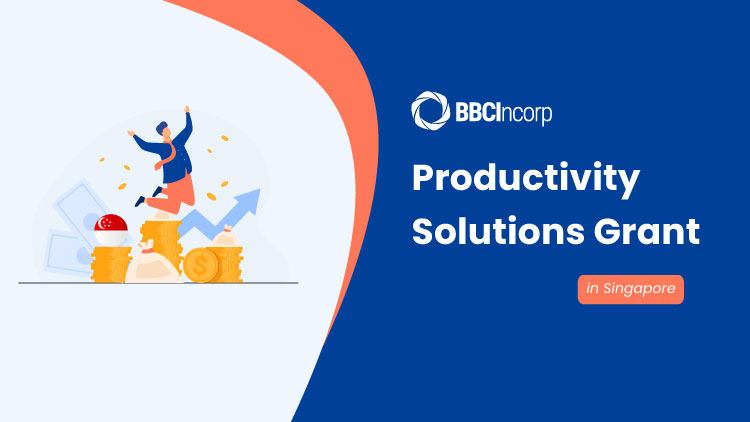 Singapore is a fertile land since it not only has numerous tax incentives but also has various assistance programs for many SMEs. So, Lion City attracted an increasing number of small and medium-sized enterprises to come and pour money.
The Productivity Solutions Grant (PSG) in Singapore is one of the technology support programs with up to 70% eligible costs for qualifying projects. In this blog post, we will provide all information about the PSG grant from general information on the application process and eligibility criteria.
Overview of Productivity Solutions Grant (PSG)
The Productivity Solutions Grant (PSG) is a government grant offered by the Singapore government in April 2018 to encourage businesses to adopt productivity-enhancing solutions. Several government organizations, including Enterprise Singapore, the National Environmental Agency (NEA), and the Singapore Tourism Board (STB) have pre-scoped these solutions, making all solutions more affordable for businesses.
There are two types of PSG grants Singapore, namely sector-specific solutions and generic solutions.
Sector-specific solutions comprise retail, food, logistics, precision engineering, construction, and landscaping industries.
Generic solutions are open to companies in various business industries and sectors who would like to enhance companies' productivity in managing general functions, customer management, data analytics, financial management, and processes for business.
In 2020, the PSG funding Singapore has launched S$35 million for the financial services industry to support small financial institutions. In 2021, the budget for the Productivity Solutions Grant was increased from 70% to 80% until March 31, 2022, in order to provide more help and support to SMEs. However, from April 1, 2022, the PSG SMEs grant support will revert to 70% except for the Food Services and Retail sectors if these industries apply for the PSG grant under the Food Services & Retail Business Revitalisation Package before March 31, 2023. Moreover, in 2022, Singapore will set aside S$600 million over the next four years to assist SMEs with their operations and to address digital marketing and e-commerce requirements.
The PSG grant provides funding for options in a variety of fields and industries, not only providing industry-specific solutions but also wide-ranging support. These include systems for managing Customer Relationships and Human Resources such as:
IT solutions
The PSG Grant covers a wide range of IT solutions, from hardware and software to services and support. This means that businesses can get the help they need to implement new technology, upgrade their existing systems, or simply get started with using IT in their operations. The grant can also be used to cover the cost of training staff to use new IT systems. Ultimately, the PSG Grant helps businesses improve their competitiveness and bottom line by adopting easier and more affordable IT solutions.
Equipment
PSG funding Singapore provides a variety of devices suitable for each field. Besides providing computers, printers, scanners, cameras, etc. This organization also provides specialized equipment for each industry. For example in healthcare, equipment is critical to the delivery of quality patient care. A variety of health care equipment is available, from simple tools like tongue depressors to complex machines like X-ray machines. If the business has a need, PSG will provide it all.
Consultancy Service
The PSG Grant provides funding for a range of services, including consultancy services. If you need help with your business planning or marketing, you can apply for funding to cover the cost of hiring a consultant. Consultancy services can be extremely helpful in getting your business off the ground, and the PSG Grant can make this more affordable.
What does PSG grant Singapore offer?
Get funding up to 70% of eligible costs for qualifying projects
PSG Grant is a great way to get funding for your business. With up to 70% of eligible costs covered, it can make a great step to get started on your project. Additionally, the grant can also help you with marketing and promotion expenses, which can be a big boost for your project.
The 70% funding support will go into effect on April 1, 2022. Especially, the Food Services and Retail Business industries are eligible for 80% grant support (only applicable for certain solution categories).
The classifications are applicable to Food Services such as:
Digital/ Online Ordering and Payment
Automated Reservation
B2B Marketplace/E-Procurement System
Queue Management
E-Loyalty/ Customer Relationship Management
General Food Services Equipment
The classifications are applicable to Retail Businesses such as:
Enhanced Retail Management System
Commercial Anti-Money Laundering (ML)/Countering the Financing of Terrorism (TF) Screening
Retail Analytics
E-Commerce – Online Shop (B2C)
Approach top-notch digital solutions
Many businesses apply for the PSG grant for SMEs in order to have widespread access to top-notch digital marketing solutions. All of which are advantageous for companies in all various industries, with PSG Grant, businesses can improve their operations by automating tasks, reducing errors, and improving customer satisfaction. PSG Grant also allows businesses to tap into new markets and reach new customers.
Apply to most industries
Businesses and enterprises that seek to implement digital technologies to enhance their operations are supported by the PSG Grant Singapore. As a result, the following industries can apply for a PSG grant for their digital marketing or e-commerce needs:
Food and beverage
Logistics
Advanced Engineering
Retailer and Wholesaler
Construction
Landscaping
E-commerce
In addition, this Grant also includes the adoption of solutions across industries, provided that they are all related to customer management, data analytics, financial management, and inventory tracking.
Note
Registration requirements and paperwork preparation
Eligibility Criteria
To be eligible for the program, SMEs must:
Be a Singapore-registered company
Have purchase/lease/subscription of the IT solutions/equipment/consultancy service carried out in Singapore
Have at least 30% local shareholding (required for certain selected solutions)
Have a group annual sales turnover of less than S$100 million, or a group employment size of less than 200 staff
Have no more than 3 local employees at the time of application (required for consultancy service solutions only)
Look for technological options to enhance corporate operations
Required Documents
Make sure you have all the necessary paperwork before you apply, such as:
An order for products
A bank statement showing that money was sent to a PSG-approved vendor
The digital solution's license number (with proof of at least a month's use)
An invoice
A screenshot displaying the name of your company together with the name of the solution
Please be aware that approval requires a waiting period. An administrative body will get in touch with you and let you know if there are any problems with the PSG grant application.
How to register and obtain PSG grant Singapore?
How to apply for it?
There is a 4-step process to apply for PSG grant Singapore:
Step 1: Identify your best-suited and highly-eligible solutions before application
Step 2: Obtain a quotation from the pre-approved vendor/consultant for the supportable solution
Step 3: Log into Business Grants Portal (BGP) to submit your application for PSG (a Corppass account is required)
Step 4: Submit your grant claim
For more information, you can visit the PSG official website.
How to obtain it?
Following these few steps will make it easy to claim your PSG Grant:
Step 1: Open the Business Grants Portal and sign in using your CorpPass credentials. Your grants can be claimed in the "Claims" section under "My Grants."
Step 2: Then click "File new claim." Click "Proceed" after choosing the approved grant for which you want to submit a claim.
Step 3: Fill out the information and submit any supporting documents under "Claims Information."
Step 4: Give further information in the "Business Outcomes" section.
After carefully going over everything, finish the declaration and submit your claim.
Conclusion
The Productivity Solutions Grant (PSG) helps businesses adopt IT solutions and improve productivity. The grant covers up to 70% of the costs, capped at $30,000 per project. If you plan to open a business in Singapore and want to apply for a PSG grant, don't hesitate to get in touch with us via service@bbcincorp.com or simply chat with one of our friendly consultants for more useful advice.
Frequently Asked Questions
How long does it take to process an application?
After submitting all required information, processing time is approximately 6 weeks.
How will I be notified when the claims are paid?
To confirm the transaction, an email will be sent to the email address specified on the BGP.
Who does NOT qualify for the grant?
The following organizations are NOT eligible for grant funding:
Charities, Institutions of Public Characters (IPCs)
Religious Entities
Voluntary Welfare Organization (VWO)
Government agencies and subsidiaries
Disclaimer: While BBCIncorp strives to make the information on this website as timely and accurate as possible, the information itself is for reference purposes only. You should not substitute the information provided in this article for competent legal advice. Feel free to contact BBCIncorp's customer services for advice on your specific cases.
Share this article
Get helpful tips and info from our newsletter!
Stay in the know and be empowered with our strategic how-tos, resources, and guidelines.