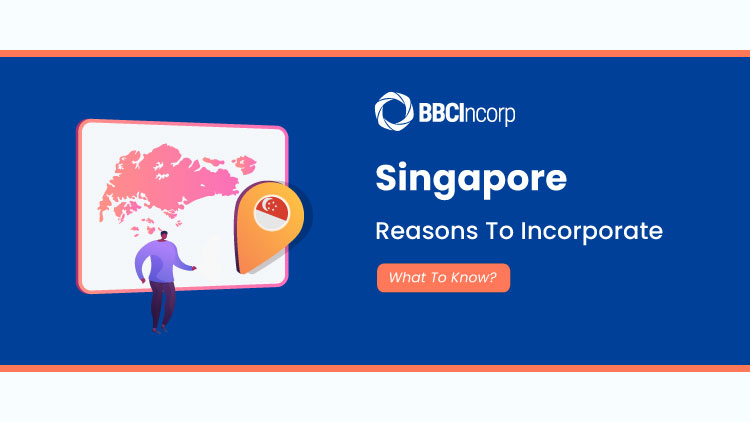 "Why should I incorporate my company in Singapore?"
Being an investor who always seeks a method to benefit from different taxation and environment, perhaps this is the question you have asked yourself at least once.
Small in size, enormous in scale – this is the best way to describe Singapore. The Lion City is long known as a premier financial hub that is ideal for SMEs and startups. Let's dig into Singapore's best benefits that most investors long for.
Environment: Pro-business and Pro-growth
It is no myth that Singapore offers a pro-business playground for business owners – local and international alike – in order to attract more investment. It goes without saying that Singapore has transformed into one of the most desired business hubs in the world.
By incorporating a Singapore offshore company, you can develop your own financial muscles without encumbrance. Many have stressed that it is a superb move to invest in this jurisdiction as they can freely make their startup ideas into a worthwhile businesses.
What's more? In addition to creating a favorable environment that attracts foreign investments, the Singapore government has loosened its trade and visa policy.
The incorporation facility is also a remarkable highlight when doing business in Singapore. With the right and trusted service provider, you just need to wait for less than 24 hours and then get your company rolling.
By now you won't be too surprised to find out that Singapore places second in the 2020 Ease of Doing Business rankings by the World Bank.
And the list goes on. Experts and specialists can benefit from the welcoming policy of Singapore. This results in the surge of ideas and value generated in Singapore as more and more experts are coming to Lion City to work.
Location: Ideal and Strategic
Conveniently nestled in the center of Asia, Singapore is, indeed, a crucial pinpoint in the international trading map. One significant strategy of this city-state is they consider trading and e-commerce as pivotal roles in their economic system.
This results in the rising development of refined logistics and transportation:
If Changi airport in Singapore can't put you in awe, there is no airport in the world that can do that. Offering top-notch facilities that can satisfy even the most hard-to-please people, Changi has won "Best Airport in the World" for 20 consecutive years.
When it comes to the transportation of goods, seaports play a critical role in the supply chain system of the world. Here are the numbers that speak volumes: Singapore is listed as the world-leading transshipment hub for 30 years and its seaports connect more than 600 other ports worldwide.
One of Singapore's top priorities is to become a global logistics hub. Its unparalleled solutions and services, along with transparency in regulations have toned down lead times and added value to a smooth and quick movement of goods.
Life quality: Admirable and excellent
Another top priority of Singapore is its manpower. It is considered the most exceptional resource. As a result, the Singapore government has fostered its well-being through elite facilities and services.
Did you know that the majority of people who live in Singapore score high on the happiness quotient? Plus, most of them are reported to be fulfilled with their lives.
It is no doubt that Singapore has continuously ranked among the top countries to live in – another proof that Singapore offers a brilliant place to work and live.
No matter if you are a resident or not, you can focus on your main goals as all of your essential needs will be fulfilled.
Who isn't aware that Singapore is one of the shopping hotspots in the Asia region? From local brands to world-renowned retail stores, you name it, Singapore got it! It is no exaggeration to say that this city-state is heaven to all shopaholics worldwide.
What about Singapore's educational system? It offers multiple prestigious schools and universities. This creates a competitive and highly-skilled workforce that is trained to compete in various fields.
In terms of community health, Singapore's government has taken further steps to create a clean lifestyle and take strict measures to establish a high standard of hygiene.
Thanks to the fact that medical technologies and expertise are heavily invested, Singapore has become a healthcare hub trusted by both locals and foreigners.
Taxation: Preferable and flexible
When it comes to taxation, it is such a huge mistake to not mention the low-tax regime of Singapore. This is also the most-talked-about issue when investors are considering Lion City.
Most investors and experts worldwide opt for this jurisdiction because of its low tax rates and other pro-business perks. Singapore has acquired a pro-business approach to bring more benefits to its investors, therefore attracting more investments from all around the world.
Singapore is also home to many startups and SMEs thanks to its favorable tax regime that offers a multitude of tax incentives and supports such as tax reduction and the exemption for small businesses. Here are some of the main perks of incorporating in Singapore:
With 17% on chargeable income, Singapore is listed as the third-lowest in the world
The personal tax rate is from 0 to 22% and can be reduced (tax relief for certain individuals)
All dividends and capital gains are not subject to tax levies
Double Taxation Agreement with more than 80 countries worldwide
With the profit generated from countries that have yet to sign double taxation with Singapore, the unilateral tax credit can be turned into account
Workforce: highly skilled and adaptive
The striking development of Singapore from an insignificant island to a top-listed economic hub demonstrated remarkable credits on its workforce. The government spends a great deal of investment on human capital development as it is considered the backbone of its unceasing growth.
Without exaggeration, Singapore possesses a workforce of the future – a kind of force that even the US or countries in Europe have yet to claim.
Doing business in Singapore offers you exclusive access to a cluster of talents with all the crucial qualifications in various fields: tech-savvy, agility, resourcefulness, and high productivity.
There are 4 official languages in Singapore: Malay, Chinese, Tamil, and English. This multilingual environment can help investors and their businesses adapt quickly to the workplace where multiculturalism is a norm.
Intellectual Property (IP) rights regime: Outstanding and Protective
With the determination to boost the development of innovation and growth, Singapore has aided its regime in the protection of intellectual property. For those of you who are new to Singapore, the intellectual property section of Singapore has already been world-renowned for its distinguished degree of transparency and stringency.
Singapore's government is encouraging businesses to spend a myriad of resources on R&D (research and development). Therefore, to delude more investments, it introduced an extensive range of initiatives and measures to protect this valuable right of its citizens. These measures include the ratification of several IP conventions, treaties, and schemes to strengthen its IP infrastructure as well as its legal system.
As one of the leading advocates for the protection of IP rights, Singapore ranked top in Asia and 3rd in the world for best IP protection, on the word of the Global Competitiveness Report 2018, World Economic Forum.
Immigration policy: Open and Relaxed
Singapore always rolls out the red carpet for foreign experts and investors by offering tons of perks if they wish to incorporate a company there. As the fact that the government has loosened the work visa requirements, ex-pats who actively conduct business activities can obtain work permits or hire professionals when they meet certain criteria.
But it is not just about the work permits. This state city also opens its arms to foreign experts who wish to live and work permanently. Still, though relaxed, the application process for permanent residency in Singapore is rather complicated.
Government policies: Centralized and Stable
In order to facilitate the growth of entrepreneurship, Singapore keeps its political system transparent, the policies relaxed, and corruption non-existent. In case you don't know, Singapore is among the most open and comprehensive political systems in the world.
Another amazing fact is that the people of Singapore stay politically informed. They brand bribery and the abuse of authority as they acknowledge that these acts are crucial to their country's international status and image.
Above are the main reasons why you should consider Singapore company formation. Should you have any questions regarding this topic, feel free to drop us your concern at service@bbcincorp.com.
Disclaimer: While BBCIncorp strives to make the information on this website as timely and accurate as possible, the information itself is for reference purposes only. You should not substitute the information provided in this article for competent legal advice. Feel free to contact BBCIncorp's customer services for advice on your specific cases.
Share this article
Get helpful tips and info from our newsletter!
Stay in the know and be empowered with our strategic how-tos, resources, and guidelines.