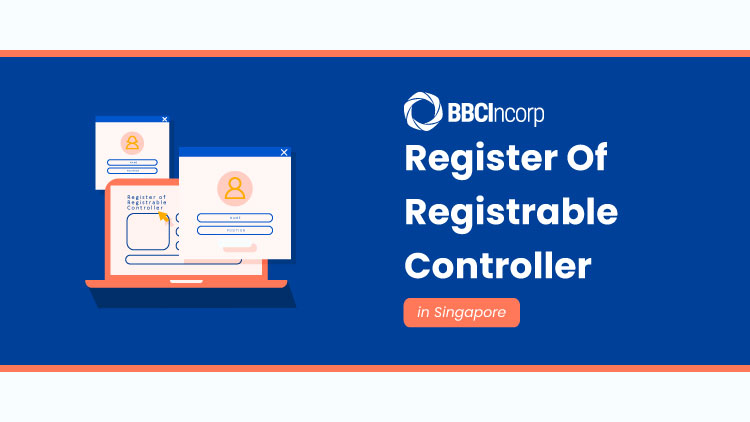 Renowned for its business-friendly environment, Singapore offers numerous advantages for companies to thrive. However, to ensure smooth operations and prevent unforeseen issues, businesses must adhere to certain requirements.
Among these obligations is the Register of Registrable Controllers, which holds great importance for Singapore-incorporated companies.
This article aims to provide a comprehensive understanding of the Register for Registrable Controllers and outline the necessary steps for companies to ensure compliance with these rules.
Overview of Register of registrable controllers (RORC)
The Register of Registrable Controllers (RORC) is a requirement under the Singapore Companies Act. It is a document that businesses in Singapore must maintain to keep track of their significant controllers.
Since April 2020, Singapore businesses were required to submit the Register of Registrable Controllers to ACRA, which was previously an internal obligation for your company. The regulation mandates that you must electronically file the Register with ACRA and ensure it is consistently updated.
Who is the significant controller?
In simple terms, a controller is an individual or a legal entity with significant interest or control over a company. Let's break down what this means:
Significant interest
In a company with share capital, an individual or entity is considered to have significant interest if they:
Own more than 25% of the company share
Own more than 25% of the total voting power
In a company without share capital, an individual or entity has significant interest if they are entitled to more than 25% of the company's capital or profits
Significant control
A person or entity with significant control must satisfy at least one of the following criteria.
Having the authority to appoint or dismiss directors who hold a majority of the voting rights during directors' meetings.
Holding more than 25% of the voting rights on matters subject to member voting
Possessing the right to exercise or exert significant influence or control over the company.
Which companies are required to file RORC?
All companies in Singapore are required to comply with RORC requirement, including companies that are dormant, undergoing winding up, receivership, judicial management, or striking off.
However, some companies are exempted from the Register of registrable controllers (RORC), including:
Publicly listed companies in Singapore;
Singapore financial institutions;
Government-owned companies;
A wholly-owned company established by a statutory body under a public Act for a public purpose;
Subsidiaries of the above-mentioned companies; and
Foreign-listed companies with disclosure requirements
When to file for register of registrable controllers?
The timeline for updating the RORC varies based on the company's incorporation date and circumstances:
For companies incorporated on or after 31 March 2017, they must update the RORC within 30 days after their incorporation date.
Companies incorporated before 31 March 2017 have 60 days after 31 March 2017 to update their RORC.
Companies that are initially not required to maintain the register but later become obligated to do so must update the RORC within 60 days after the date they are required to maintain it. For example, if a company is listed on the Singapore Exchange and later gets delisted, it must create a register of registrable controllers within 60 days of being delisted.
How to identify and obtain information of controllers?
To comply with regulations, companies must take steps to identify and gather information about controllers by sending out notices. These notices must be sent to the following groups:
Known controllers,
Potential controllers, and
Individuals within the entity who know or are likely to know about controllers.
Sending notices
Your business must send notice annually and this can be done electronically or in hard copy, following the specific format as per in the law.
Upon receiving these notices, registrable controllers must affirm their status as controllers and disclose information about any other potential controllers. Furthermore, they should provide the requested information in response to the notice.
If the controllers fail to respond within 30 days from the date the notice was sent, your company must include the most recent details of the potential controller in its Register of Relevant Controllers (RORC), along with a note stating that the particulars have not been confirmed by the controller within 2 business days.
In situations where your company is unable to obtain the necessary particulars directly through the notice, notices can be sent to individuals who have knowledge of the controllers. These individuals must acknowledge their awareness and provide specific details about the controller.
It is important to note that if the company already possesses the particulars of the controller, sending notices may not be necessary.
Company with no controllers
If a company is unsure about who its registrable controller is or believes that it doesn't have one, certain individuals in the company are automatically considered registrable controllers.
These individuals include directors with executive control and the chief executive officer (CEO) of the company.
As a result, the company must update its register of registrable controllers with the following information:
A note stating that:

The company either knows or has reasonable grounds to believe that it doesn't have a registrable controller, or it has a registrable controller but hasn't been able to identify them.
Each director with executive control and the CEO of the company are treated as registrable controllers.

The details of each director with executive control and the CEO of the company should be recorded in the register.
If you've got problems with filling in the particulars or other compliance tasks, our Corporate secretary is more than happy to support you.
Setting up a Register of Controllers
What particulars information needs to be entered?
Companies must enter the information acquired within two business days after the controller's particulars have been confirmed.
Log in to Bizfile with your CorpPass, then fill out the following information:
For individuals:
Full name
Any known aliases
Residential address
Nationality
Identity card number or passport number
Date of birth
Date of becoming an individual controller for the company
Date of ceasing to be an individual controller for the company, if applicable
For entities:
Name or unique entity number, if applicable
Registered office address
Legal form and jurisdiction of formation or incorporation
Name of the corporate entity registered in the jurisdiction of formation or incorporation, if applicable
Identification number or registration number of the registrable corporate controller in the corporate entity register, if applicable
Date of becoming a corporate controller for the company
Date of ceasing to be a corporate controller for the company, if applicable
Keeping Controllers' Particulars up-to-Date
Companies must keep their register of controllers updated by sending annual notices to verify any changes in controller particulars. They are also required to send notices in cases where a relevant change is known or reasonably believed to have occurred, or when credible particulars indicate a relevant change.
However, notices may not be required if updated particulars have already been provided or if the company has documented that no relevant changes have occurred.
Maintain the particulars of registrable controllers
The Register of Controllers is separate from the electronic register of members of private companies that are kept by ACRA.
Companies can choose to keep their register electronic or as a hard-copy document, as long as it meets the specific format required by ACRA. Furthermore, companies can choose to keep their register of controllers in their office or in the office of their registered filing agent. Note, as a part of annual return filing, companies must declare where they will keep the Register of Controllers.
Conclusion
The register of registrable controllers plays a crucial role in promoting transparency and accountability among companies and their controllers. By diligently maintaining this register, businesses not only gain the trust of stakeholders but also contribute to Singapore's vision of becoming a trusted financial hub.
For further information about the RORC or any compliance that your business has to stay compliant to, feel free to contact us at service@bbcincorp.com
Disclaimer: While BBCIncorp strives to make the information on this website as timely and accurate as possible, the information itself is for reference purposes only. You should not substitute the information provided in this article for competent legal advice. Feel free to contact BBCIncorp's customer services for advice on your specific cases.
Share this article
Get helpful tips and info from our newsletter!
Stay in the know and be empowered with our strategic how-tos, resources, and guidelines.