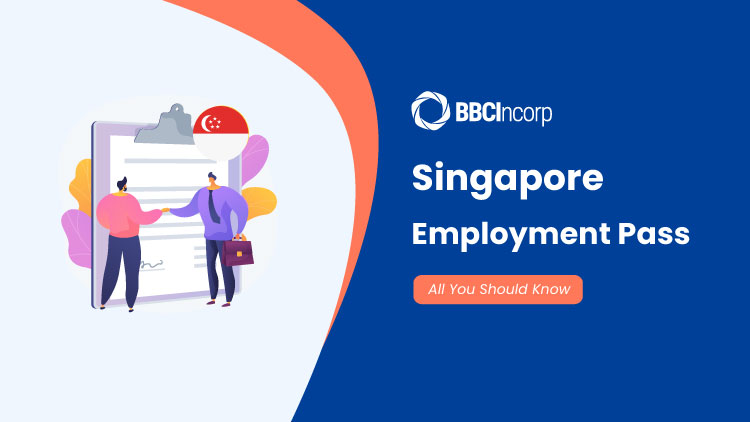 It goes without saying that Employment Pass is a must-have item for high-skilled ex-pats who decide to take the plunge and relocate to Singapore to build their careers. 
Having the pass in place, coupled with a firm grasp on the city-state's policies, and many pro-growth and pro-business incentives, they can with ease leverage their expertise into personal wealth.
This blog post's points of discussion will revolve around what a foreign professional needs to know about Employment Pass.
Overview of Employment Pass in Singapore
Employment Pass is a work visa ideally suited for foreign managers, executives, and specialists. This scheme is introduced to draw proficient workers across the globe to relocate to Singapore to live, work and fill the gap in their workforce.
Singapore takes an open-door approach to Employment Pass: people of all nationalities are allowed to apply for it. Still and all, countries being blacklisted are barred from applying for all types of visas, not to mention this one pass.
Suffice it to say that holding this employment visa makes you a temporary Singapore resident: you are able to work, live, and travel in and out of the city-state.
Depending on many factors, an Employment Pass can stay valid from 1 to 2 years. And you are allowed to have it renewed once it expires. For a first-timer, the validity period lasts for a maximum of 2 years only, which will be prolonged up to 3 years for subsequent renewals.
Even before the pass is registered, there would be a tie established between you and your employer-to-be. He/she will be held responsible for everything related to your employment in Singapore, from applying for the pass on your behalf to reporting every change in your status.
In case you register a company and wish to directly manage it in Singapore, Employment Pass is the right solution. It will allow you to move to Singapore and become a director of your company. At that point, you will be considered a director who locally resides in Singapore. This means you will no longer need to appoint a nominee director for your company.
One last thing, holding Employment is on the list of key requirements to become a permanent resident.
How do I know whether or not I am eligible for the Singapore employment pass?
First off, you should take some time to self-assess, could you meet the following criteria?
You have an educational or professional background – i.e. a degree from a prestigious university, that can recognize your specialist qualifications.
You have landed a high-skilled job in Singapore
You have occupied a position of either a manager, an executive, or a specialist
You command a monthly salary of at least S$5,000 or more in proportion to your seniority.
These are all the key requirements to be eligible to apply for an Employment Pass in Singapore. If you manage to fulfill all of them, the odds are in your favor.
Now you could proceed to have your application submitted.
How to apply for an Employment Pass in Singapore?
The process can be summarized in order as follows: (1) submitting the application, (2) receiving the in-principle approval letter, (3) having the pass issued and (4) receiving the pass.
To begin with, you need to prepare the following documents:
A written consent to apply for Employment Pass on behalf of the candidate
A completed Employment Pass application form
Personal particulars page of your passport and a passport photo of yours
Your resume and/or CV clearly outlines your past employment and your professional background
Your certificates evidencing your academic background
Testimonial or letter of reference composed by your previous employer, appraising your capacity and qualification as an employee
A thoroughgoing description of your employment and of your employer's products/services
Your employer's latest business profile or instant information certified by the Accounting and Corporate Regulatory Authority (ACRA)
This is by no means an exhaustive list. Depending on your expertise and profession, you will be asked to present further documents and proof to solidify your eligibility.
After accumulating all these requisite documents, you can have your employer submit the application on your behalf.
Step 1: Submitting the application
Just like other types of Passes in Singapore, there are 2 means through which you can apply for an Employment Pass: either electrically by logging in to EP online or manually by visiting SingPost.
Whichever channel you choose, you first need to file a letter of consent confirming that you agree to take up the job offered by a specific employer.
You should consider submitting online if you are sure of yourself as a prospective candidate, that is, you went to a prestigious university or are well-versed in your field of profession. In addition, the prerequisite for applying this way is that your employing company must be registered in Singapore and have signed up for a CorpPass account, which is key to the application on the EP online portal.
Fast forward 3 weeks after the submission, your employer – who applies on your behalf, should actively revisit the MOM website to see whether or not the approval has been granted. In order to proceed any further, your employer will be charged a sum of $105 for every application he sends in.
Nevertheless, there are candidates whose background is somehow mediocre, and those coming from developing countries without a well-ranked education system. Should you find yourself in either of these situations, arranging a visit to SingPost is advisable. This is simply because one upside of manual application is that you could showcase your expertise and merit by attaching extra documents, thereby reinforcing your qualification. One can hardly do so with online registration given the limitation of the prescribed form.
On a side note, foreign employers with no registered address in Singapore must get a local sponsor to file the pass application manually on their behalf. For all that, it may take roughly 8 weeks until MOM reach its final conclusion and give you an official notification.
The same as online registration, a fee of $105 will be charged. In the event that your application happens to be rejected, it is well-advised to consider filing an appeal to the MOM asking for their reconsideration.
Step 2: Receiving the in-principle approval letter
Let's say for now that your pass is approved, then your employer needs to print the in-principle approval (IPA) letter that was sent from MOM.
Thereon you should expect he/she to send you a copy of the IPA, which should be enclosed with a pre-approved, single-entry Singapore visa. As you have been given a window of 6 months for traveling into Singapore upon the receipt of IPA, these items act as a permit recognizing your right to do so.
Step 3: Having the Pass issued
Having you present in Singapore, your employer is now able to log in to EP Online and submit additional documents in order to get the pass issued.
At this juncture, your employer will be required to specify your personal information including your NRIC, FIN or passport number, mobile numbers, and email address. It is also essential for him/her to leave a local address to which the Pass will be sent. A fee for processing these documents will be charged.
Upon the issuance of the Pass, your employer will mail you a notification letter. Having this small piece of paper in place, you will, to a certain degree, be officially permitted to start working and freely moving in and out of the country.
In addition, the notification letter will advise you of whether or not you need to get your fingerprint and photo registered, which must be carried out within 2 weeks upon receipt if applicable. First-time applicants and those whose latest registrations were over 5 years would be subject to this requirement.
Step 4: Receiving the Pass
Thereafter the Pass will be sent to the address your employer specified in the application. At least 1 working day before this delivery takes place, you should have been notified via the specified phone number or email address.
During the validity period of the Pass, you should make MOM aware of any changes in your status. Again, your employer is duty-bound to do this on your behalf.
How to renew the Employment Pass in Singapore?
An Employment Pass has a validity period of 1 to 2 years once you got ahold of it. After this point, it will fall due for renewal every 3 years as long as it is renewed. It is important to bear in mind that there is no other way to ensure approval other than you demonstrate your qualification by meeting the relevant criteria.
As we have mentioned time and again, your employer acts as your proxy during your stay in Singapore so he will need to apply for renewals on your behalf.
The pass can be renewed either electrically through EP online, or manually by your local sponsor visiting SingPost.
Should you apply through EP Online, MOM will in advance give you a window of 6 months prior to the expiration date of the EP. This period would shrink to only 3 months if you opt for manual application. There is no grace period, so failing to meet these deadlines amounts to you having to re-apply for a new pass all over again.
Can an Employment Pass holder apply for permanent residence in Singapore?
The holder of the Employment Pass is eligible to apply for the Permanent Resident.
In order to acquire this status, you will need to file your application to the Immigration and Checkpoints Authority – the ministry responsible to evaluate your eligibility, after at least 6 months of holding the Employment Pass.
How can my family come live with me in Singapore if I hold an Employment Pass?
Holding an employment pass allows you to reunite with your family members in Singapore as long as you manage to meet all the eligibility criteria, one of which is that you must earn at least a whopping $6,000 a month.
If your legally married spouse or unmarried/legally adopted child under 21 wishes to join you in Singapore, you can apply for a Dependant's Pass on their behalf.
Other sorts of dependants, such as your common-law spouse, unmarried handicapped children who are over 21, unmarried step-children who are under 21, and your parents, are unable to qualify for a dependant's pass. Instead, they can hold a Long-term Visit Pass, which will subject you to other requirements, such as a minimum salary of $12,000 to bring along your parent.
You are allowed to submit an application for each of the dependants along with your Employment pass. This way, you will be at the same time notified of the conclusion as to all the passes for which you applied.
Should I apply for a Personalized Employment Pass?
At some points during your stay in Singapore, you may want to sever the tie between you and any other employer, and start to work with more freedom. If this is the case, upgrading your Employment Pass to a Personalized Employment Pass is a good call.
This variation could improve the flexibility to a much greater extent as the holder is allowed to switch jobs without having to re-apply for a new pass as it is with the employment pass.
Assuming that you currently hold the employment pass, then it is, by all means, necessary to demonstrate a salary of at least $12,000 per month and $144,000 per year in order to be eligible for this pass. In addition, the holder of the Personalized Employment Pass is obliged to inform and update every bit of change in his employment status.
Free ebook
Get your Singapore business started with key matters covered in our all-in-one guideline
Incorporation procedure
Annual compliance requirements
Tax structures
Employment landscape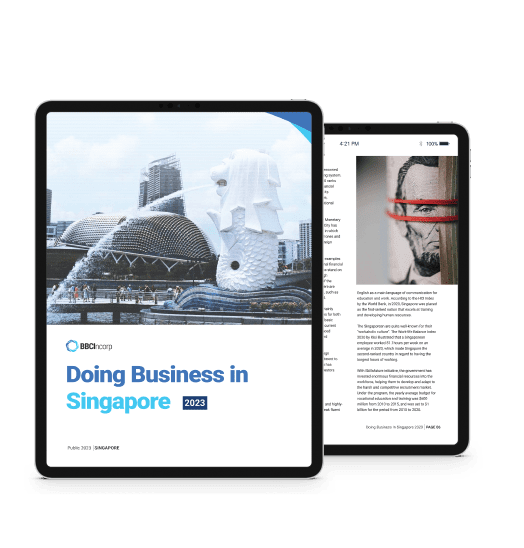 Should you have any questions regarding the Singapore employment pass, talk to our consultants by dropping a chat message or sending an email via service@bbcincorp.com.
Disclaimer: While BBCIncorp strives to make the information on this website as timely and accurate as possible, the information itself is for reference purposes only. You should not substitute the information provided in this article for competent legal advice. Feel free to contact BBCIncorp's customer services for advice on your specific cases.
Share this article
Get helpful tips and info from our newsletter!
Stay in the know and be empowered with our strategic how-tos, resources, and guidelines.