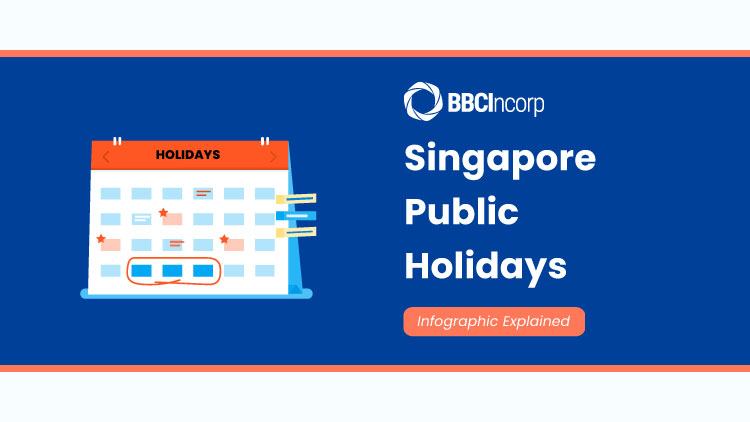 Here is the tip for successful business planning: always double-check the public holidays. Especially when you are doing business in Singapore. The state city has many crucial yet meaningful holidays that are milestones for important events.
So, no matter what business field you are in, it is always crucial to take note of Singapore's public holidays to make the necessary preparation.
For a comprehensive understanding, view our visual guide to the most important holidays in Singapore.
Overview of the Singapore public holidays
Before getting the details of each public holiday in Singapore, let's have a walk through some of the basic yet crucial facts.
To be more specific, there will be 10 occasions that are considered to be public holidays in Singapore. These days are governed under the Employment Act of Singapore and enforced by the Ministry of Manpower.
This also means that the Ministry of Manpower has the authority to create one-time national holidays and petition for new holidays.
Key characteristics of Singapore national holidays
Although each bears a specific meaning and date, the Singapore public holidays all share some common characteristics:
Religious-focused
National holidays are often based on religious beliefs, with different religions observing holidays based on their respective lunar cycles, such as Christian, Muslim, and Hindu holidays. This allows for the recognition and respect of diverse cultures and religious practices.
Early announced
Public holidays are typically announced at the end of each year for the following year. This early announcement lets people know when these holidays will occur, enabling them to strategically plan their activities and make the most of the break.
Right and regulations on public holidays
Apart from enjoying the holidays, both employers and employees in Singapore have certain obligations to fulfill.
For employers:
Pay employees an extra day's salary at the basic rate of pay for working on national holidays
Can offer a day off in lieu of an extra day's salary for working on public holidays if both parties mutually agree.
For employees:
Get a full gross rate of pay if you were present on a working day before and after the holiday, or if you have authorized leave on those days.
Substitute a public holiday for another working day if this is mutually agreed with your employer.
If the public days fall on your rest days or non-working days, or you are not covered under Part IV of the Employment Act, please refer to the details of the Ministry of Manpower.
Guide to Singapore public holidays
For more information about the meaning and its timeline, we have compiled a visualized guide for you to dive deeper into the matter of public holidays.

Conclusion
Taking into account these holidays and carefully considering them during your planning process is crucial. It not only aids in maintaining a proactive approach to your business operations but also ensures strict compliance with the regulations in Singapore.
Considering starting your business in Singapore? Experience the speed and convenience of our Singapore incorporation service. For any inquiries regarding incorporation, reach out to us at service@bbcincorp.com.
Disclaimer: While BBCIncorp strives to make the information on this website as timely and accurate as possible, the information itself is for reference purposes only. You should not substitute the information provided in this article for competent legal advice. Feel free to contact BBCIncorp's customer services for advice on your specific cases.
Share this article
Get helpful tips and info from our newsletter!
Stay in the know and be empowered with our strategic how-tos, resources, and guidelines.