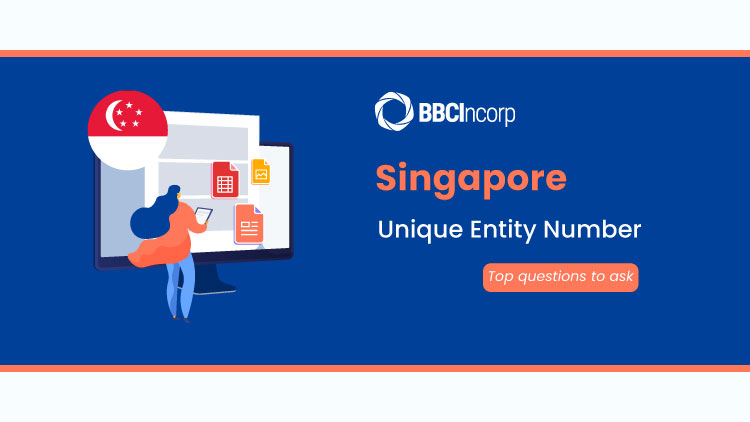 In Singapore, a unique entity number (UEN) is assigned to every business or organization. It is used for government reporting and various other administrative purposes. Knowing your company's UEN can be helpful if you need to contact the government or take other action concerning your business.
To help you learn more about the unique entity number (UEN), we've included a list of the frequently asked questions about it in this post along with detailed responses.
What is a UEN in Singapore?
The Unique Entity Number (UEN) is a 9 or 10-digit unique identifying number provided by the Singapore government to all entities operating within the country.
It is a number that is used to specifically identify each registered organization so that they can easily engage with various governmental authorities, from submitting corporate tax returns to requesting import and export licenses, under a single identification number.
The format is often a string of nine or ten characters made up of the following:
Alphanumeric (a combination of numbers and letters)
The issuing agency
Entity type
The year when the UEN was issued
Note: Depending on the year of registration for your firm, the UEN number will resemble this.
Who will issue UEN?
There are a few different organizations that can issue UENs in Singapore. The most common one is the Accounting and Corporate Regulatory Authority (ACRA). Other organizations that can issue UENs include:
International Enterprise Singapore
Islamic Religious Council of Singapore
Ministry of Communications and Information
Ministry of Culture, Community and Youth
Ministry of Defense
Ministry of Education
Ministry of Finance
Ministry of Foreign Affairs
Ministry of Health
Ministry of Law
Ministry of Manpower
Ministry of National Development
Monetary Authority
People's Association
Registry of Societies
Singapore Land Authority
Smart Nation and Digital Government Office
How do I get a UEN in Singapore?
If you haven't yet registered your firm and don't have a UEN, here's a step-by-step guide on how to get one:
Step 1: Choose a business entity
Depending on your demands, you may pick from a variety of company entities in Singapore. These include setting up a limited partnership or a limited liability partnership.
Partnerships are smaller-scale businesses where the partners directly manage the business. They provide more flexibility in company behavior and are subject to less onerous legal regulations.
Step 2: Register your business
The BizFile+ website is used to complete the registration. And it is a reasonably simple procedure that can typically be finished in a single sitting.
The registration cost for Limited Liability Partnerships, Partnerships, and Sole Proprietorships is $115 for a one-year registration and $175 for a three-year registration. If the business continues, the registration must be renewed.
A $315 one-time incorporation charge is required for businesses, which also covers the cost of registering a business name.
Step 3: Decide whether you want special UEN
Special UENs are certain UENs that have been set aside because they are typically "better looking" and simpler to remember. However, in addition to the price of company registration, there are extra costs for obtaining a SUN. Details about these fees may be found below.
Step 4: Check your UEN after registering
You will receive a business profile with information about your company and your UEN after registering.
You may also perform a free search on BizFile+ or UEN.gov.sg to verify your UEN (or the UEN of any other organization that has one) there.
What is Special UEN (SUN)?
A special UEN allows business owners to select a memorable and identifiable UEN for their entities, facilitating transactions with government entities.
Special UEN has 2 types including Tier 1 and Tier 2. To know more about each type, visit Bizfile for details.
How to apply
Entity owners can apply for SUN at two points: when incorporating/registering an entity and when converting to a different entity type.
In BizFile+, the option to pick a SUN is accessible during the payment stage for relevant transactions.
Applying for SUN during incorporation/registration of an entity – Source: ACRA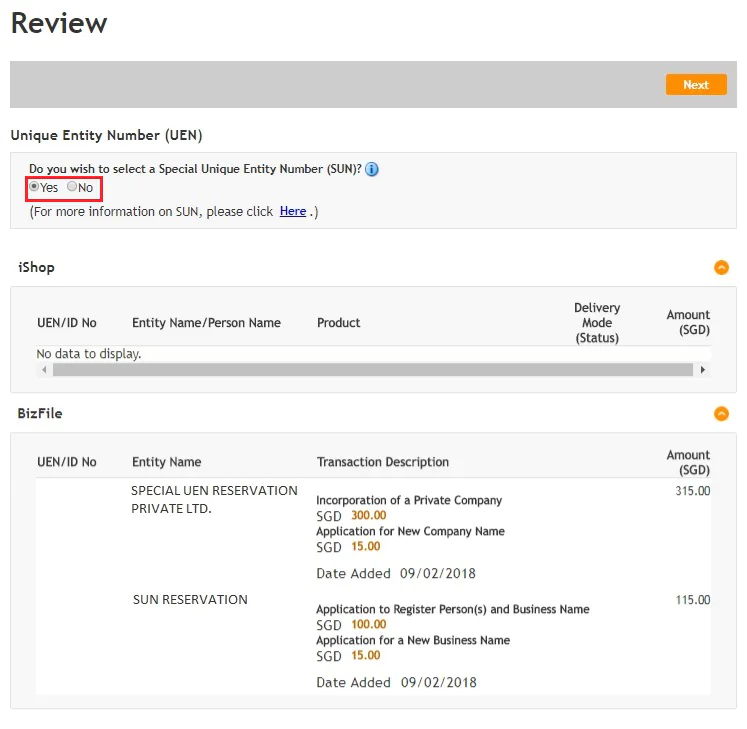 Applying for SUN during incorporation/registration of multiple entities – Source: ACRA
Do I need a UEN?
For Identification
In Singapore, identification is the primary usage of a UEN number. Your UEN Singapore number will be used to identify your organization by the government.
A UEN provides you with the same benefits when dealing with various government agencies.
To submit taxes
In Singapore, all entities must pay taxes, including profit-making societies and local businesses. Typically, this is done online. To process tax filings, government systems demand a UEN. The UEN Singapore was introduced in 2009 to simplify the nation's taxation system.
To export and import permits
You must provide your UEN to proceed if your business plans to export or import goods or services. This will help the government determine the type of foreign transaction you are involved in, allowing it to assess taxes appropriately.
To update information
If you want to update the data you have in the Bizfile database maintained by the Accounting and Corporate Regulatory Authority of Singapore, you need to use UEN to enter the site and make any changes.
Where should I display the UEN on the company's correspondents?
The legislation demands that the UEN be displayed on a variety of documents, including:
Letterheads
Emails
Invoices
Receipts
Order forms
Brochures
Leaflets
Other types of printed marketing material
Websites and other online materials
Who is qualified for the UEN?
Companies with headquarters in Singapore who plan to conduct ongoing business with the government must get a UEN. The following entities are included in this:
Local businesses
Limited liability partnerships (LLPs)
Trade unions
Representative offices
Healthcare institutions
Note: Every UEN is permanent and will not be modified, even if your company's details change.
UEN will NOT be issued to:
Individuals
However, they are required to have their own identification number that is reflected on their NRIC or National Registration Identity Card.
Entities with a One-off or No Interaction with the Government
This includes companies that only one-time conduct business with a specific government department.
A Singapore company's subsidiary entities
Sub-entities that are solely considered to be a branch or division are not required to obtain a UEN.
What is a UEN used for?
Making transactions
A UEN number is used to make transactions, especially online. It's a unique identifier that ensures that the correct person is credited or charged for the transaction. UEN numbers are also used to track business and company information.
Opening a corporate bank account
UEN is used to track your company's financial transactions and filings. Opening a corporate bank account requires the submission of your company's UEN.
Making an agreement/ contract
If you are doing business with another company in Singapore, you will need to provide your UEN number so that they can create a contract with you.
Where can I search for UEN of Singapore companies?
You may use Singapore Government Agency Website to check for a company's UEN in Singapore online. The firm's number, status, company name, type, and location will be provided if it has registered with ACRA.
Is there any difference between UEN and other tax identification numbers like ACRA, ROC, and GST?
Is UEN different from the ACRA number?
No. The UEN was previously known as the ACRA Registration Number and had been granted to enterprises and local corporations registered with ACRA.
Is UEN different from the ROC number?
UEN and ROC numbers are two different things. UEN stands for Unique Entity Number, while ROC stands for Registrar of Companies. In Singapore, every business must have a UEN to operate legally. The ROC number is the number assigned by the Registrar of Companies to a company or business entity.
Is UEN different from the GST number?
The GST registration number will be the same for ACRA-registered local companies, except for foreign businesses.
Is UEN different from TIN?
UEN and TIN are both identification numbers, but they serve different purposes. UEN is issued by the Singapore government to businesses and entities operating in the country, while TIN is issued to individuals for tax purposes.
Can I change my UEN?
No. Once you've gotten your UEN, you won't be able to change it. But if you form a new company or change the way your company is structured, you can get a new UEN.
Can a business have more than one UEN?
No. The authorized issuing agency only issues ONE official UEN, and this is the UEN required for all official transactions.
How do I find out whether my business has an existing UEN or has to obtain a new one?
To verify if you've received the ACRA registration number yet, visit the ACRA's official website and type in your company's name.
Do I need to renew my UEN?
Once incorporated, companies enjoy everlasting succession. Therefore, businesses need not renew their UENs as long as they're still listed on the public register.
But partnerships and sole proprietorships are registered on a term basis. To maintain the business and keep the UEN after that period has passed, you must renew the registration.
The bottom line
The Singapore UEN was introduced in 2003, and all businesses are required to have one. If you are starting a business in Singapore, you will need to apply for a UEN. You can do this online or at the Business Registration Office.
The Singapore UEN is an important part of doing business in Singapore, so make sure you apply for one as soon as you can.
For practical advice on your Singapore business, don't hesitate to send a message via service@bbcincorp.com or contact our support team through the chatbox.
Disclaimer: While BBCIncorp strives to make the information on this website as timely and accurate as possible, the information itself is for reference purposes only. You should not substitute the information provided in this article for competent legal advice. Feel free to contact BBCIncorp's customer services for advice on your specific cases.
Share this article
Get helpful tips and info from our newsletter!
Stay in the know and be empowered with our strategic how-tos, resources, and guidelines.