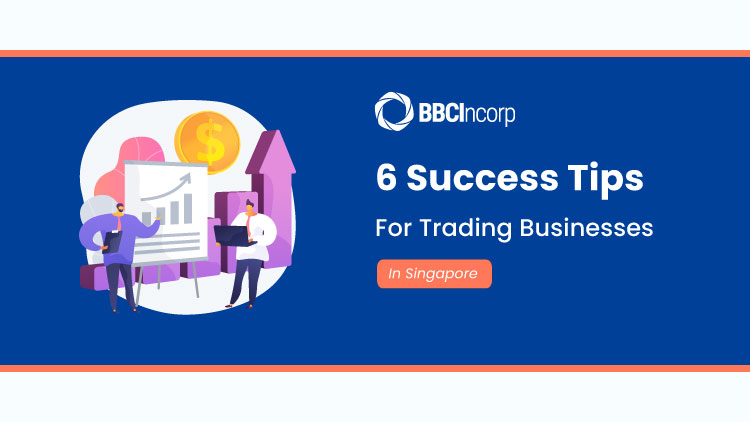 Planning to get into trading in Singapore but not sure where to start? Or maybe you are already conducting business operations but looking forward to developing further?
No matter your level of experience, these practical strategies will guarantee to help you become a successful entrepreneur among industry professionals.
Tip 1: Map business directions carefully
When starting a business, gaining a throughout understanding of the market you will be trading in is vital to the company's well-being. This includes understanding the legal and economic environment, as well as your customers' distinct cultures and behavior.
Singapore is a thriving economy with rich cultural assets and a highly developed infrastructure. To grow into a bigger name, it is important to map your strategies considering every possible feature affecting the business.
Do remember to research the following factors regarding the specific needs of the Singaporean market before launching your trading business:
Free-trade agreements (FTAs)
Singapore's free-port status makes this country a highly competitive entrepot for importers globally, with China, Hong Kong, and the US being key stakeholders within the city-state's burgeoning FTA network.
The catalyst for this commercial conductivity? Enter the most important acronym in global trade: FTA or more commonly known as Free Trade Agreements.
These are bilateral agreements signed by two or more countries to facilitate non-tariff trades or to provide protection for a member's domestically produced goods from overseas competition.
Singapore boasts an impressive number of 420 currently-effective regional trade agreements, securing its name as one of the most prominent trading hubs in the region. Even so, knowing which one to look out for can give your business prime leverage for growth.
Targeted customers
When targeting Singaporean consumers, it is important to remember that they are price-sensitive and often look for the best deals. Therefore, make sure to highlight the value of your products and services.
Additionally, be sure to emphasize the quality and credibility of your offerings, as Singaporeans are known for their high standards.
Trade barriers
The liberal trading status of Singapore is not without protection, however, as there are plenty of trading barriers in place to ensure utmost alignment with its social and economical guidelines.
Singapore is an ardent believer in a zero-carbon future. In this respect, the country's legislative journey has by far been consistent with this goal. Bulk imports of motorcycles are now targeted for a tiered registration system, and an engine displacement-based licensing system to boot.
Commodities that pose indirect threats to its environmental integrity like non-medicinal chewing gums, spirits/wines, and tobacco-related products are also met with high excise taxes.
Other emerging sectors like legal services, banking, and cloud computing for financial institutions also have barriers imposed to better regulate them.
Taxation
While Singapore presents an ideal logistical infrastructure for trading commodities — a trading company is still, nonetheless, a company – and is therefore subject to its own set of tax obligations.
Typical taxes that can make their way to your door are income tax, goods and services tax (GST), and stamp duty. Note that income tax applies regardless of whether your trading company receives its income in or outside of Singapore. But this is not a deterring prospect if you consider the extensive tax reliefs to negate double taxation.
Being fully aware of your trade tax obligations and incentives is crucial in keeping your business stay afloat and operating in top condition.
Tip 2: Legitimize your business
Incorporate a company
There are a few key reasons why a company's incorporation in Singapore is important. First and foremost, incorporation offers companies legal protection. This means that the company is regarded as a separate legal entity from its owners and shareholders.
This can be incredibly beneficial if the company is ever sued, the owners and shareholders would be protected from any legal action taken against the company.
Incorporation can also make it easier to raise financial investments. For example, if a company is looking to issue shares or take on debt, it will be much easier to do so if incorporated. Potential creditors tend to put more trust in investing in or lending to an incorporated company.
Finally, incorporation can help companies expand. A separate legal entity gives companies the option of protecting their assets and integrating with other businesses more easily.
There are a few common business structures for trading businesses, with the most popular one being the limited liability company (LLC) in Singapore.
This model offers limited personal liability to its shareholders thus a flexible management structure. It is also easy to set up and maintain.
Other popular options include the private limited company and the sole proprietorship. These structures are more suitable for businesses not planning to raise capital or issue shares.
Tips
Be mindful that it is extremely essential to make the right decision on your company's business structure, as it will impact both your taxes and liabilities.
Get relevant licenses
Singapore is a country that is well known for its strong economy. To maintain it, the government has put in place various laws and regulations to protect the interests of its citizens and businesses, one of which is the prohibition of unlicensed trading activities.
If you're looking to set up a trading company in Singapore, relevant licenses and permits from the authorities are required. The process can be bureaucratic and time-consuming, so make sure you have everything in order beforehand.
The most important license is the trading license issued by the Monetary Authority of Singapore (MAS). This license allows your company to trade in goods and services, and to conduct financial activities such as money changing and foreign exchange.
To get this license, you'll need to submit an application form along with all the required documents, such as your company's registration certificate and articles of incorporation.
Another important license is the Import/Export License issued by Singapore Customs. This license allows you to import and export goods into and out of Singapore.
You'll need to provide detailed information about your company and its products and a copy of your Trading License.
There are also many other licenses and permits you may need, depending on the type of trading you do. For example, if you're importing or exporting food products, you'll need to get a Food License from the Ministry of Health as well.
Open a business banking account
Many banks offer accounts for businesses, and each has its own set of features and benefits. By owning a Singapore domestic banking account, you can support your specific business needs while operating in this country and benefit from the services offered.
Considering these top renowned Singaporean banking options such as Standard Chartered, OCBC, Citibank, or DBS for your professional business banking account is recommended since the majority of them offer low fees and a wide range of services.
Tip 3: Comply with legal requirements
As a Singapore trading company, it is important to be aware of the various legal requirements that must be complied with to ensure a smooth and trouble-free operation.
Some of the main areas that need to be taken into account include corporate compliance, tax planning, and accounting, foreign exchange controls, and export and import procedures.
The main regulatory authority governing trade in Singapore is the Trade Control Division (TCD) of the Ministry of Trade and Industry (MTI).
The TCD imposes several restrictions on the export and import of goods, including:
The export of strategic items such as arms, munitions, and nuclear materials is strictly controlled
There are restrictions on the export of certain animal and plant species
The import of certain items, such as weapons and pornography, is prohibited
To comply with these requirements, you will need to obtain an export/ import license from the TCD. The application process is relatively straightforward, and the TCD will usually respond within a few weeks.
Tip 4: Source the best suppliers
A Singapore trading company may be interested in sourcing suppliers from China. There are a few things to consider when looking for a supplier. Select a supplier who can meet the business's needs in terms of quality, price, delivery time, and shipping costs.
In Singapore, you can find suppliers in a variety of ways such as:
Use an online sourcing platform. These platforms are a great way to connect with suppliers and compare prices.
Contact local trade associations or chambers of commerce. In many cases, they can provide a list of local suppliers who can be of assistance.
When choosing a supplier, it is important to do your due diligence. Ask for references and check them. Make sure the supplier has a good reputation and is reliable. Also, be sure to understand the supplier's quality control procedures well.
Tip 5: Plan logistics
Logistics is everything in trading, you need to make sure you have the keynotes for logistics management for your Singapore trading business in place to ensure smooth operation. You should consider how it will handle shipping and customs procedures, as well as the storage and distribution of products. It is also important to have a good relationship with local suppliers and freight forwarders.
A good logistics plan will help your business run smoothly and efficiently. It will also help you to save money by streamlining your operations. When creating your plan, be sure to consider key aspects like product type, delivery area, transportation options, budget, and so on.
Tip 6: Manage risks
A Singapore trading company needs to be aware of the many risks it faces when doing business. It is important to have a risk management plan in place to help mitigate these risks.
This may include things like insurance policies, contract clauses that protect the company, and procedures for dealing with unexpected events. Risks can come from numerous sources (e.g. fluctuating currency values, political instability, and natural disasters).
Typical risks:
Political Risks
Legal Risks
Credit & Financial Risk
Quality Risk
Transportation and Logistics Risk
Language and Cultural Risk
There are a few things you can do to help manage these risks.
Make sure you have a good understanding of the risks involved in your industry, and what could happen if they were to materialize.
Have a solid risk management plan in place, which includes measures to protect your business against potential losses.
Keep a close eye on market conditions and make changes to your trading strategy as needed.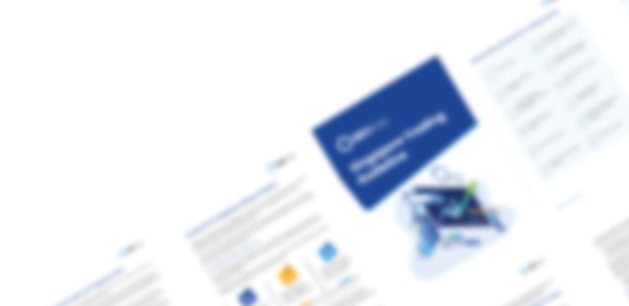 New guide
Complete guide to Singapore Trading within your grasp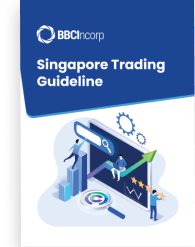 Conclusion
A successful Singapore trading company can provide great opportunities for investors and traders. By following these tips, you can make the most of your trading experience with a Singaporean company. Make sure to do your research before investing, choose a reputable and reliable company, and be patient to maximize your profits.
If you are looking to set up a trade business in Singapore, or are simply interested in finding out more about the process, please do not hesitate to contact us through our chatbox or send us an email via service@bbcincorp.com for further assistance.
Our team of experienced professionals would be happy to assist you with all your trading needs.
Disclaimer: While BBCIncorp strives to make the information on this website as timely and accurate as possible, the information itself is for reference purposes only. You should not substitute the information provided in this article for competent legal advice. Feel free to contact BBCIncorp's customer services for advice on your specific cases.
Share this article
Get helpful tips and info from our newsletter!
Stay in the know and be empowered with our strategic how-tos, resources, and guidelines.