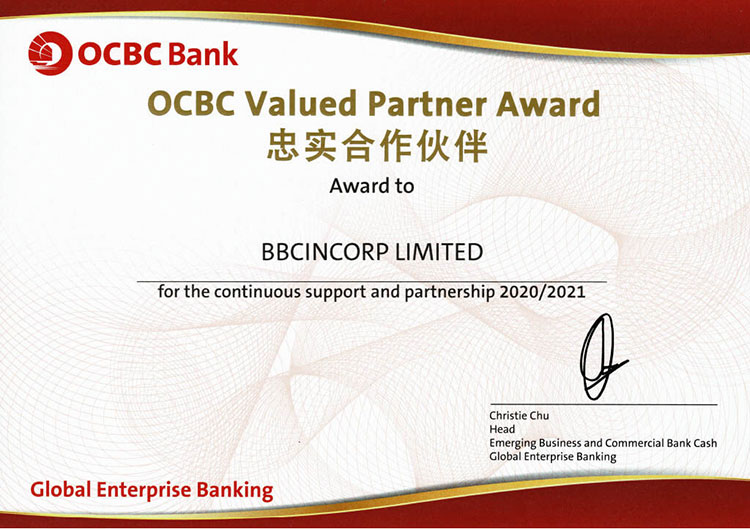 Tsim Sha Tsui, Hong Kong – BBCIncorp has just received the honor award "OCBC Valued Partner Award 2020/2021". This marks the 6th consecutive year that BBCIncorp has been a valued partner to OCBC. The renowned award shows high appreciation from the global enterprise to its partner for the significant contribution to delivering financial and banking services.
It also commemorates the long-term sustainable partnership between the two parties for more than 8 years. OCBC has been one of the largest banks in Southeast Asia and one of the most highly-rated financial groups in the world. On the other hand, BBCIncorp Limited has been well recognized as a leading corporate advisory firm based in Hong Kong. Over the years, the partnership has brought nothing but high-qualified services and true value to global businesses of all sizes.
"OCBC has been very responsive to the current Covid-19 situation. The bank has now offered remote account opening and many other support services. There is no delay in processing the applications. Partnership with OCBC has continued to help us bring efficient banking solution to our customers.", said Rachel – the Relationship Manager of BBCIncorp Limited.
BBCIncorp has come a long way and the award is a real motivation for the firm to even push forward. BBCIncorp promises to continue being proactive in learning, improving, and making progress to assist all-sized enterprises to achieve their business goals. It is believed that OCBC and BBCIncorp will maintain to be valued partners in the upcoming years due to their efficient collaboration.
Disclaimer: While BBCIncorp strives to make the information on this website as timely and accurate as possible, the information itself is for reference purposes only. You should not substitute the information provided in this article for competent legal advice. Feel free to contact BBCIncorp's customer services for advice on your specific cases.
Share this article
Get helpful tips and info from our newsletter!
Stay in the know and be empowered with our strategic how-tos, resources, and guidelines.