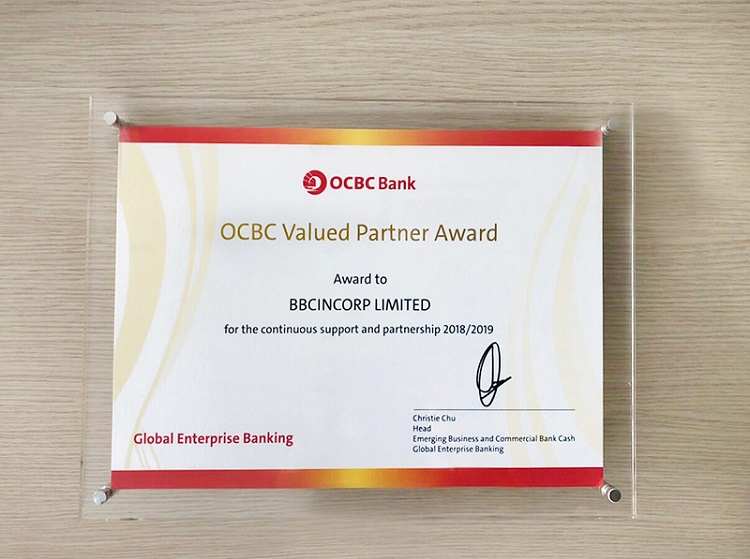 Tsim Sha Tsui, Hong Kong – On August 8th, 2019, BBCIncorp had the honor of being awarded the title "OCBC Valued Partner Award 2018/2019" for its significant contribution to the partnership between the two parties for the 4th year.
With up to 90 years of expertise in providing financial services, OCBC is recognized as the largest banks in Southeast Asia and among the most trusted and highly-rated financial firms in the world. OCBC Valued Partner Award, held per annum, is to recognize all of OCBC's partners who achieve excellence in delivering finance-related services and in bolstering their partnership with OCBC Group.  
Earlier this year in 2019, the OCBC Valued Partner Award was formally conferred on BBCIncorp, an up-and-coming advisory firm located in Hongkong, for the 4th consecutive year, from 2015 to 2019. The award, according to OCBC bank, is thanks to BBCIncorp's steady dedication to supporting the bank in its pursuit of providing the best financial services for enterprises of all scopes.   
This achievement is believed to not only foster but also further cement the relationship between this international bank and BBCIncorp, among others. With an aim to acknowledge OCBC bank's outstanding partners, this prestigious award is also an affirmation for BBCIncorp's position as an industry-leading advisory firm. 
"Having partnered with OCBC for more than 7 years, we are genuinely delighted at this honor. This award is proof of our effort being paid off and will stay as a motivation for BBCIncorp to keep on striving in our endeavor to help startups and SMEs maximize their potentials. We believe this award has marked a cornerstone in our development and in our partnership as leading financial service providers," said a representative from BBCIncorp.
About BBCIncorp
BBCIncorp Limited Hong Kong was established in 2007 with a mission to help startups and SMEs to free their resources tied up to intimidating company administration tasks, and thus speed up the process of setting up and running a business, unleash their potential power for growth and expansion. Our services are specialized in company formation, banking assistance, accounting & auditing, legal administration and much more in over 18 countries across the globe. Our proven IT strategy with the usage of technology advancement along with long-term sustainable relationships in the industry allows us to deliver services at scale with minimum costs. Wherever you want to initialize your business, BBCIncorp can help to accelerate the process in a reliable and successful manner.
Disclaimer: While BBCIncorp strives to make the information on this website as timely and accurate as possible, the information itself is for reference purposes only. You should not substitute the information provided in this article for competent legal advice. Feel free to contact BBCIncorp's customer services for advice on your specific cases.
Share this article
Get helpful tips and info from our newsletter!
Stay in the know and be empowered with our strategic how-tos, resources, and guidelines.