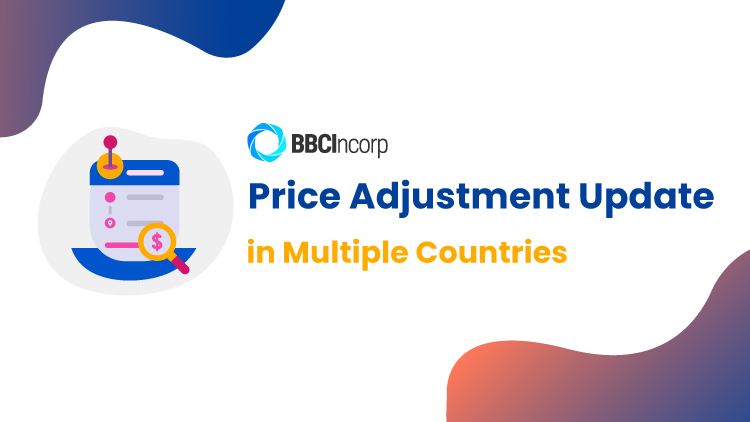 Dear Valued Customers,
We would like to inform you that BBCIncorp will be making a price adjustment to the company formation service and other corporate services in several countries, effective from April 1, 2023.
The decision to adjust pricing has been made after careful consideration of various factors, including operational costs and changes in government regulations. While being fully aware that any change in pricing may cause inconvenience to our valued customers, we have taken proactive measures to minimize the impact as much as possible with your best interest in mind. Please rest assured that our team remains committed to providing you with the high-quality services that you have come to expect from us.
The new pricing will apply to the services in the following countries:
Anguilla
Bahamas
Belize
Cayman
Delaware
Hong Kong
Marshall
Panama
Samoa
Seychelles
Singapore
St. Kitts & Nevis
Ras Al Khaimah (UAE)
We would like to express our attitude toward your continued trust and support and appreciate your understanding during this transition.
If you have any questions or concerns about the new pricing, please do not hesitate to contact our customer service team, who will be happy to assist you.
Thank you for your attention to this matter, and we look forward to working with you in the future.
Sincerely,
BBCIncorp Limited.
Disclaimer: While BBCIncorp strives to make the information on this website as timely and accurate as possible, the information itself is for reference purposes only. You should not substitute the information provided in this article for competent legal advice. Feel free to contact BBCIncorp's customer services for advice on your specific cases.
Share this article
Get helpful tips and info from our newsletter!
Stay in the know and be empowered with our strategic how-tos, resources, and guidelines.