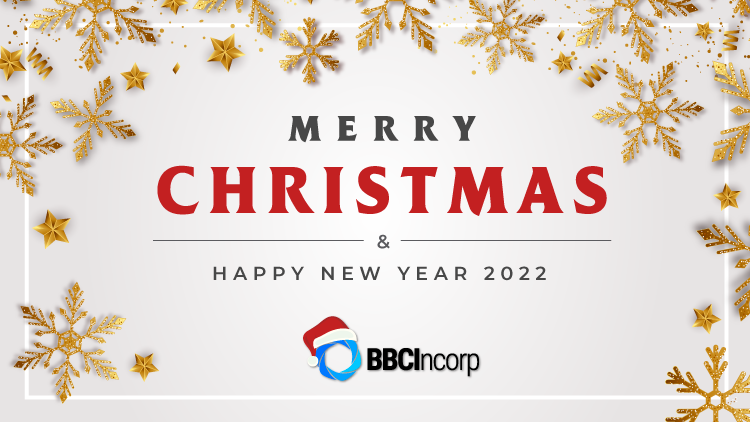 The holidays are just around the corner! We wish you the most peaceful holidays and a new year full of wins and successes.
In this heartwarming time of the year, we would like to express our deepest gratitude to all of you – our valued partners and customers.
2021 has been quite a year. One with many twists and turns. But it was also a year we felt more inspired and motivated than ever to humbly serve you with energy and enthusiasm.
Let's look at some of our highlights from 2021!
The updated release of the BBCIncorp Client Portal
One of the top-of-mind projects for us in 2021 is the BBCIncorp Client Portal, an updated version to digitize the KYC and onboarding process.
Together with new built-in features, our Client Portal has become a one-stop platform, offering a wide scope of functionality, including order management, uploading information, and signing documents, all at the click of a button.
Since the release, we were excited to see over a thousand clients sign up for the portal. It was also a proud moment for our team to receive your positive feedback and witness numerous improvements in your business — thanks for giving us the chance to go on this ride with you!
Our Client Portal is growing and evolving—and we've got exciting things coming down in 2022. Watch for upcoming improvements and enhancements across features, as well as our update on integrated banking solutions.
The expansion of service location and partnership network
With the rapid growth over the year, we've been able to expand our service location to Delaware, the United States.
This was a logical step in our business growth strategy as Delaware is one of the most sophisticated states in the US. It also helps us establish even closer ties with clients seeking business opportunities in the giant US market and introduce our exclusive offerings throughout the region.
Most importantly, Delaware marked the 20th country on our global serviced countries list. The presence in Delaware and 19 other countries will further strengthen BBCIncorp's service capabilities in the fast-growing markets and allow us to serve you more effectively.
Apart from global expansion, we develop partnership networks across the world. This strategic alliance provides comprehensive solutions for your problems – from incorporation to the post-registration process and your daily operation.
Our partners include top trusted banks such as OCBC, and DBS to optimize your business finances. We also collaborate with industry-leading Fintech institutions like Wise, Payoneer, Mercury, Airwallex, etc., that provide alternative options for your business banking. This is how we enhance our client base and the range of services we can offer.
Thank you for choosing BBCIncorp and for making all these achievements possible!
We wholeheartedly appreciate your trust in our service and support. And we look forward to getting back to business with you, better and stronger than ever.
From the entire team at BBCIncorp, have a Merry Christmas and a prosperous New Year.
Please note that our office will be closed on January 1st, 2022. Our business will be back to normal on Monday, January 3rd, 2022.
Kind regards,
BBCIncorp Limited.
Disclaimer: While BBCIncorp strives to make the information on this website as timely and accurate as possible, the information itself is for reference purposes only. You should not substitute the information provided in this article for competent legal advice. Feel free to contact BBCIncorp's customer services for advice on your specific cases.
Share this article
Get helpful tips and info from our newsletter!
Stay in the know and be empowered with our strategic how-tos, resources, and guidelines.