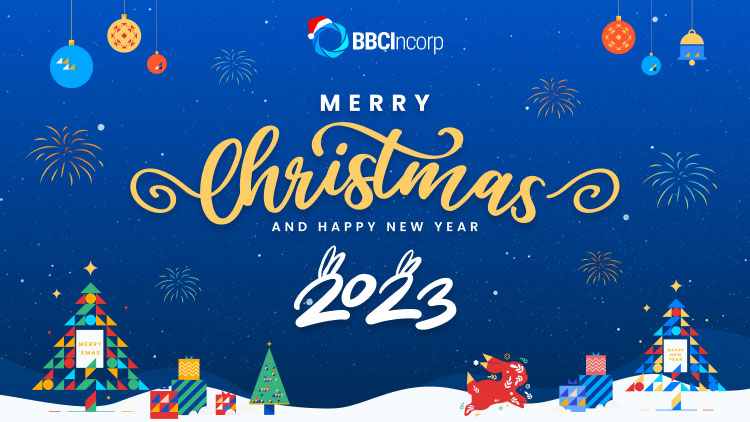 Christmas decorations are up and the festive vibe is filling the air! In this heartwarming time of the year, we would like to extend our warmest greetings to you – our clients and partners for always trusting our service and quality. Thank you for choosing and being here with us for a long time.
2022 has been an eventful year for us at BBCIncorp and we could not have done it without your support. To celebrate Christmas and the New Year, let's look at some of our highlights of the year!
A fresher look for our website
This year marks an important milestone for us in terms of brand identity as we successfully launch the new website version, which incorporates a more user-friendly interface and detailed service pages.
The changes reflect the ambition to provide a more comprehensive experience for our valued customers and the effort we put into making our services more accessible to all.
New partnerships with global firms
In 2022, we were honored to partner with some of the leading firms globally. This has helped to enhance our service scope and allowed us to provide solutions for all aspects of your business needs.
In addition, we are looking forward to expanding our partnerships with more industry leaders in the upcoming year.
Outstanding record for Client Portal
It's been a year since we updated our Client Portal, and it's been working great!
We've seen a 10% increase in user activity, faster processing of requests, and improved communication with our clients. This is an outstanding record and we are excited to develop this further in the future.
The first-ever minigame for Christmas
To celebrate the holidays, we've unveiled our first-ever minigame for you to enjoy. This was a wonderful opportunity for all of us to get together and spread Christmas cheer.
Lucky participants stand a chance to win a special 5% discount for every company incorporation order. With this little gift, we hope to bring you joy and motivation to achieve even more in the New Year.
Join our mini-game Jingle Your Luck and have some fun during the holiday season!
Closing thoughts
We can't thank you enough for making our year meaningful and filled with memorable events. May your holiday be as bright as your company's future. We wish you a happy and healthy holiday season with your loved ones and look forward to a prosperous year ahead!
Merry Christmas and a Happy New Year from the entire BBCIncorp team.
Please keep in mind that we will be taking holiday on January 1st, 2023. Our operations will resume on Monday, January 2nd, 2023.
Kind regards,
BBCIncorp Limited.
Disclaimer: While BBCIncorp strives to make the information on this website as timely and accurate as possible, the information itself is for reference purposes only. You should not substitute the information provided in this article for competent legal advice. Feel free to contact BBCIncorp's customer services for advice on your specific cases.
Share this article
Get helpful tips and info from our newsletter!
Stay in the know and be empowered with our strategic how-tos, resources, and guidelines.