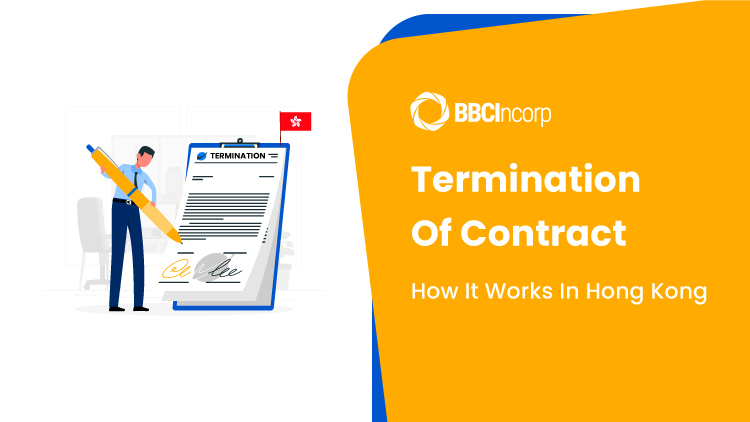 Are you currently planning for an employment contract termination with one of your employees? If that's the case, understanding the local regulations might help you complete the task with minimum effort and time.
Throughout this article, we shall discuss what is involved in the termination of contract in Hong Kong, along with a few notable considerations during the process. Read more to explore the details you need!
What is the termination of an employment contract?
Termination of contract is the deliberate conclusion of an employment arrangement between parties. This is considered a strategic decision to end a professional relationship.
While the legal requirements in Hong Kong may not be as intricate as in other jurisdictions, each party should observe all applicable laws enforced by the Hong Kong Labor Department, particularly the Employment Ordinance.
Types of employment contract termination by the employer
As stated in the Employment Ordinance, there are several common categories of employment contract termination in Hong Kong.
Termination of employment contract by notice
Both the employer and the employee can end the employment contract deliberately by providing the other party with a notice, either in written or oral form.
In most cases, using a termination of employment contract letter is a professional method to conclude employment or resign without damaging the individual's reputation.
The initiating party will be required to send the notice of termination within a legally permitted period. This time duration is called a notice period, or length of notice.
The notice period, starting from the day the notice is delivered to the employee's last working day, is specified as follows:
Notice period during probation
Probationary employees generally have shorter notice periods than regular employees. Notably, during the first month of probation, terminating the contract does not require any notice in prior.
However, after the first month, a termination notice must be sent within the period:
As per the agreement, but no less than 7 days if the contract includes a provision for the required notice period; or
At least 7 days before termination if the contract doesn't regulate the length of notice.
Please note that any statutory annual or maternity leave shall be legally excluded from the required length of notice.
Notice period for a continuous contract
In this case, the notice period depends on the contract terms:
If the contract specifies a period, it will be applied, but no less than 7 days.
If the contract does not specify a period, you are required to give a notice of at least 1 month before terminating it.
Termination of employment contract by payment in lieu of notice
Another common scenario is when an employer offers payment in place of the notice.
This practice allows employers to provide financial compensation in place of the standard notice period. It expedites the termination process and prevents potential conflicts or disputes down the line.
Under the law, the payment amount is regulated below:
| Types of notices | Calculating the payment amount |
| --- | --- |
| Expressed in days or weeks | Average daily wages x The number of days in the notice period for which wages are payable |
| Expressed in months | Average monthly wages x The number of months specified in the notice period |
If the contract is terminated during the initial month of probation, employers are not required to provide any compensation in place of the notice period to the employee.
Termination without any notice or payment in lieu of notice
In some cases, it is necessary to make an immediate termination without prior notice or compensation.
Employer's right to terminate
Can you end the employment contract at your discretion if your employee engages in criminal activities?
According to Section 9 of Cap. 57 Employment Ordinance, an employer has the right to terminate an employee's contract without proving notice or payment in lieu if the employee:
willfully disobeys lawful and reasonable orders;
engages in misconduct that goes against their duties;
commits fraud or dishonesty; or
demonstrates habitual negligence in performing their duties.
This "termination for cause", or summary dismissal, is a serious disciplinary action. This only applies when an employee commits very serious misconduct or fails to show improvement despite receiving repeated warnings from the employer.
Employee's right to terminate
In the case of employees, they have the authority to execute an end-of-employment without notification of termination of employment contract or payment in lieu. This is also known as employee-initiated termination or resignation.
Hong Kong employment laws uphold the principle of freedom of contract, allowing employees to resign from their positions for many reasons, including:
Fear of physical harm caused by violence or diseases that were not initially anticipated in their employment contract;
Experiencing mistreatment or not receiving wages within one month after they are due by the employer;
Being certified by registered medical practitioners as permanently unfit to continue working without posing a serious health risk, provided the employee has been employed for less than five years.
Termination by mutual agreement
This refers to the consensual and voluntary decision where the employer and employee actively participate in the termination of the employment contract. Instead of one party imposing the termination, both parties engage in the decision-making process together.
During this process, the termination terms such as the notice period, severance pay, and other conditions, are mutually negotiated and agreed upon. As both parties cooperate, this approach is considered more amicable and cooperative.
Both the employer and the employee should seek legal advice to ensure the agreement is fair and compliant with the laws.
What is considered unlawful and unreasonable employment contract termination?
In this section, we will move on to a few special cases that could result in fines ranging from HK$100,000 to HK$150,000 for unilateral termination.
Be cautious to avoid potential legal consequences, especially if the reason for ending the contract is considered discrimination.
Maternity protection
Once the employee has officially confirmed her pregnancy with a medical professional, the employer is prohibited from dismissing the employee until the end of her maternity leave, if applicable. The employee must give the employer formal notice of her pregnancy before taking maternity leave.
Statutory paid sick leave
While an employee is on paid sick leave, the employer's termination of the contract is not allowed unless there is a case of summary dismissal due to the employee's serious misconduct.
Employees giving information to authorities
An employer cannot dismiss an employee who offers evidence or information to support the enforcement of the Employment Ordinance, and the Factories and Industrial Undertakings Ordinance.
Trade union activities
Employees' rights to unionize are protected by the Hong Kong government. Therefore, it is not permissible to terminate an employee's contract solely based on their participation in a strike or other trade union activities.
Work-related injury
Regarding work-related injuries, the employer is not permitted to end the employment contract until the parties have agreed upon compensation, or a certificate of assessment has been issued.
Handling such situations requires a case-by-case approach. If needed, you may consider a mutually agreed-upon contract termination.
What are the entitlements of employees during contract termination?
During the termination of an employment contract, employees are entitled to certain statutory rights. The specific entitlements can depend on various factors, including the terms specified in the employment contract, applicable labor laws, and the circumstances surrounding the termination.
Here are common entitlements that employees may expect:
Wages until the last day of employment
Payment in lieu of notice (if proper notice is not given)
Payment in lieu of accrued but untaken annual leave
End-of-year payment or bonus (if applicable)
Severance payment (capped at HK$390,000) for employees who have been continuously employed for at least 24 months and are dismissed due to redundancy
Long service payment (capped at HK$390,000) for employees who have been continuously employed for at least 5 years and are terminated by the employer for reasons other than summary dismissal
Retirement scheme benefits (if any)
When are employers required to pay terminal payments?
It is crucial for employers to adhere to the payment timelines for terminal payments. The specific deadlines are as follows:
Severance payment: The employer must settle the severance payment within 2 months of receiving a notice of claim from the employee.
Other payments (e.g., wages, payment in lieu of notice, payment for accrued annual leave, etc.): The employer must make these payments within 7 days of the termination of the employment contract.
Failure to make timely payments may result in legal prosecution. If convicted, the employer may face a fine of HK$350,000 and a prison sentence of up to three years.
To wrap up
In today's article, we have covered different aspects of employment contract termination in Hong Kong, including types of termination, legal requirements, and potential payments to employees. We aim to provide you with a comprehensive understanding of this topic.
Whether you are an employer or an employee, concluding an employment contract is a significant matter. Make sure you seek assistance from reliable legal experts to ensure compliance with Hong Kong's employment law.
Frequently Asked Questions
What is early termination of contract in Hong Kong?
Early termination of a contract refers to the dissolution of the contract before its intended expiration date.
In the case of the employment contract, this can occur for various reasons, including but not limited to mutual agreement between the employer and employee, termination due to a breach of contract, or termination in accordance with relevant labor laws.
For instance, if there has been misconduct on the part of the employee, an employer may terminate the contract early without notice or payment in lieu.
However, if the employee was laid off due to redundancy or any other similar reason, he or she may be entitled to compensation such as severance pay as outlined in the Hong Kong Employment Ordinance.
At the end of contract, how is the severance payment calculated?
If the employee is eligible for severance payment, the calculation is regulated by the Employment Ordinance as follows:
For monthly-paid employees
Severance payment = [2/3 of the employee's previous month's wages] x [Years of service]
For daily-paid employees
Severance payment = [An 18-day wage based on any 18 days chosen by the employee and occurring during their previous 30 normal working days or HK$15,000, whichever is less] X [Years of service]
Disclaimer: While BBCIncorp strives to make the information on this website as timely and accurate as possible, the information itself is for reference purposes only. You should not substitute the information provided in this article for competent legal advice. Feel free to contact BBCIncorp's customer services for advice on your specific cases.
Share this article
Get helpful tips and info from our newsletter!
Stay in the know and be empowered with our strategic how-tos, resources, and guidelines.