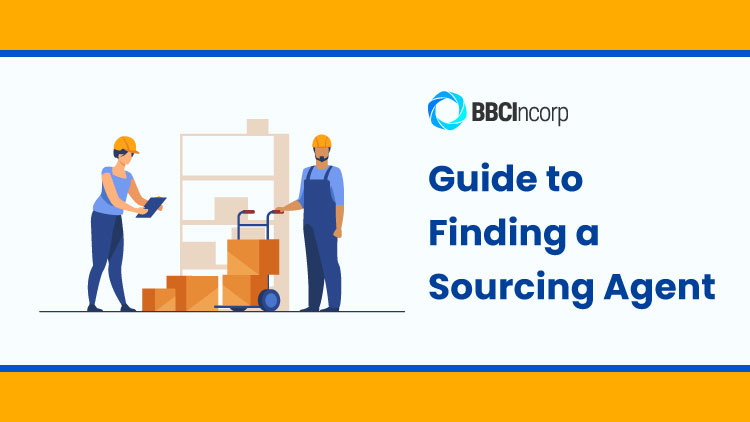 If you're someone who's looking to get into trading or eCommerce, having a solid supply chain is a crucial factor in the overall success of that endeavor.
And the reality of it is, procurement is generally hard to grasp when you're new to the industry. You don't have the connections nor the expertise to get in touch with suppliers which in turn impedes your progress.
But with the rise of sourcing agents, aka third-party procurement professionals, life gets so much easier in product sourcing. This becomes even more important when you're sourcing from Asia which is considered the world's factory.
In this case, you'll either run into the following types of sourcing agents: a consulting agency or a distributor/ trading company. On paper, they can help you with most of your sourcing woes, but a deeper understanding of what makes one more suitable than the other will help you go a long way.
What a sourcing agent does
A sourcing agent serves as the direct line of contact between you (the importer) and the local supplier. Just like with any other kind of outsourcing, you're paying for the experience and industry connections of a sourcing agent.
Like it or not, there are simply too many variables to take note of when you're going into uncharted waters. You probably don't know the language and, even worse yet, have no real connections to the market you're trying to penetrate.
And even if you do manage to find one and strike a deal, trying to keep up with meetings and updates becomes a nightmare given the time zone difference. This is where having a sourcing agent as a proxy to oversee business operations can be incredibly helpful.
Types of sourcing agents
You might have to do preliminary research on the sourcing agent itself to see if they can comply with your demands.
If you plan to allocate the logistics entirely to a separate party, you can do that by hiring a consultant. Some will see through the entire process from price negotiation to last-minute quality check and shipping.
With that being said, here are three types of sourcing agents you'll encounter:
Independent sourcing agents
As the name suggests, these are freelancing individuals who conduct business solely on their own and have no backing from any corporations. They're easy to come across and are considered the most affordable option for businesses of any scale.
You can find them on freelance networks like Fiverr and Upwork or through the recommendations of a consulting circle. In whichever cases, you should still practice due diligence and approach the selection process with a data-driven approach.
Don't just simply flock to the ones that have the highest ratings or credentials on their profile. Ask yourself questions like "Will this person be a fit for my current project?" "Does he/she operate within the same space/industry?" "What can he/she offer to my table?".
This line of questioning plays a huge part in helping you find that one gem that has both the skills and wits to help you come out on top of a great deal. Finally, see that you've negotiated all the work-related terms and policies, such as time tracking, the scope of service, and contractual consequences upon default.
Consulting agencies
You can think of this type as an agency that maintains a cohort of sourcing agents for themselves. They can be specialized in a wide variety of fields, so the odds of finding the one that's right for you are relatively high.
Coming to them means having more control and clarity in your business process. The foremost advantage you'd have when opting for their services is peace of mind. Consulting agencies always perform thorough background checks and factory audits to ensure their clients are receiving the best services possible.
If you want to have a one-time payment that's going to ensure long-term support and risk mitigations, a consulting agency is a way to go. However, do know that you'd still have to do some legwork to get the best result out of their services.
That's why this type of sourcing agent might not be for typical business owners that like to get the ball rolling as soon as possible.
Logistic companies
Essentially, these companies are their own agent, manufacturers, and delivery service providers so you'll also be offered more services like quality inspections and logistics support.
They don't come cheap but the amount of professionalism and resources you'll get makes up for the hefty price tag. On top of the convenience, you'll also get the benefit of easy transference.
In the event of production handover, the process will be much faster when you have all the services in one place and not dispersed into different companies. Not to mention, communication will be more efficient and on time.
There's no significant drawback except for the fact that you'll be relying on them most of the time.
Other key sourcing markets
China
China is the current leading country for international sourcing. A rising economy and solid manufacturing track record, make the country the number one option on many procurement lists.
Sourcing in China means having to go through all of the mentioned potential pitfalls and obstacles.
The first of which is the language barrier which could hinder production schedules and be the cause of miscommunication mishaps. Secondly, its burgeoning network of manufacturers might be overwhelming for those unfamiliar with the industry.
This is why most businesses always look for a sourcing agent to save themselves from the whole ordeal. Some popular firms you can include TCI China, BEC Consulting Co., Ltd, Jinhong International Ltd, and Next Trading Limited.
Brazil
Over the years, an ever-increasing number of organizations all around the world are beginning to work with Latin American providers to fabricate various kinds of products. Furthermore, this pattern doesn't appear to stop. All things considered, in the past 2 years, the United States imported more from Latin America than it has from China.
Brazil is currently the gateway for many international businesses to access this market. The country has a stable economy, low labor costs, and shorter transport time to the U.S. which translates into cheaper costs when compared with Asian countries.
But the true reason for sourcing here is really for the reliable quality that most of their manufacturing facilities can deliver without the expense of workers' benefits. Not to mention the level of awareness that most local manufacturers show in being compliant with environmental-friendly regulations.
However, as Latin America's intra-economies are protected by high import duties, you'd need a well-versed sourcing agent to ensure you select the right supplier.
India
Importers in the U.S. often find tariffs on Chinese goods to be a major deterrent for high-volume logistic operations. Adding further to the issue is the unstable diplomatic relation that could develop into a large-scale trade war.
As such, it's always good to diversify your markets in case of trade relations begin to deteriorate.
Beyond this aspect of risk mitigation, India does have other favorable advantages that make it appealing to international enterprises.
Note
As most products in India are handicraft works, you can order a small batch of products ranging from as small as 20-50 items. This is excellent for those who want to test out a product or starting entrepreneurs with a small budget.
You also run a lower risk of getting your design copied and mass-produced as the local suppliers here are serious about IP infringements.
Finally, India is well-endowed with natural resources like cotton, silk, jute, marble, metal, wood, etc. This plays a huge part in how they're able to offer you such competitive prices.
But given how secretive Indian manufacturers are about tradecraft, trying to connect with them can be difficult without the help of a sourcing agent. Whose extensive network of vetted local suppliers and expertise will be crucial in any procurement strategies.
What you should look for in a sourcing agent
Experience
When doing background checks on any sourcing agent, especially independent ones, make sure to review their experience and achievements. Do they coincide with what you're trying to do for your project?
If it's electronics you're looking to sell, it's best to stick with those who know their way around a piece of machinery. Not only will they be able to provide you with some technical expertise during product finding, but the suppliers they work with will also most likely match your criteria.
A good way to do this would be to look for testimonials from past clients, if everything checks out then you should be good to proceed.
Transparency
Incurred manufacturing costs can be detrimental if left unchecked. One or two incidents may be a product of human errors, but any more than that and you have a problem on your hands.
You should discuss the ambit of prices and what sort of unaccounted fees might happen and how they happen.
A good sourcing agent won't hesitate to invite you on an in-person tour around the factory. They might even have a small feast waiting for you at the entrance. This is to show that no mischievous intent is being threaded behind the scene and to demonstrate the full capacity of their equipment.
But since traveling is a novelty right now, this might not hold the same value. Rest assured, whether it's a virtual tour, early initiatives are a tell-tale sign you can trust a sourcing agent.
Effective communication
Do not leave this up to assumption. Most would recoil at the idea of a sourcing agent not being fluent in both languages to facilitate negotiations. However, this has happened more times than it should. Having all the negotiating skills in the world won't help when you can't articulate your ideas properly.
You should get a good idea of how good of a communicator your sourcing agent is when you talk to them over the phone. But just to be on the safe side, you can opt for evening business dining to get to "know them better".
Accountability
Mishaps are inevitable in business, but the ones that take responsibility are often the ones customers come back to. You'd typically have little trouble with established sourcing firms that maintain a big operation. Independent sourcing agents tend to be a bit trickier to work with but this can be solved with contractual agreements beforehand.
Location of operation
Working with a sourcing agent the closest to your vicinity will come a long way in making communication both faster and cheaper.
Depending on what your initial agreements are, some clients may agree to cover the agent's traveling expenses. Therefore, look for the ones that can make more than a few trips to the factory. The shorter the distance, the more likely they will accept to do it for free, or even if they don't, the amount you have to pay will significantly be lower.
Minimum order quantity (MOQ) negotiation
Usually, some manufacturers will have a minimum order quantity requirement for their service. This is because they don't always have products in stock, at least not the ones that cater to overseas markets. So when they take on an order, it has to meet this requirement for them to secure profit as they tend to have low-profit margins.
Technically, you can try to negotiate with the supplier on your own but a sourcing agent has a better chance of landing a deal. They have a large customer base of businesses that want the same products, so this provides more leverage during negotiation.
Conclusion
Sourcing agencies set the standard for companies and their development capabilities, especially in recessions and severe economic crises. With matters such as product research and development in capable hands, you're free to focus on core investment strategies.
In case you need to find out more about finding a sourcing agent for your business, feel free to discuss more with our team via service@bbcincorp.com for more practical advice.
Disclaimer: While BBCIncorp strives to make the information on this website as timely and accurate as possible, the information itself is for reference purposes only. You should not substitute the information provided in this article for competent legal advice. Feel free to contact BBCIncorp's customer services for advice on your specific cases.
Share this article
Get helpful tips and info from our newsletter!
Stay in the know and be empowered with our strategic how-tos, resources, and guidelines.