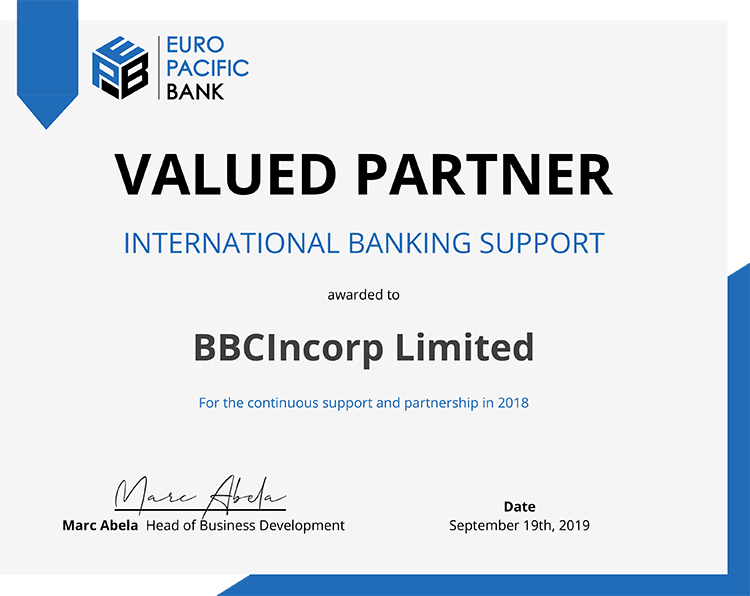 Euro Pacific Bank is an international banking institution trusted by a multitude of offshore companies across the globe. The bank has its base in Puerto Rico and, since 2012, has focused on delivering banking, brokerage, mutual fund, and financial services. Taking place each year, "Valued Partner" is Euro Pacific Bank's incentives to honor its partners' contribution.
To qualify for it, companies have to consistently add values to not only their partnership with Euro Partner Bank but also to their own customers and the sector as a whole. The award is said to reflect encouraging progress toward achieving sustainable co-operation between BBCInCorp and the multinational bank.
BBCIncorp has been in the industry for more than 12 years. They are recognized for their comprehensive and excellent corporate services. Their mission is to be the partner of choice of start-ups and SMEs around the world: working in the background yet generating true values to the growth of these budding businesses.
"2019 has marked the sixth year of our long-term partnership with Euro Pacific Bank and the very first year we earn this award", shared a BBC representative. "Through hard work and dedication, we can finally reap the fruits. We indeed felt humbled and grateful for this recognition".
About BBCIncorp:
Established since 2007, BBCIncorp is a leading corporate advisory firm with successful customers in over 18 countries around the world. Offering a wide range of services specialized in company formation, banking assistance, accounting & auditing, legal administration and much more, BBCIncorp's mission is to help startups and SMEs to free their resources tied up to intimidating company administration tasks, and thus speed up the process of setting up and running a business, unleash their potential power for growth and expansion.
Disclaimer: While BBCIncorp strives to make the information on this website as timely and accurate as possible, the information itself is for reference purposes only. You should not substitute the information provided in this article for competent legal advice. Feel free to contact BBCIncorp's customer services for advice on your specific cases.
Share this article
Get helpful tips and info from our newsletter!
Stay in the know and be empowered with our strategic how-tos, resources, and guidelines.