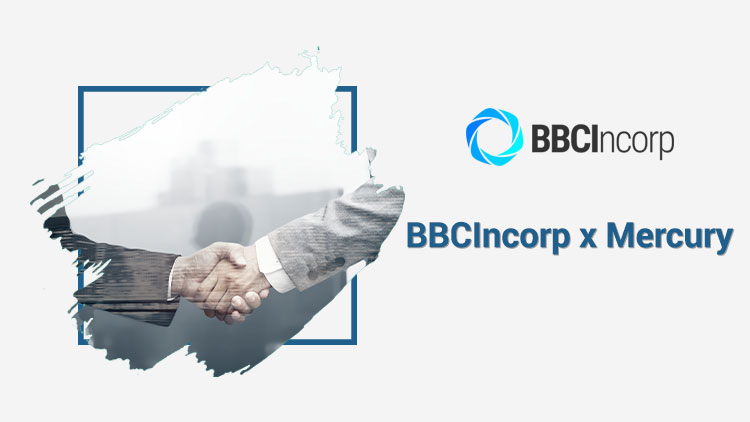 Things are easier with the development of digitalization. BBCIncorp has built a close partnership with Mercury to facilitate your financial transactions for US non-resident businesses with ease. To incorporate, and manage your payments from any place around the world is now in a couple of clicks.
Mercury is now BBCIncorp's partner
Getting a certificate of registration is only the first step of forming a US business. Financial transactions, without any doubts, happen alongside your daily company operations. Opening a bank account is typically the next important step in your business planning, but US banks usually require physical meetings. This means most business owners like you, the ones residing in a place other than the US, might face some challenges.
Mercury is one solution to help your US non-resident company manage its finances efficiently.
Mercury is not a bank but acts like a bank. The banking services are provided by Evolve Bank & Trust, a member of the Federal Deposit Insurance Corporation (FDIC). With a Mercury account, you can manage all payments, keep tracking your checking and saving account in real-time with an online application.
Mercury is a perfect fit for small and medium-sized companies doing business in the US. But one prominent minus is that Mercury is not available to sole proprietors.
Reasons you should not miss out BBCIncorp x Mercury
You can open a Mercury account by yourself. But you must know that you might be missing a great benefit for being a customer of BBCIncorp – a partner with Mercury.
As an industry-leading corporate advisory firm with over 12 years of experience, we understand your difficulties as non-residents planning to start a business in America. Our partnership aims at providing you with a great banking solution of convenience and efficiency for your business journey.
BBCIncorp is working with Mercury to add more value to our clients. Particularly, you can enjoy:
No need to worry about a personal visit to a bank or the complicated procedures to obtain your business account;
Business transaction management at the convenience;
Free of charge and no deposit for account opening;
Digital tools enabling API access with every account.
100% remotely done. When incorporating your company with BBCIncorp, we will carefully guide you through the account opening process. And the process is completely online. No physical visit is required to open a Mercury account.
Free support from our dedicated team. We are working to treat the customers at our best. Join our all-inclusive Standard and Premium package where you need not spend a service fee on the Mercury account application with us.
$US 500 welcome gift. Opening the Mercury account via our link, you will receive $US 500 to your account balance when you spend $US 10,000 on your debit card within 90 days.
How to set up a Mercury account
You are wondering if you are eligible for opening a Mercury account or how to open one. Let's see our brief instructions.
Who can open a Mercury account?
Setting up a Mercury account requires business owners to own a US company and have a federal Employer Identification Number (EIN).
Additionally, Mercury only accepts the following types of business:
Registered with the US Securities and Exchange Commission (SEC)
A publicly-traded company
Majority owned by a public company
What are the required information and documents for the sign-up process?
EIN and verification letter
Your company type and industry
Shareholders' information and a photo of their ID
Certificate of company registration (Articles of Incorporation, Certificates of Formation)
How do you sign up for a Mercury account?
It's simple! You just need to visit the Mercury site, fill in the information and wait for the approval. Sign up for the account with BBCIncorp to receive the offer mentioned above as part of our collaboration with Mercury.
There are 6 main sections you need to complete:
Company information
Company contacts
Owners' profiles
Business names
Formation documents
EIN verification
After you submit all required information and documents on the site, Mercury will review your application and send the result to your email address.
BBIncorp x Mercury: Incorporate and manage your transactions with ease
The US is an ideal domicile for company incorporation. The country attracts many entrepreneurs around the world to land their businesses. And Delaware is one of the most popular states for foreign investors to start business ventures thanks to tons of advantages. Still, the difficulties are unavoidable for the newcomers, specifically in incorporation procedures and banking issues.
Our partnership is to help you start and develop your US businesses at a smooth pace. Now you just need to stay at your place and register your US company with BBCIncorp in a streamlined process. We support you in Mercury account opening with $US 500 credited to the account for your first $US 10,000 spending within 90 days. Check out our offers!
Disclaimer: While BBCIncorp strives to make the information on this website as timely and accurate as possible, the information itself is for reference purposes only. You should not substitute the information provided in this article for competent legal advice. Feel free to contact BBCIncorp's customer services for advice on your specific cases.
Share this article
Get helpful tips and info from our newsletter!
Stay in the know and be empowered with our strategic how-tos, resources, and guidelines.