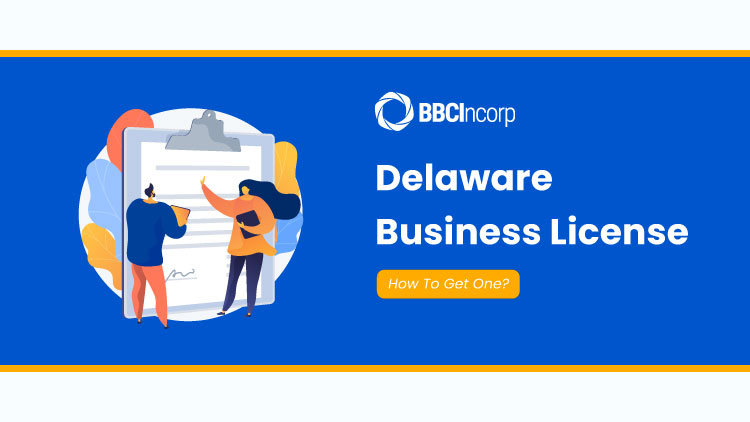 Delaware business license – what you should know
What is a business license?
"Business license" refers to any type of license or permit required by a state or other government agency to operate your business or provide your services.
Its main purpose is to make sure you abide by industry regulations and to officially register your business with the government for tax purposes. Various types of licenses may be required depending on your specific activities.
Do you need a business license in Delaware?
Having a Delaware business license is an important requirement you need to fulfill, but is this mandatory for all businesses?
According to the Division of Revenue, any individual or organization conducting a trade or business in the State of Delaware, including corporations, must obtain a business license. This also includes organizations located in Delaware that conduct business outside the state.
What are the types of business licenses in Delaware
Typically, three types of licenses and permits can be required for any business: federal, state, and local licenses.
Federal business licenses
If your company engages in any activities regulated by the federal government, you'll need a license from the relevant federal agency.
Particularly, every business is required to obtain a unique Employee Identification Number (Federal Tax Identification Number), aka EIN. The registration is done by the federal government.
Remarkably, businesses can also register online on the IRS website.
Common federal licensing areas include:
Importing/transporting animals, animal-related products, plants, and biological products from Delaware to another state (licenses issued by the US Department of Agriculture)
Manufacturing/trading alcoholic beverages at a retail location (license issued by the Alcohol and Tobacco Tax and Trade Bureau, Local Alcohol Beverage Control Board)
Importing/exporting wildlife-related products (license issued by the U.S. Fish and Wildlife Service)
Broadcasting information through radio, TV, cable, wire satellite (license issued by the Federal Communications Commission)
And other business activities in aviation, firearms, ammunition and explosives, nuclear energy, transportation, logistics, etc.
For more information on federal agencies corresponding to industries' business licenses, please visit this page.
State business licenses
You may need to obtain state licenses or permits concerning your selected business activity. State licenses generally cover a broader range of activities than federal licenses, ranging from farming to dry cleaning, retail, and construction.
For regulated businesses
At the state level, certain business industries would be required to submit application forms to state agencies corresponding to their business. Such registration confirms the legality of the business activity in Delaware.
Below are some typical business industries that, if you wish to engage your business in those, you must obtain licenses with the State:
Commercial Feeds and Pet Foods: register with the Division of Agriculture Compliance, Department of Agriculture
Alcohol (Liquor License): register with the Division of the Office of the Delaware Alcoholic Beverage Control Commissioner, Department of Health and Social Services
Mortgage Broker/Other banking-related business industries: register with the Office of the State Bank Commissioner
Gasoline Delivery: register with the Division of Air Quality, Department of DNREC
Food-related businesses: register with the Division of Public Health, Department of Health and Social Services
Health (Long Term Care Facilities): register with the Division of Long Term Care Residents Protection, Department of Health and Social Services
Manufacturing: register with the Division of Waste and Hazardous Substances, Department of DNREC, or Division of Public Health, Department of Health and Social Services
It should be noted that there are some types of business activities categorized as Professions. For such specialized businesses, you, as business owners, will need to register with the Division of Professional Regulation to obtain licenses. Examples of professions in Delaware include:
Healthcare industry (pharmacy, physical therapy, controlled substances)
Commerce industry (accountancy, cosmetology, electrician, real estate)
Construction industry (home inspectors, architects, manufactured home installation)
For businesses with employees
If you operate a business and have employees in Delaware, you should not forget to have a registration with the Division of Unemployment Insurance and the Office of Workers Compensation.
Local business licenses
In some cases, you may also need a county or city license. Building permits, zoning, land use permits, health licenses, permits, and operating licenses will be issued by local authorities.
It is well-advised that you contact the local government to know what local licensing requirements you should comply with.
You may be required to obtain three types of licenses depending on your business structure and residential location.
For instance, if you own a logistic company in Delaware, you may be required to get a federal license from the U.S. Department of Transportation, a State of Delaware business license, a building permit, a land use permit, a health permit, etc.
It is recommended that you seek legal advice on the licensing requirements that your company must meet.
In the following section, we will go over how to apply for these types of licenses.
How to get a business license in Delaware
Registration for business licenses
A business license in Delaware can be registered in two ways:
Via One-Stop Business Licensing and Registration Service for online registration; or
Via Combined Registration Application Form (Form CRA)
Processing time for Delaware business license
The standard processing time is one month after registering with the Division of Revenue. You have the option of obtaining a temporary license for your demand and then receiving the permanent license within the next 10 business days.
Costs of getting a business license in Delaware
The cost of a Delaware business license is $75 for the first location, with additional locations costing between $25 and $450.
To obtain the appropriate license for each of your business activities, you will need to apply for different licenses and pay different fees.
The fee for a three-year license is significantly higher than the fee for an annual license in Delaware. In your first year of operation, you can only apply for a one-year license, which must be accompanied by application fees.
Note
If the following criteria are met, a business can receive a 75% discount on its license fee in Delaware:
It is a sole proprietorship or a single-member LLC that elects sole proprietorship tax treatment;
Its owner must be at least 65 years old on or before January 1st of the current license year.
It provides professional services, general services, contractors, manufacturers, wholesalers/retailers, and lessors of tangible personal property.
For the discounted license year, its gross receipts must not exceed $10,000.
Renewal of Delaware business license
Normally, Delaware business licenses have a validity period of 12 months. The expiration date typically falls on 31 December.
When the license expires, it is your responsibility to renew it to continue operating legally. You can renew your license annually or pay for a three-year license to avoid having to renew it every year.
If you choose the three-year license, keep in mind that all locations relevant to your business must also be renewed for the same period.
In Delaware, you can renew your business license in two ways:
Via Revenue's Online Renewal page.
Send an email to the Public Service Office within the Division of Revenue requesting the renewal of the business license, along with the renewal fee.
Free ebook
All-in-one guideline to business formation in Delaware
Explore Delaware business entities
Discover incorporation process
Understand Delaware tax system
Learn about banking issues and other considerations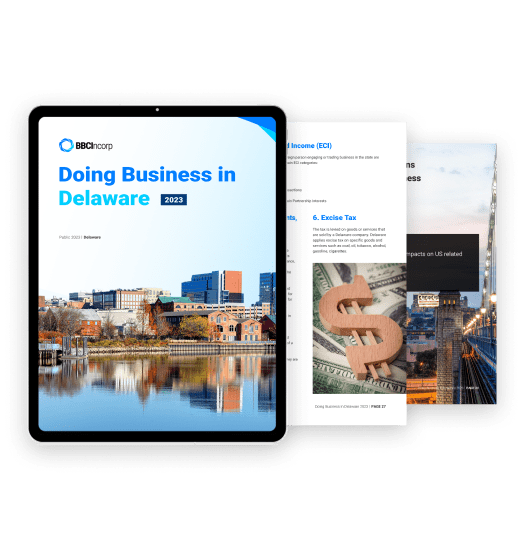 Conclusion
A business license must be obtained at the time business commences in Delaware. If you are unsure of whether or not you have a substantial presence in Delaware to be subject to licensing, don't hesitate to get in touch with us for practical support.
Should you need more information about Delaware company incorporation as well as business licenses in Delaware, feel free to chat with our consultants. 
Disclaimer: While BBCIncorp strives to make the information on this website as timely and accurate as possible, the information itself is for reference purposes only. You should not substitute the information provided in this article for competent legal advice. Feel free to contact BBCIncorp's customer services for advice on your specific cases.
Share this article
Get helpful tips and info from our newsletter!
Stay in the know and be empowered with our strategic how-tos, resources, and guidelines.