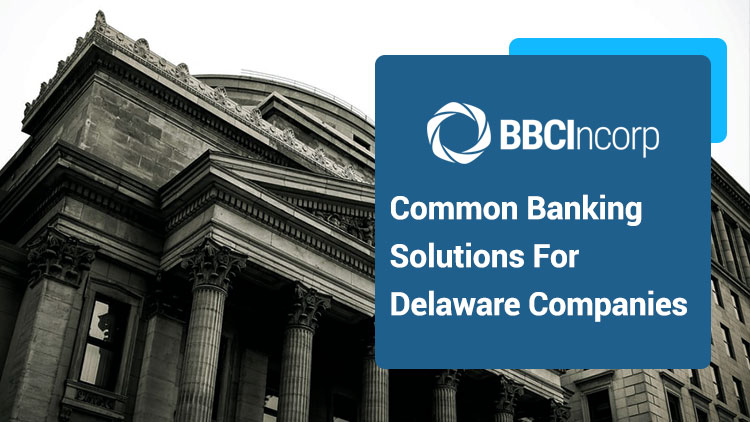 Opening a business bank account in Delaware
Traditional banking in Delaware
Delaware is considered as one of the top banking jurisdictions in the US thanks to usury laws imposed by the state government. The usury laws give Delaware banks the freedom to set the interest rate of loans, so it is not surprising that banks across the US and the world flock to Delaware for business operations.
According to Forbes, 50% of US credit card issuers have picked Delaware for business operations even though its population is only 0.3% of the US population.
Here are some big banking and credit card groups in the states:
Bank of America
Barclaycard
Chase
Citi
Discover
Goldman Sachs
Wells Fargo
HSBC
Most banks in the US require customers to visit the banks in person for opening a bank account.
In this respect, non-residents tend to deal with a much more complicated procedure in getting a US bank account. Therefore, opening a Delaware bank account may be the most challenging part for non-citizens starting a business in the State of Diamond.
While getting qualified with a US local bank can be challenging, for non-US residents seeking a bank account application, picking the banks which have worldwide locations such as HSBC is one solution.
Branch application allows a level of convenience for Delaware companies, as the account can be opened in a location that is closer to them instead of flying to America. However, there are only a few banking groups they can select for their Delaware companies.
How to open a Delaware bank account
It is not required for a Delaware company to have a state bank account. A Delaware company can use the bank account opened in other states in the US for business operations in Delaware. It is because most US banks that are headquartered in other states also have their subsidiary offices located in Delaware.
A Delaware bank account can be opened after obtaining the certificate of incorporation. The requirements for bank account opening may be different depending on the bank you choose.
Whether you decide to apply for a bank account with a local bank or apply through a branch application, the following information will be required by most US banks:
The authorized certificate of the corporation,
The operating agreement (for LLCs),
Bylaws, corporate meeting minutes stock certificates (for corporations),
The Federal Tax ID number ( also known as Employer Identification Number)*,
Physical address for receiving banking papers,
A valid ID of the company owners or members.
Note
Employer Identification Number (EIN) is a nine-digit number used to identify your business for tax purposes. The EIN can be obtained via the Internal Revenue Service (IRS). Note that you can only register for a business account after your company is successfully registered and an EIN is obtained.
Opening a bank account with local banks in Delaware is possible, but it is not easy for those who are not residing in the US. Complicated procedures for information provision and verification, a limited range of banks that accept online registration, and travel restrictions due to the Covid-19 pandemic can be considerable factors affecting your failure to open your desired Delaware bank account.
The booming fintech trend has been witnessed on a global scale. It remarkably suggests an alternative to traditional banking for SMEs and entrepreneurs.
Many Delaware companies today also make use of Electronic Money Institutions for business transaction management.
Opening a business account remotely with EMIs
EMI as an alternative to traditional banking
It is an extremely challenging process to open a traditional bank account for non-resident companies in Delaware. Luckily, it is not the only option for companies incorporated in Delaware. As an alternative to a traditional Delaware bank account, take an Electronic Money Institution (EMI) into consideration.
EMI is a common choice for many business owners. For those who don't know what it is, an EMI is a financial institution that is legally approved to issue e-money. These institutions can provide similar bank-like services and payment-related functions such as e-wallets, payment cards, or IBAN accounts.
There are many popular EMI options for non-resident Delaware companies to address their business account opening. Key of those, Wise, Payoneer, and Mercury are top-picked solutions.
FIND OUT WHAT BANKING OPTION SUITS YOUR BUSINESS MOST
See your chance of getting your desired business bank account with easy steps!

List of recommended banking options

Successful rate assessment on your choice list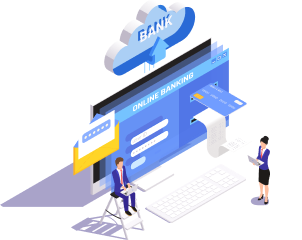 How to set up an EMI account
An EMI account is preferred by business owners thanks to the following features:
100% online account setup
Cost efficiency and time-saving
Fast and simple account registration
Real-time management of business transactions
Depending on your choice, the required information for the account setup can be different. Below are the basic documents required for your business account signup with EMIs:
The company's name, legal entity, business sector, and scope,
The Employer Identification Number,
The company's address,
The personal information of the account holder.
Typically, applicants can be required to provide additional information for personal and business verification after the account signup to officially use the account, if the chosen EMI requires them to do so. The verification methods may be different for each EMI.
Tips
BBCIncorp has partnered with Wise and Payoneer to offer efficient banking solutions for non-resident Delaware companies (who can be quite challenging dealing with the hassles of opening a traditional US bank account to grow their business). Now you can incorporate your Delaware company and open a business account easily and remotely.
Find out more: Delaware Company Formation & Business Account
Wise business account
A Business Wise account can act like a bank account, which allows you to send money to 80 countries. You can also hold and transact business in 50 currencies. By registering a Wise business account as a BBCIncorp's client, your application will be processed faster and there will be a dedicated support team to in time assist you with any arising issues.
Payoneer business account
You can receive money in multiple currencies and withdraw the amount to your local bank account with a Payoneer business account. A big plus is that you can make payments to more than 200 countries. After completing your Delaware company registration with BBCIncorp, you can register a Payoneer account as our client. By this, your application is put on a list of high priority.
Delaware bank account vs EMI account: Which is right for you?
When it comes to making decisions about opening a business account to manage your business finances, a US resident probably just goes ahead with a traditional bank.
For non-residents Delaware companies, opening a business account online with EMIs is worth considering.
Whether you choose to start a business account with a Delaware traditional bank or an EMI depends a lot on your situation in terms of business locations, business needs, and business finances.
Banking issues for Delaware companies owned by non-US residents are no longer a challenging task. BBCIncorp has a wealth of experience in company formation services and works well with its top banking partners to help Delaware companies operate smoothly and efficiently. Feel free to contact BBCIncorp for more information!
Discover our handbook to see key considerations about conducting business in Delaware!
Free ebook
All-in-one guideline to business formation in Delaware
Explore Delaware business entities
Discover incorporation process
Understand Delaware tax system
Learn about banking issues and other considerations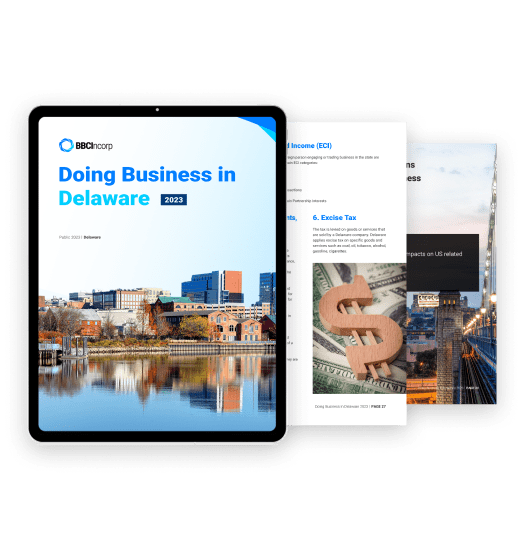 Disclaimer: While BBCIncorp strives to make the information on this website as timely and accurate as possible, the information itself is for reference purposes only. You should not substitute the information provided in this article for competent legal advice. Feel free to contact BBCIncorp's customer services for advice on your specific cases.
Share this article
Get helpful tips and info from our newsletter!
Stay in the know and be empowered with our strategic how-tos, resources, and guidelines.