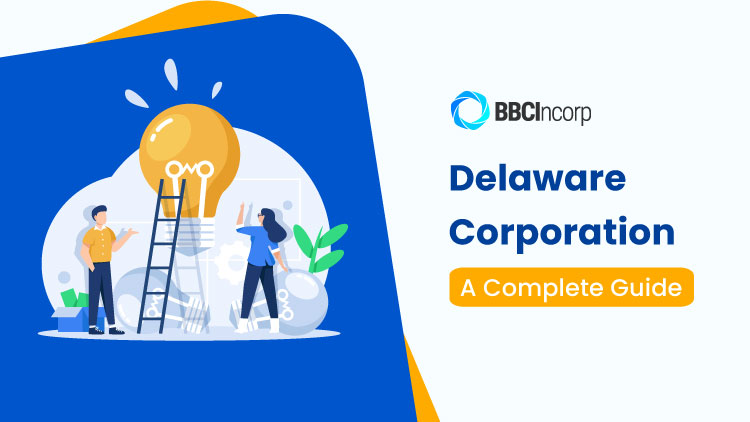 Just after LLCs, a Delaware corporation is the second most incorporated entity here, accounting for about 20.8% of entity formations. So what exactly contributes to the commercial success of this entity?
Delaware corporation – The preferred option for businesses
Since the late 19th century, Delaware has adapted its law and made necessary changes to attract more businesses from other states like New York. For years, Delaware has constituted one of the respected destinations to incorporate for businesses.
The Delaware corporation is a legal entity with legal registration officially recorded in the state. Incorporating under this entity will entitle a business to a variety of exclusive perks like lower tax rates, enhanced privacy, and favorable corporate laws.
Many giants have chosen Delaware to incorporate:
Delaware is home to roughly 50% of publicly-traded businesses in the United States, namely, AT&T, Google, Walmart, etc.
Around 1/2 of the S&P 500 listed companies, thanks to Delaware's business-friendly condition, get incorporated here.
An addition of 250,000 new Delaware-based businesses contributes to more than 1.6 million corporations there in 2020. Also, it has become the home of numerous "big brothers" such as Amazon and Tesla.
About 75% of the new U.S. initial public offerings are done by Delaware-incorporated companies.
Delaware can generate more than 25% of its general fund revenue with the incorporation business.
Witnesses in the business community have recognized Delaware as an international paradise for corporations. So, why? One major point among Delaware corporation advantages is the state's usury laws.
To put it simply, Delaware applies a business-friendly system of usury laws. In other words, the state gives a leeway for all local credit card companies and banks to charge loan interest rates.
Why do corporations prefer to incorporate in Delaware?
Why Delaware corporation? As mentioned above, Delaware has attracted the attention of roughly 1.6 million incorporated businesses as of 2020. Apart from the state's business-friendly condition, they choose the state for their businesses for several reasons as below.
Free ebook
Planning to incorporate in Delaware?
Here is all you need to know.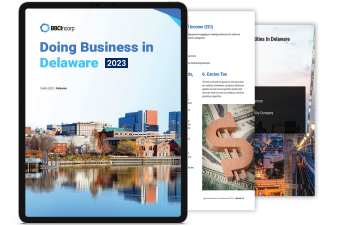 Formal business structure
In Delaware, general corporations operate based on a clear separation between responsibilities and rights.
Shareholders have a right to own the company through their shares of stock
Directors are responsible for running the company and ensuring a smooth business operation
Officers are in charge of handling the daily business of the company
Moreover, there is an election among shareholders to enlist key personnel like directors, key managers, and officers. The shareholders also have the right to declare a dividend.
No limit to company size
For businesses that plan to expand beyond their domicile market, the corporate structure can be an invaluable asset. The foremost perks include cross-state dealings and a larger hiring threshold.
A Delaware corporation can also have an unlimited number of stockholders, allowing it to expand to any size and guarantee business continuity even in the event of a stockholder's departure.
More privacy
The laws governing shareholders' ability to request a corporation's records/books differ from state to state. Some states make this type of request easier than others, but this is not the case in Delaware.
Any request for the records/books of a Delaware corporation must be approved within the state. In other words, approval must be obtained from the Delaware courts or the local council. This procedure is undeniably inconvenient, but it can ensure privacy for Delaware corporations.
Ease of raising capital
General corporations have several options to raise funds by selling shares of stock in the company, either publicly or privately.
Typically, the corporation can spend this money as it sees fit to expand, introduce new products, or pursue several other goals.
If you intend to seek venture capital investment, forming a general corporation is highly recommended because investors prefer working with a corporation's favorable legal framework.
Business-oriented system
The Delaware government closely monitors changes in corporate law and makes frequent adjustments to keep the state's laws and regulations current.
The Division of Corporation supports businesses of all sizes effectively, and its qualified team offers timely, courteous services that help you ensure a favorable landscape for business operations.
Types of corporations in Delaware
Before incorporating a business, it is important to determine the company's most suitable type of corporation. In Delaware, there are four common options:
The general corporation
The close corporation
The public benefit corporation
The non-profit corporation
General corporation
A general corporation, also known as a C corporation, follows a tripartite structure with three stakeholder classes – shareholders, directors, and officers – with each having its distinct functions:
The first position with shares of stock has a right to own the company
The second one runs the company with the responsibility to control the overall management
The third is to handle the daily business of the company
Close corporation
This type is intended for businesses with a maximum of 30 shareholders. In comparison to the general corporation, the close corporation provides a more limited stock transfer. Only when other shareholders refuse to buy the stock can a stockholder sell it to an outsider.
Public benefit corporation
A public benefit corporation is a for-profit business that aims to generate social and public good while conducting its operations ethically and sustainably. The corporation's public benefit must be indicated in its Certificate of Incorporation.
Non-profit corporation
A nonprofit corporation is a company that was established for purposes other than profit-making, as are most enterprises.
Examples of such purposes include charitable, religious, educational, or other public service goals. Contrary to for-profit corporations, the primary advantage of choosing this type of legal structure is that it is exempt from paying federal and state taxes on any money the corporation produces.
How to file a corporation in Delaware?
You can either file online or via postal mail, with both relatively having the same set of steps:
(1) choosing a legal entity name
(2) filing the Certificate of Incorporation
(3) appointing a registered agent and directors
(4) clarifying your stock information
(5) receiving the EIN
The incorporation process includes the filing of the Certificate of Incorporation, which is one of the most crucial requirements for a Delaware corporation. This document, once issued by the Delaware Division of Corporations, brings your incorporated entity into legal existence and helps legalize your firm.
Forming a Delaware corporation may seem simple, but there are probably more processes needed, such as setting up a corporate bylaw. The policies and processes for how your corporation will be controlled are outlined in your bylaws.
Why choose BBCIncorp's company formation services?
With BBCIncorp, your process of forming a Delaware corporation becomes much easier than ever. Our service relieves you of all the tension and burden that comes with the lengthy filing process and document requirements.
Interested in joining Delaware's burgeoning corporate environment? Our expert consultants are more than willing to give you a comprehensive run-through of application procedures and peripheral services such as accounting, compliance, and more. Drop us a line at service@bbcincorp.com to get started right away.
Disclaimer: While BBCIncorp strives to make the information on this website as timely and accurate as possible, the information itself is for reference purposes only. You should not substitute the information provided in this article for competent legal advice. Feel free to contact BBCIncorp's customer services for advice on your specific cases.
Share this article
Get helpful tips and info from our newsletter!
Stay in the know and be empowered with our strategic how-tos, resources, and guidelines.