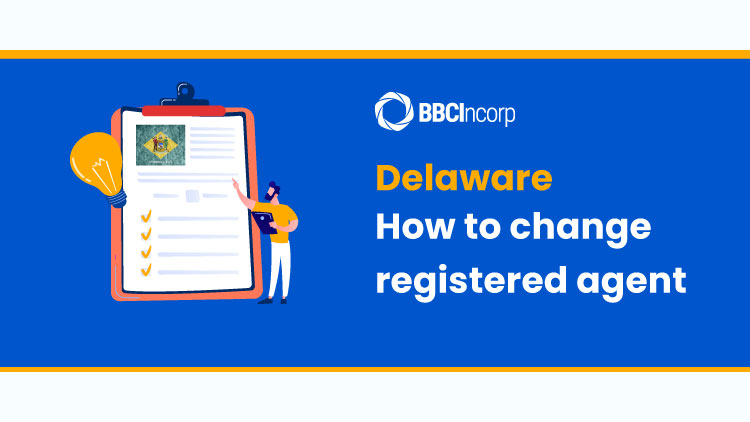 Why do you need to change registered agent in Delaware?
As a business owner, you are responsible for ensuring that your company meets all the legal requirements of the state in which it is registered. This includes appointing a registered agent. This is an individual or business entity that agrees to accept the service of process on behalf of your company.
There are many reasons why you might need to change the statutory agent in Delaware. Some of the reasons are:
You have moved to a new state and need to appoint a new one.
You are dissolving your company and need to cancel your resident agent service
Your statutory agent is no longer able to serve as an agent for your company
Whichever your case may be, updating your registered agent is a straightforward process.
The 3-step process to change the registered agent
Step 1: Select a new suitable Delaware registered agent
Registered agents should satisfy the following criteria:
Be at least 18 years
Have a physical address in the state wherein your business operates
Be available during normal business hours
Step 2: Submit the required documents
It is necessary to file a document with the Division of Corporations to change a Delaware registered agent. The Filing Cover Memo is used to let the state know that you've changed agents and provides information about the new agent. This form is a required document. You can get the form here.
After completing the Filing Cover Memo, you will submit it with your completed Certificate of Change of Agent form to the Department of State. Once you have all of the required documents, you can submit them online, by mail, by courier service, or in person at the Division of Corporations. Once your change is processed, you'll receive a confirmation letter indicating that you are registered.
A sample of the Delaware LLC Certificate of Change of Agent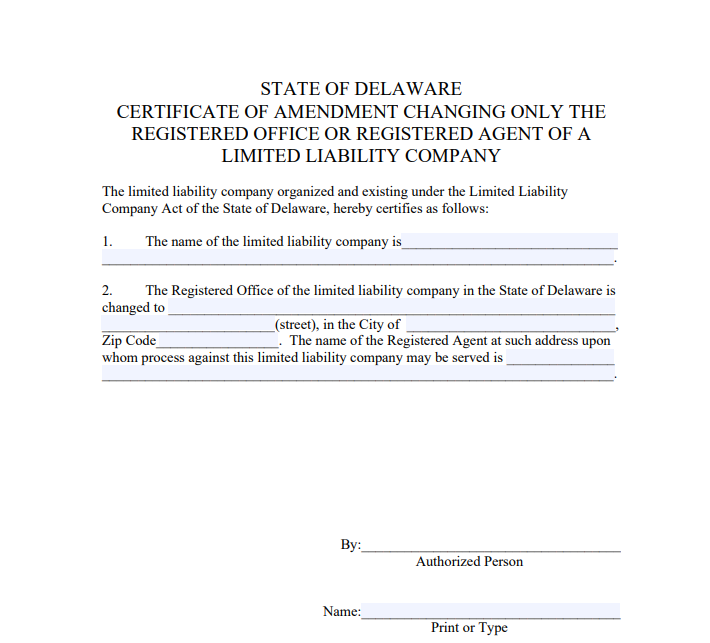 Step 3: Make a filing fee payment
The Delaware Certificate of Change costs $50 (LLC, Corporation, LP) or 5$ (Non-profit Corporation) to file. You can make a payment online through the Delaware Division of Corporations website. Once your payment is processed, your notice will be filed and your new registered agent will be officially designated.
How can I make sure the change of agent process is finished?
If you've changed your registered agent in Delaware, you might be wondering how to confirm that the process is complete.
Basically, you can perform a basic name search on yourself to see when the state updates the agent via Delaware Name Search. You can also check with your new registered agent to see if they have received any official notice from the state. If they have, then the change of agent process is complete. If not, you can contact the Delaware Division of Corporations to inquire about the status of your change of agent request.
General information
A registered agent, also known as a resident agent or statutory agent, is a business or individual who is designated to receive service of process (SOP) when a business entity is a party to legal action such as a lawsuit or summons in the United States.
The state may also send paperwork for the business entity's charter renewal to the registered agent's address (if required).
A business entity's registered agent can be a company officer, employee, or a third party such as the organization's lawyer or service company.
Failure to keep a resident agent up to date can harm a company
Conclusion
Changing your registered agent in Delaware can be done in a step-by-step process. We can help you with that process and provide advice every step of the way. Get in touch with us via service@bbcincorp.com if you need assistance updating your registered agent information or have any other questions about registering a company in Delaware.
Frequently Asked Questions
How much does it cost to have a registered agent in Delaware?
There is a fee associated with appointing a registered agent, but it is typically very reasonable. In some cases, the resident agent may also provide additional services such as mail forwarding or virtual office space, which may cost extra. However, these additional services are not required.
If you want to know more about changing Delaware registered agent, you can contact us via service@bbcincorp.com
How do I cancel my Delaware registered agent?
You'll need to send a notice of cancellation to your registered agent. This can be done via certified mail, return receipt requested. You should also include a statement that you are canceling your registration with the state of Delaware. Once you have sent this notice, you will need to fill out a Cancellation of Registration form. Once this form is completed and submitted, your registration will be officially canceled.
How do I resign as a registered agent in Delaware?
You will submit a Certificate of Resignation of Registered Agent to the Delaware Secretary of State. The cost of resigning as a Delaware registered agent and appointing a successor agent is different for each company type.
Disclaimer: While BBCIncorp strives to make the information on this website as timely and accurate as possible, the information itself is for reference purposes only. You should not substitute the information provided in this article for competent legal advice. Feel free to contact BBCIncorp's customer services for advice on your specific cases.
Share this article
Get helpful tips and info from our newsletter!
Stay in the know and be empowered with our strategic how-tos, resources, and guidelines.