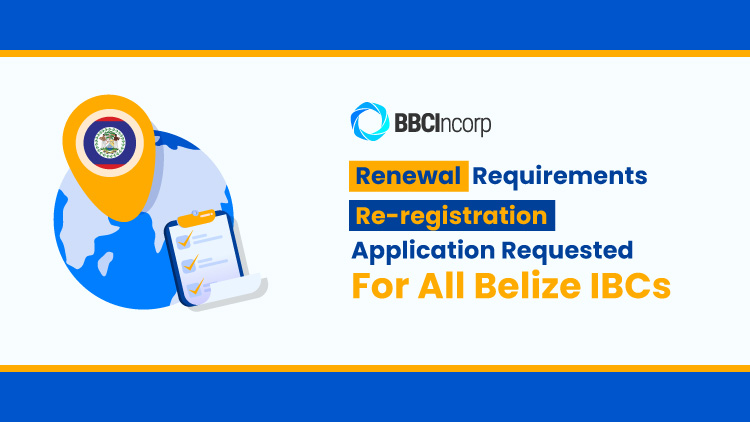 Please be advised that only re-registered companies can request the services from the Belize Registry upon the launch of OBRS from 28th November 2022. Additionally, filing of Belize Annual Returns that must be submitted on or before 30th June on an annual basis will be the new compliance requirement that companies should pay attention to.
Renewal requirements for all our IBCs before and after OBRS launch
According to Belize Registry announcement, preparations for OBRS activation will take place between 4th November and 28th November. Therefore, no new services will be provided and all relevant services will remain pending within this timeframe via the online system.
Applicable IBCs that has been determined to have renewal dued for 2022 are highly recommended to do it before 4th November.
For companies with renewal before 4th November
No need to renew again until 1st Jan 2023
Due date for filing the first Annual Return will be 30th June 2023
The company is required to re-register and have a new company number to purchase the Registry's services (Still, these companies have more time for the completion of re-registration process)
For companies with pending renewal status when OBRS is live (meaning renewal has not yet be done before 4th November)
The company status is switched to "Pending Struck Off Status"
The company is required to renew and submit its Annual Return before 31st December
The company must be re-registered

prior to the renewal date
Applied for companies with renewal after 31st Dec 2022
The company will be struck off and subject to a restoration fee (plus the annual fees of all the past years)
The company must be re-registered and file the Annual Return form (with extra fees and penalties if applicable)
Keynotes of re-registration application process under the new Act
Upon the successful launch of OBRS after 28th November, in-scope entities that must re-register under the new Act include all Belize IBCs.
Below are new updates for re-registered companies:
1. After re-registration process, IBC will be issued a new E-certificate covering the following presented information:
A new 9-digit number of registration
The previous registration number
QR code
Date of incorporation
2. The Registry will collect and upload details of the company, directors and shareholders into the new system OBRS. Basic details of the Belize company can be accessed by anyone through company search; however, director, shareholder information will be kept confidential.
3. No requirement for IBC to register UBOs information with the new system, but those documents must be kept at the company's registered office address.
Should you have any questions, don't hesitate to contact your Relationship Manager or drop us email via service@bbcincorp.com
Disclaimer: While BBCIncorp strives to make the information on this website as timely and accurate as possible, the information itself is for reference purposes only. You should not substitute the information provided in this article for competent legal advice. Feel free to contact BBCIncorp's customer services for advice on your specific cases.
Share this article
Get helpful tips and info from our newsletter!
Stay in the know and be empowered with our strategic how-tos, resources, and guidelines.