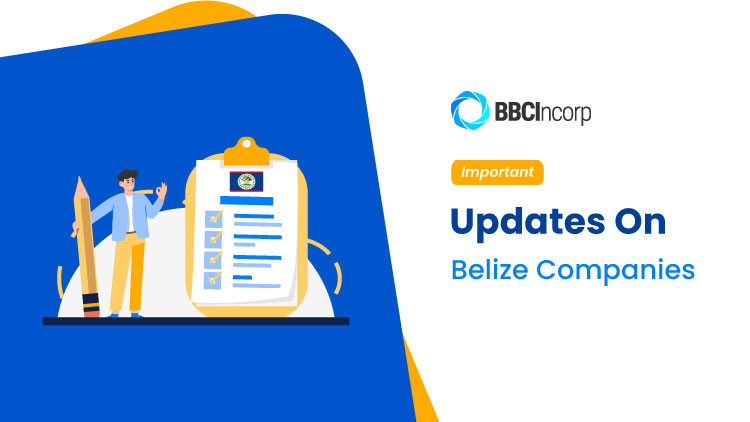 Legal Compliance of Belize Companies Under The New Act
These are the several regulations to keep in mind when operating as a Belize company:
Belize companies re-registered from companies established under Belize International Business Companies Act Cap 270 must file information to IFSC (the International Financial Services Commission of Belize) in the format prescribed by Law no. 15 of October 11, 2019 (Economic Substance Act, 2019).
Belize companies must maintain a registered office in this jurisdiction at all times, pay related compliance fees as required, and provide proving documents of economic substance in Belize.
The returns of a company incorporated or existing under the International Business Companies Act shall be made annually and filed no later than the 31st day of March, following the end of a basis year
Keeping copies of accounting records outside Belize is allowed if they are kept at the company's registered office(s). However, business owners have to maintain a document confirming the location of the original documents.
Additionally, a "business tax" shall be levied upon and paid at the rates specified in section 107 of the Income and Business Tax Act, on all receipts as defined in this Part, whether received in Belize or elsewhere.
There are exemptions, however. For instance, Belize companies will be exempt from business tax if their annual revenue is below the threshold. Note that there might be no threshold for some passive income types such as tour operators, or travel agents (on total commissions).
You can read more details in Section 106, Section 108 of the mentioned Act, and Section 7 of the Income and Business Tax (Amendment) Act 2019.
Changes in Fee
Per the adjustments made in the Belize International Business Companies Act Cap 270 and related legal documents, revisions were made to the fees levied on Belize companies, including incorporation and annual fees.
The new fee regulations have come into force starting November 28th, 2022. As a result, a Belize company registered or incorporated must strictly comply with these regulations' provisions by twelve months after this date.
Below is a table summarizing the latest updates in the Belize government's fees (in USD) for Belize companies using a registered agent.
Types of Fees
Updated Fees
Capital below $50,000
Incorporation
$150
Annual Fee
$250
Capital exceeding $50,000
Incorporation
$1,000
Annual Fee
$1,000

Filing a resolution (not affecting the company)
Change of name, address, and company's particulars
Increase/ Decrease of Share Capital over $50,000/ below $50,000

$25 – $500
Dissolution/ Rescind Dissolution
$100
Restoration Fee
$1,000
Certified Copies or Printing of a certificate
$15
Extracts
$50 – $100
Certificate of Good Standing
$15
Re-registration
$50
TIN
$60
Look into other revised fees for certain corporate services for more reference.
Quick Note
The fees charged to Belize companies have recently been adjusted. These changes might affect your enterprise in numerous ways. Through this notice, BBCIncorp wishes to inform our clients about the updated prices for incorporation packages and related add-ons.
BBCIncorp's support team is reaching out to clients about the updated pricing in no time. You can also get in touch with us via service@bbcincorp.com for any concerns and questions regarding the updates.
More details on our Belize Company Formation Packages.
Disclaimer: While BBCIncorp strives to make the information on this website as timely and accurate as possible, the information itself is for reference purposes only. You should not substitute the information provided in this article for competent legal advice. Feel free to contact BBCIncorp's customer services for advice on your specific cases.
Share this article
Get helpful tips and info from our newsletter!
Stay in the know and be empowered with our strategic how-tos, resources, and guidelines.