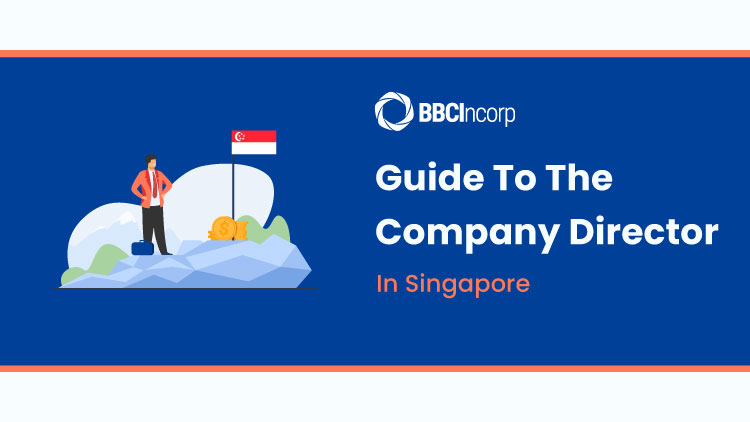 Company directors play a vital role in the enterprise, as the decision you make will directly determine the firm's success or failure. Considering Singapore's highly competitive business environment, the role of a company director is even more crucial.
Therefore, if you are running or planning to establish a Singapore business, it is essential to have a thorough understanding of the Singapore company director, the duties and rights, as well as the process to appoint and remove directors to play your cards wisely.
What are the types of company directors in Singapore?
Singapore company directors are divided into six common types, each with their unique roles and responsibilities:
Executive directors in Singapore are responsible for managing the day-to-day operations of a company and implementing the strategies developed by the board. They play a critical role in ensuring that the company is running efficiently and effectively, and are typically involved in strategic decision-making processes.
Executive directors are appointed by the board of directors and are usually members of the senior management team. They work closely with other senior executives and managers to meet the company's goals and objectives.
Non-executive directors (NEDs) in Singapore are defined as individuals appointed to a company's board of directors who are not involved in the daily management of the company.
Their primary role is to offer an independent viewpoint on the company's operations, guaranteeing that the board is well-informed and that decisions align with the best interests of both the company and its shareholders.
NEDs contribute their extensive knowledge and expertise in specific areas to deliver strategic guidance and oversight to the executive directors and the senior management team.
These directors are considered non-executive but with some additional characteristics such as:
No material relationship with the company, its management, or its major shareholders.
Is not part of the company's executive board; and
Specialized knowledge, skills, and experience relevant to the company's industry
However, they can still interfere with the exercise of the director's independent judgment when necessary.
The primary responsibility of the independent director is to provide unbiased advice and judgment to the BOD, helping the company avoid conflicts of interest and improve corporate governance. Their presence contributes to long-term sustainability and business success.
Important
Independent directors cannot be considered executive directors because they are not affiliated with the company's management. They serve as a check and balance, ensuring that the company's interests are protected and that decisions are made in the best interest of shareholders as well.
Nominee directors are individuals nominated by major stakeholders (such as business owners or major shareholders) to serve on the nominators' behalf as directors. A Singapore nominee director has the same obligations under the Companies Act, as imposed on the regular director.
The law of Singapore requires that every company incorporated here have a director who is ordinarily a resident, so foreign individuals or entities without a local presence who wish to establish a Singapore-based company may appoint a nominee director to fulfill this requirement.
Individuals who openly act as a director of a company without having been officially appointed as one are called de facto directors. This role may arise when the company's founder or key shareholder might take on a managerial role without being officially appointed.
Like formally appointed directors, de facto directors must comply with all of the rules and can be held liable for any breaches of fiduciary duty, negligence, or other misconduct that occurs while they are acting as a director.
Shadow directors are not listed or appointed to the board, but their influence over the company's affairs is significant. They habitually instruct or direct formally appointed directors on matters decided by the Board of Directors, such as company strategy.
Keep in mind that to be classified as a shadow director, an individual must exercise a significant level of control or influence over the company's management and decision-making processes.
In the upcoming sections of this article, we will discuss the attributes of the most common type of company director, namely the executive directors, including their rights, duties, and the process of appointing and removing them.
Duties of a company director in Singapore
The duties and responsibilities of Singapore company directors are governed by the Companies Act. This Act has set out a comprehensive framework of legal obligations and requirements that directors must adhere to. The key duties include:
Directors have a legal responsibility to exercise reasonable care, skill, and diligence in the performance of their duties. This means that they must act prudently and in good faith to protect the interests of the company and its stakeholders.
The duty of loyalty requires directors to disclose any conflicts of interest or potential conflicts of interest, such as a financial interest in a transaction, and abstain from voting on any matters where they have a conflict of interest.
Duty to act within the authority
A company director is obliged to act within the authority granted to them by the company's constitution and in compliance with the Companies Act and other relevant regulations. Furthermore, they are required to abide by any resolutions passed by shareholders or directors.
Directors who act outside of their authority can be held personally liable for any loss or damage suffered by the company or its stakeholders.
Maintain proper books and records
Directors must ensure that the business keeps adequate accounting records that accurately reflect the company's financial transactions and position. Also, the directors are required to make sure that company financial statements comply with accounting and reporting standards.
In addition to financial records, they must also ensure that the company maintains proper records of its meetings and decisions, as well as any other relevant company information.
Monitor the company's affairs
This duty requires directors to exercise ongoing oversight of the company's financial performance, risks, and compliance with legal and regulatory requirements. If a company is unable to meet its obligations, directors must take appropriate action to address the situation, such as seeking additional funding or restructuring the company's operations.
Being aware of the company's financial position and its ability to pay its debts as they become due is undoubtedly a must. They have to monitor the company's cash flow and ensure that it has sufficient funds to meet its ongoing obligations and operational needs as well.
Be certain to comply with all applicable laws and regulations
Director's duties include ensuring that legal requirements, such as tax and employment regulations, are followed at every step of the business operations.
Directors are obliged to exercise good judgment and keep track of the company's maintaining high standards of corporate governance and compliance.
Rights of a Singapore company director
A company director in Singapore has certain rights and entitlements, which are outlined under the Companies Act and other relevant laws and regulations. Some of the main rights of a company director in Singapore include:
Participating in decision-making
A director has the authority to vote on matters affecting the company's operations and direction, including strategic planning, financial management, and policy-making.
Access to company information
This allows directors to exercise their fiduciary duty and make informed decisions based on the company's books, records, financial statements, etc. to stay informed about the company's financial status, performance, and operations.
Directors are entitled to remuneration for their services as specified in the company's constitution or as determined by the shareholders (e.g. salaries, bonuses, or other forms of compensation), which must be fair and reasonable.
Directors can resign from their position at any time by giving written notice to the company. However, they are also obligated to fulfill any remaining duties and responsibilities until their resignation takes effect.
Personal liabilities protection
Directors are entitled to certain protections from personal liabilities, such as the business judgment rule and the indemnity clause in the company's constitution. However, a director can still be held personally liable for breaches of duties or non-compliance with laws and regulations.
Make sure you familiarize yourself with the rights and responsibilities to ensure compliance with the Companies Act and other relevant regulations.
Qualifications for a Singapore company director
There are certain qualifications and requirements that a person must meet to be appointed as an official company director. These requirements set out in the Companies Act include:
At least 18 years old
Of full legal capacity with a sound mind (mentally capable)
An individual is a natural person, meaning a director cannot be a corporation
A Singapore citizen, Singapore Permanent Resident, or EntrePass holder)
Not disqualified from acting as a director of a company (e.g. an undischarged bankrupt)
Who cannot and should not be a company director?
Certain individuals are restricted from being appointed as company directors:
Individuals with undischarged bankrupts (e.g. a person who has been declared bankrupt by the court) and has not been discharged
Individuals convicted of certain offenses: Individuals who have been convicted of certain criminal offenses involving dishonesty, fraud, or breach of trust
Individuals with conflicts of interest such as having a financial interest in a competitor of the company
Individuals who lack the necessary skills or experience to fulfill the duties and responsibilities of a company director should not be appointed as one
Individuals who have been disqualified by the Company Act or regulatory bodies will be prevented from holding directorship positions in certain industries
How to save time and resources on your Singapore company formation
BBCIncorp's incorporation services guarantee a smooth business establishment and legal compliance with the Singapore regulatory authorities' requirement. Our assistance will enable your company to focus on other important tasks like utilizing the company directors and expanding the business.
Furthermore, we can help to ensure that the company is properly structured and organized, with the appropriate governance mechanisms in place to facilitate effective decision-making and risk management.
How to assign a director to a Singapore company
Following the review of the main characteristics of a Singapore company director, let's examine the process of assignment. The appointment process generally involves the following steps:
Step 1: Ensure eligibility
The first step is to ensure that the person appointed as a director is eligible (as stated in the prior session) to hold the position.
Step 2: Pass a board resolution
A board resolution must be passed to appoint a director. The resolution should state the name of the director being appointed, the date of appointment, and the term of the appointment.
Draft an appointment letter. Include relevant details such as the start date, remuneration, and expectations. The person being appointed as a director must consent to the appointment in writing.
After the appointment, the company must notify the Accounting and Corporate Regulatory Authority (ACRA) of the appointment within 14 days using the ACRA online portal, BizFile+.
Step 5: Update company registers
The company must update its registers of directors and officers to reflect the new appointment.
Step 6: Provide an Appointment Letter and continue operations
The company should provide the new director with an appointment letter outlining their role, responsibilities, and remuneration.
Removal of the company director
The removal of a director from a Singapore company can be initiated by either the company's shareholders or the board of directors. The process varies depending on whether the director is an executive or non-executive director, and whether the director is a managing director or an ordinary director.
For executive directors or managing directors, the removal process is usually set out in their employment contract. Typically, the removal of an executive director or managing director requires a resolution to be passed by the majority of the board of directors and/or shareholders.
For non-executive directors, the removal process is usually governed by the company's constitution or bylaws. Typically, a resolution must be passed by a majority vote of the board of directors and/or shareholders.
In summary, the removal process can happen:
By an Ordinary Resolution passed by the shareholders of the company at a general meeting. A notice of the proposed resolution must be given to the director concerned at least 14 days before the meeting.
By a Board Resolution passed by a majority of the remaining directors if the company's constitution allows it.
By Court Order if the court finds that the director has breached their duties, engaged in misconduct or mismanagement, or is otherwise unfit to hold office.
The removal must comply with the company's constitution and the Companies Act and the director must be given notice and an opportunity to be heard. Companies must also notify ACRA and update their registers of directors and officers after any changes to the directorship.
Conclusion
In summary, the role of a company director in Singapore is vital to the success of the company. They are responsible for overseeing the management and decision-making processes of the company, ensuring compliance with applicable laws and regulations, and promoting the long-term success of the company.
To become a company director in Singapore, one must meet certain qualifications and fulfill their duties and responsibilities with the utmost care and diligence.
Engaging professional support at the initial stage of your Singapore company formation can lower the cost and time burden. Don't hesitate to reach out to our team for further inquiries via the chatbox or at service@bbcincorp.com.
Frequently Asked Questions
What is a Singapore local director?
A local director in Singapore is a company director who is a resident of Singapore and is either a citizen or a permanent resident. The Singapore Companies Act requires all Singaporean companies to have at least one local director who is ordinarily resident in Singapore.
Can you appoint your local director as the nominee director?
Yes, a local director can also serve as a nominee director in Singapore. Local directors are appointed to serve on behalf of you, another person, or an entity, often to fulfill legal requirements or maintain confidentiality.
They may not have an active role in the day-to-day management of the company and may act based on the instructions of the appointing party, but their existence is required to establish your Singapore business.
Can a foreign individual or entity become a Singapore company director?
Yes, they can, provided that they meet the requirements set out by the Singapore Companies Act and obtain the necessary work visa. However, as mentioned, at least one director of the company must be a local resident.
Foreigners who wish to be appointed as directors of a Singaporean company must also obtain a valid work visa, such as an Employment Pass or EntrePass, allowing them to work and reside in Singapore.
Disclaimer: While BBCIncorp strives to make the information on this website as timely and accurate as possible, the information itself is for reference purposes only. You should not substitute the information provided in this article for competent legal advice. Feel free to contact BBCIncorp's customer services for advice on your specific cases.
Share this article
Get helpful tips and info from our newsletter!
Stay in the know and be empowered with our strategic how-tos, resources, and guidelines.