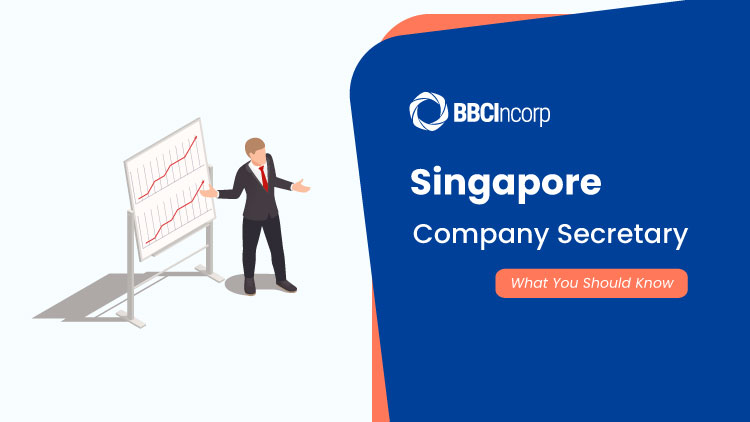 Having a company secretary has become a legal requirement for all companies established in Singapore. Furthermore, it is undeniable that company secretaries play an essential role in running a business.
Therefore, planning to appoint a secretary for the business is a must if you are going to open your own company in Singapore. With that being said, BBCIncorp will provide you with an insight into who can be a company secretary in Singapore as well as what their role and responsibilities are.
Roles and responsibilities of company secretary in Singapore
Roles
In general, a company secretary has two main roles:
Administration
Company secretaries need to excel at management in order to lighten the burden of business administration on the company's director(s). They ensure that all the relevant obligations are met within specific deadlines so that the business does not violate any law, which can result in severe punishment. Also, in respect of meetings, the secretaries make sure all meetings run smoothly by well-preparing everything in advance, including notices, agendas, and minutes. This allows director(s) to have more time to focus on what really matters, making decisions for example.
Advisory
Company secretaries can give advice to the directors throughout the process of informing and giving insight into the latest news or schemes from government agencies. Furthermore, their advice can also help the directors to make necessary changes when identifying any non-compliance.
Responsibilities
To fulfill such roles, it appears to be the case that a company secretary takes on a wide range of responsibilities:
Filing and updating with ACRA the following

Filing of annual accounts and any other requirements
Any particulars and status changes of the company or the directors
Amendments to the company's constitution
Transfer of shares

Maintaining and updating documents such as

Statutory registers of the company
Minutes books of meetings
Annual reports and company accounts

Organizing Board meetings and Annual general meetings

Preparing notices and agenda
Taking meeting minutes
Distributing reports

Other additional responsibilities

Maintaining relations with shareholders or other regulatory bodies
Ensuring safekeeping and proper use of the company seal
Making sure all relevant business correspondences bearing the company name and identity number (UEN)
Giving the advice to implement good governance good practices
Others that may be specified in the contract
What authority does the company secretary have?
The company secretary of a Singaporean company wields significant power and authority. They are responsible for ensuring that the company complies with all statutory requirements, and they also play a key role in corporate governance.
As the officer responsible for the compliance, the company secretary must keep abreast of all changes to Singapore's Companies Act and make sure that the company adheres to these new requirements. They are also responsible for maintaining the company's registers and records, and ensuring that annual returns are filed on time.
In terms of corporate governance, the company secretary is often seen as the "conscience" of the board of directors. They are responsible for ensuring that board meetings are properly conducted, and they may also be required to provide advice on matters of corporate governance.
The company secretary is a vital role in any Singaporean company, and they are vested with significant power and authority. If you are thinking of setting up a company in Singapore, it is important to appoint a competent and experienced company secretary to ensure that your company complies with all statutory requirements and enjoys good corporate governance.
Importance of appointing a company secretary
Legal requirement for company establishment
According to ACRA, as a compliance requirement in Singapore, every local company must appoint at least one secretary for their business. Section 171 (4) of the Companies Act also regulates that the office of secretary shall not be left vacant for more than 6 months at any time. In other words, if you want to do business in Singapore, a company secretary is legally a must.
Statutory compliance fulfillment
Furthermore, a company secretary ensures your business stays compliant with the yearly requirements from the Singapore authorities such as ACRA and IRAS. Having a good company secretary is extremely important, especially to large business entities namely public companies.
Due to the large operation scope of these organizations, statutory compliance is usually of great complexity. For instance, more paperwork needed to be done with precision when holding an Annual General Meeting for a larger number of shareholders or when filing reports with more transactions. Therefore, appointing one or even more secretaries is crucial for large organizations not to make unwanted mistakes, which can result in severe penalties, in course of their operation.
Connection
Since company secretaries deal with government agencies on a fair frequency, they act as a connection between the business and the Singapore government. Due to the same reason, a company secretary shall keep your company up-to-date with the newest government regulations as well as the latest beneficial schemes. Moreover, company secretaries are important because they also play the role of a communication channel between the directors and shareholders.
Requirements for a company secretary in Singapore
The provision for a company secretary is mainly regulated by Section 171 of the Singapore Companies Act. Overall, a company must appoint at least one secretary meeting the following criteria:
Being a natural person
Having a principal place of residence in Singapore
Not being debarred under Section 155B by the Registrar
Not being the sole director in case of a company having only one director
For public companies, the Act states that it is the duty of directors to take all the necessary steps to ensure that each of the appointed secretaries meets the criteria regarding experience, academic requirements, and membership in professional associations. So, under this circumstance, it would be appropriate for you to pick a lawyer, an accountant, or even a member of the Singapore Association of the Institute of Chartered Secretaries and Administrators (SAICSA) to take on such a position.
As for private companies, any individual whose residence is in Singapore may qualify to be a secretary. However, Section 171 (1AB) does regulate that if the company is reasonably believed to be non-compliant with any of the Act provisions, the Registrar may require that private company to pick a person who satisfies the criteria regarding experience, academic requirements, and membership of professional associations (same as a public company), as may be prescribed.
Section 171 (1A) underlined that a company secretary is asked to "have requisite knowledge and experience to discharge the functions of secretary of the company". If you do not know any qualifying person in your business or within your reach who is capable of taking responsibility, it is advisable to go for Company Secretary service from a legit third-party provider in Singapore.
How to change company secretary in Singapore
There are many circumstances under which you want to appoint a new secretary for your company, like bad performance, lack of professionalism or high-charged fees. The process of change comprises two parts:
Resignation procedure
The former secretary signs the resignation form
The directors pass the board resolution, accepting the resignation
The company informs ACRA within 14 days
The company takes over all related statutory records in charge by the Secretary
New appointment
The directors pass the board resolution to appoint a new company secretary
The new secretary signs form 45B as consent to take on the position
The company informs ACRA of the new secretary's details
Conclusion
Company Secretary in Singapore is a legal requirement for establishing a business in the city-state. In general, a corporate secretary can be any natural person whose residence is in Singapore but must have enough knowledge and experience to function as a secretary.
The responsibilities of a secretary may vary but mainly filing with Singapore authorities to stay compliant, maintaining and updating necessary documents as well as organizing meetings. You can also change a company secretary for good reasons by following the simple 2-part process: approving resignation and making a new appointment.
If you are looking for a legit secretary for your business, have a look at our Singapore company secretary service. Feel free to get in touch with us via service@bbcincorp.com!
Disclaimer: While BBCIncorp strives to make the information on this website as timely and accurate as possible, the information itself is for reference purposes only. You should not substitute the information provided in this article for competent legal advice. Feel free to contact BBCIncorp's customer services for advice on your specific cases.
Share this article
Get helpful tips and info from our newsletter!
Stay in the know and be empowered with our strategic how-tos, resources, and guidelines.