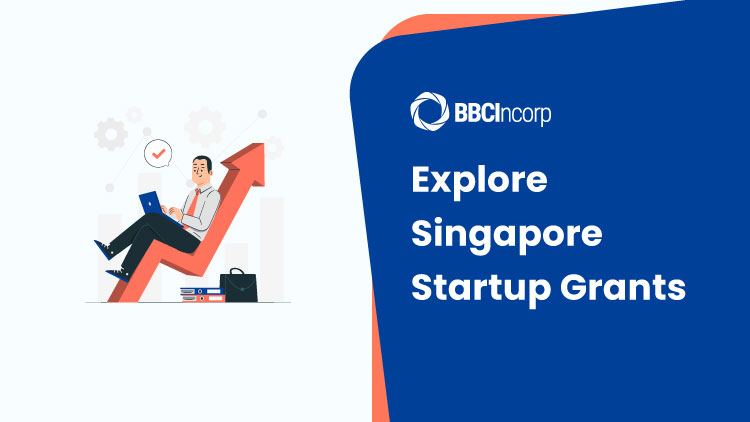 Singapore's rise to economic prominence is an all too familiar tale of how far a nation can go when regulators can look beyond politics and unite under the banner of change. It stands as one of the top business destinations for startups looking for a big break in the market.
While domestic prosperity has always been imperative in enterprise development, legislators know that they'd have to aim higher if they want to compete globally.
In 2017, Startup SG was announced to be the unifying scheme that supports a wider spectrum of startup growth. On critical fronts such as financial assistance, industry networking, and capability enhancement – the grants' efficacy are evident.
Tech startups have experienced a meteoric rise, going from 24,000 to 42,000 within the span of 8 years (2005 – 2013).
Think you have what it takes to be one of Singapore's next enterprise champions? Here's a list of Singapore startup grants to help you gain that competitive edge.
Startup grants you should know about
Although the number of government grants is in abundance, there's a trifecta that defines the unique tech-oriented landscape: Startup SG Founder, Startup SG Tech, and Startup SG accelerator.
If you'd like a more customized solution to finding the right financing opportunities for your business, give our Singapore grants and incentives tool a try.
Startup SG Founder
Startup SG Founder is the core of what Enterprise Singapore aims to be as an agency championing enterprise development. The scheme is designed to help aspiring entrepreneurs with innovative ideas have access to finance and mentorship to realize their potential.
With the economy undergoing a downturn in 2020, the grant capital was bumped from SGD$30,000 to SGD$50,000. This is a part of the preexisting SG Founder Grant "Track". There's also another track called "Train" which was newly established to accommodate novice entrepreneurs with educational enablement.
Depending on which track you chose to sign up for, there's a different set of criteria that needs to be met:
Your team must consist of at least 3 Singapore residents or Permanent Residents (SPRs)
The main applicants must hold at least a 30% share in the company
Over 51% of shareholding has to belong to the company
The company has been operating for less than 6 months at the time of application
All business operations are predominantly conducted in Singapore
The applicant holds a crucial position in making decisions in the company
How do I apply?
There are two phases that you have to go through when applying for the Startup SG Founder grant:
First is the application through the Accredited Mentor Partners (AMP) network to see if your visions align with each other. The process is similar to that of a product pitching; you present them with your business plan, and if they like it, then they'll take you under their wings.
Equity financing is also possible if they see high profitability in your proposal.
You'll then work together to draft a valid developmental plan with appropriate disbursement milestones. Finally, they'll send your application to ESG for final approval.
Note
ESG is entitled to recall the fund if there is sufficient evidence of the applicant's misconduct.
Upon receiving the Letter of Offer, you are required to:
Assume a full-time position in your company which can mean resignation from your other job
Finalize the raised co-matching amount and makes it available in the company's bank account
If your application didn't make the list, you can always try again after making thorough adjustments to your previous proposal. Note that this is not possible for applicants who have incorporated their business for more than 6 months at the time of application.
For more information regarding the Startup SG Founder, please visit this site.
Startup SG Tech
Deeptech is a critical piece in Singapore's overarching vision to digitally transform its economy. The overall funding has remained high despite the cascades of bleak economic outlooks. In H1 2020, the number of nearly SGD$ 570 million successfully being raised, validating the signs of a strong rebound in the future.
The Startup SG Tech Grant is a more specific grant that focuses on startups with proprietary technology that's early in its development stage. Qualifying applicants will receive funding to help expedite the development and commercialization process.
In specific, the scheme offers support for two stages of the innovation projects – Proof of Concept (POC) and Proof of Value (POV) – with capital grants capping at S$250,000 and S$500,000.
There's a wide array of industries that the grant covers, including
Advanced Manufacturing
Biomedical sciences & healthcare
Precision engineering
Telecommunication technology
Eligibility for this grant must be satisfied on two fronts:
Solution Feasibility:
You must demonstrate that your proposed idea has disrupted capabilities in a way that would either create new demands or replace a pre-existing market, purpose, or niche. The sky is the limit in terms of what or how you make that idea happen, with clear technical/ scientific demonstration being a prime mandate.
Company Suitability:
You can only apply for this grant if your incorporated company is a private limited entity that's currently in operation in Singapore. To be more specific, your company must qualify as an "SME" with at least 30% local shareholding, a turnover that doesn't exceed SGD$100 million and employ no more than 200 employees.
How do I apply?
A series of steps are needed before you apply for the grant
Step 1: Registration of Interest
You need to send your project summary and scope evaluation along with the SG Tech Registration Form to SPRING Singapore. Once screening is complete, you'll be notified of the result.
Step 2: Application and Evaluation
Greenlit applications will then submit their detailed project proposal outlining core information such as costs, technical/ scientific specifications, and commercial forecasts.
A second screening will be conducted by partner agencies such as Infocomm Media Development Authority (IMDA), PUB, Agency for Science, and Technology and Research (A*STAR).
Step 3: Final Panel Evaluation
Once you've passed the second phase, you'll be contacted by a SPRING officer to prepare for one final presentation to a panel of industry experts. And remember that since the panel consists of executives, venture capitalists, and even renowned researchers, you'd need to prepare for a variety of inquiries.
For more information regarding the Startup SG Tech, please visit here.
Startup SG Accelerator
Incubators and accelerators play a core part in Singapore's effort to realize its envisioned goal of an entrepreneurial ecosystem. While they both essentially function as finance or operation buffers for startups, there's a key difference in how they do it.
Incubators assist startups in their initial stage; they help with ideation, execution, and commercialization. Whereas accelerators emphasize growth and breakthrough in their strategy.
To support its burgeoning entrepreneurial ecosystem, Singapore has augmented its incubators and accelerators with dynamic funding schemes that cover fundamental areas:
Programme Development
Experts Hiring
Operating Expenses
Criteria for eligible incubators
Eligible incubators must satisfy the following criteria:
The incubator/ venture accelerator must demonstrate a viable training curriculum to help startups in a variety of manners; talents, financing, mentorship/management guidance
Must have a proven revenue model that facilitates long-term growth
Must have a tenured management team overseeing the grooming process
How do I apply?
The interested incubator/ accelerator can produce a draft business plan and send it to EDB for screening. Note that the grant excludes venture capitalist and consultancy firms from its applicant pool.
More information regarding the Startup SG Accelerator.
SG Grant Equity
While Singapore sees deep tech as a means toward a new advent of a digitized economy, funding has largely been challenging. This is because the sector's capacity for commercialization has not been that well proven. And as such, brings up a fair amount of reservations from investors.
The SG Equity Grant seeks to bridge the gap between potential startups and globalization by working in partnership with venture capital firms and third-party investors through the fund-of-fund method.
Investment parameters differ for general tech and deep tech in terms of funding cap and co-investment dynamics.
General Tech
Funding cap: SGD$2million
Co-investment ratio:

7:3 up to SGD$250,000, 1:1 upward to SGD$2,000,000 thereafter
Deep Tech
Funding cap: SGD$4million
Co-investment ratio:

7:3 up to SGD$500,000, 1:1 upward to SGD$2million thereafter
Fund disbursement is similar to previous grants; each milestone reached will unlock a predetermined amount. This grant takes the form of equity financing so expect the SSC to have a stake in your company.
How do I apply?
Depending on the role of the applicant, then the following set of criteria applies:
Startups:
Is a private limited company that's not a subsidiary or joint venture with a minimum of SGD$50,000 paid-up capital
Has not been incorporated for more than 5 years
All business operations are carried out domestically in Singapore
Has proven growth prospects and international expansion capability
Can demonstrate high innovation and intellectual substance in products/services/applications
Has third-party investor(s) onboard
Investors:
Contributes to the startup's growth either through networking or mentorship
Invests at least SGD$50,000
Read more information on the Startup SG Equity for a better understanding.
The roadmap to your first grant
While all of the above grants are by far the most prominent options any startup would want, they're not exhaustive in terms of growth. Singapore is known for integrating inclusivity into its enterprise development plan, with key proponents such as SME Grant and PSG Grant allowing for a more dynamic funding environment.
It goes without saying that enterprise development in Singapore is still getting into its zenith years with strong government support fueling the journey. Aside from strong financial assistance, Singapore has also privileged its enterprise champions with mentorship guidance and infrastructure development.
Growth opportunities abound, and the market is poised to do better than ever before. So get a headstart with our Singapore incorporation service and get that next big break for your business.
Disclaimer: While BBCIncorp strives to make the information on this website as timely and accurate as possible, the information itself is for reference purposes only. You should not substitute the information provided in this article for competent legal advice. Feel free to contact BBCIncorp's customer services for advice on your specific cases.
Share this article
Get helpful tips and info from our newsletter!
Stay in the know and be empowered with our strategic how-tos, resources, and guidelines.