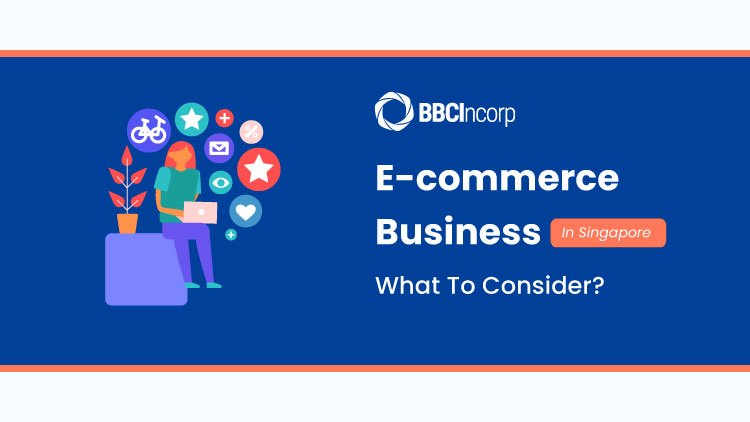 E-commerce businesses in Singapore have become increasingly popular over the last few years, as online shoppers are drawn to the convenience of buying goods and services online.
If you're looking to start an e-commerce business in Singapore, there are a few things you need to take into account. In this article, we'll discuss some of the key factors you need to consider when structuring your business world.
*Said factors will mostly concern your tax compliance, as well as structure-related issues.
Manufacturing methods
When starting an e-commerce business in Singapore, you must consider the manufacturing methods you will use.
Manufacturing through an e-commerce service provider
This is one common method for e-commerce businesses. The e-commerce service provider will handle all aspects of manufacturing, from production to shipping. This is a good option if you are starting a small business without the resources to handle the manufacturing process yourself.
Manufacturing through a contract manufacturer
If you want more control over the manufacturing process, you can work with a contract manufacturer. This is ideal if you want to produce a high volume of products or need a specific type of manufacturing process that isn't available through another service provider like the above-mentioned.
For example, if you want to sell custom-made products, contract-manufacturing agreements are recommended.
Manufacturing your products
Do you want to have complete control over the manufacturing process and save money on manufacturing costs? There is no one-size-fits-all method. But ideally, this should be the most desired option for most online businesses. That is, e-commerce companies use their manufacturing facilities to sell e-commerce products and directly distribute them to consumers.
Your firm may also choose to have an entity incorporated in another jurisdiction outside Singapore to produce the products. The affiliated company, of course, must be well equipped in its production facilities, namely premises, equipment, and groups of workers. Typically, it will be supervised independently and separately from the key e-commerce firm.
Note
As your for-manufacturing company was registered in a foreign country outside Singapore, it might be considered a permanent establishment and subject to local tax in the incorporation country (by the fact that through it, your Singapore company has been proven to earn profits).
Importing goods
If you're looking to start an e-commerce business in Singapore, one important decision you'll make is what products or services you'll offer. While there are many options, importing goods from overseas can be a great way to leverage your e-commerce store and reach new customers.
There are a few things to keep in mind when importing goods for your e-commerce business in Singapore.
Make sure that the products you're interested in importing are legal to sell in Singapore. You can do this by checking the Singapore Customs website to see a list of restricted and prohibited items
Pay attention to the restrictions on the value of goods that can be imported into Singapore without paying duties and taxes
If you plan to trade products in and out of Singapore, apply for relevant licenses and permits to legally run your operation
Distribution infrastructure and fulfillment
When it comes to e-commerce, distribution infrastructure and fulfillment can make or break a business. In Singapore, e-commerce businesses must consider the fact that the country is an island nation, meaning you need to consider the logistics of shipping products to customers.
E-commerce distribution in Singapore sometimes faces a lack of developed infrastructure. Some need to partner with logistics companies to get their products to customers. Coming to fulfillment methods, handling the fulfillment process in-house, or outsourcing it to a third party are common.
In-house fulfillment can be more costly, but it gives businesses more control over the entire process. Outsourcing fulfillment can be less expensive, but businesses need to ensure that they are working with a reputable and reliable firm.
Again, the case goes the same as manufacturing factors. Suppose a part of your Singapore business (i.e., hiring space of storage as a warehouse) remains as a "permanent establishment" in the distribution or fulfillment locations. In that case, additional tax obligations will be applied.
Payment solutions (important for e-commerce business)
Payment processing is a critical element when you structure an e-commerce company.
High-in-demand consumers are the facilitator of many e-commerce businesses desiring payment system leverage. The availability of payment options may considerably contribute to the attainment of more potential consumers for online stores.
You'll find a variety of payment methods that you can use to accept payments from your customers. In Singapore, the popular payment methods include PayPal and credit cards.
Our advice for your utmost convenience is to ask for practical solutions from trusted corporate service providers where both Singapore incorporation service and banking support are available with a diverse network of choices.
New guide
Start reading to grow your Singapore E-commerce with minimal effort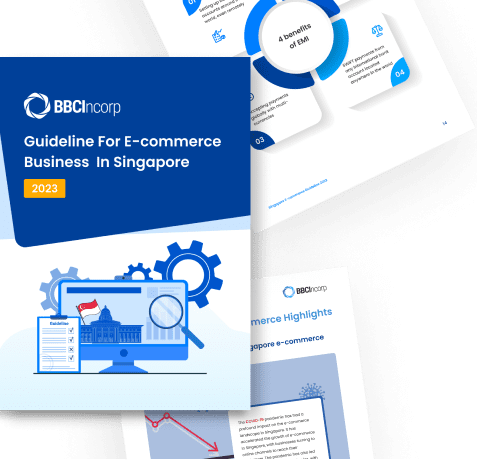 What's next?
Besides choosing the right legal structure, the right e-commerce platform, and the target market, there are certain factors you should clearly understand when structuring your own Singapore e-commerce company. Grasp your insights into how the distribution infrastructure and manufacturing method you choose to use may affect your business, or which payment solutions would fit your business's taste.
Talk to our friendly consultants if you wish to have more helpful insights about your business and e-commerce in Singapore or get in touch with us via service@bbcincorp.com.
Disclaimer: While BBCIncorp strives to make the information on this website as timely and accurate as possible, the information itself is for reference purposes only. You should not substitute the information provided in this article for competent legal advice. Feel free to contact BBCIncorp's customer services for advice on your specific cases.
Share this article
Get helpful tips and info from our newsletter!
Stay in the know and be empowered with our strategic how-tos, resources, and guidelines.