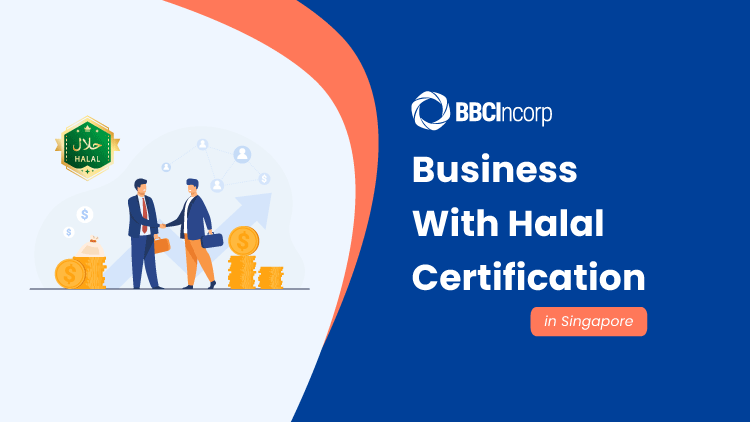 As the Muslim population in Singapore continues to grow, so does the demand for Halal-certified products and services. For businesses, this presents a promising opportunity to tap into a thriving market, and obtaining Halal certification is the key to unlocking these possibilities.
Therefore, this practical guide lays out a clear path to establishing a business in Singapore with an emphasis on obtaining Halal certification. We start with the basics of Halal principles and then guide you through the Halal-certificated incorporation process, one step at a time.
Let's begin the journey to your business incorporation in the Halal sector with BBCIncorp!
Understanding the principles of the Halal concept
The term "Halal" in Arabic means "permissible" or "lawful" in English, which is mainly used in Islamic dietary laws and practices. When something is labeled as Halal, it means it is allowed to consume or use according to Islamic teachings.
A Halal business, therefore, is an establishment that follows Islamic principles and guidelines. It ensures that everything related to its operations, including sourcing, preparation, handling, and distribution, strictly complies with Halal requirements.
Establishing a Halal business requires careful consideration of cultural sensitivity, as it involves being aware of cultural factors that can affect your operations. By considering the customs, preferences, and sensitivities of the Muslim community, you can ensure that your business respects their values and fosters inclusivity.
Building your successful Halal business step by step
Incorporating your Halal business opens doors to a thriving market and the opportunity to cater to the needs of Muslim consumers. Let's explore the key considerations and navigate the incorporation process to ensure compliance with Halal standards.
Step 1: Establishing a strong foundation
In the process of establishing your Halal business, there are several vital factors that work together to form a solid foundation.
Choosing the right business structure sets the stage for your operations and legal framework. Whether you opt for sole proprietorship, partnership, or private limited company, the chosen structure determines important factors like liability, taxation, and ownership. It lays the groundwork for other elements, including share capital and director appointments.
Share capital is closely tied to your chosen business structure, and represents the total value of shares your company can issue. Ensure your share capital amount aligns with your business structure and defines ownership distribution within your Halal business. This framework also impacts director appointments, where shareholders typically have authority.
By understanding the interplay between these factors, you can establish a solid foundation for your Halal business and pave the way for its success.
Step 2: Crafting your Halal identity
Your Halal identity begins with obtaining approval for your company name from the Accounting and Corporate Regulatory Authority (ACRA). The proposed name should not infringe on any trademarks and should ideally reflect the nature of your business.
The power of a name should not be underestimated, as it plays a significant role in shaping your brand identity. Therefore, conducting thorough company name search helps you avoid any potential legal conflicts and ensures that your business stands out in the competitive market.
As Halal businesses cater to the needs of the Muslim community, it is crucial to respect and honor their cultural and religious sensitivities. Hence, your company name should avoid any terms or phrases that may be offensive or disrespectful to the Muslim community.
Step 3: Laying your Halal business groundwork
Once all your paperwork is prepared, it is crucial to lay a legal foundation by registering your Halal business with ACRA. This involves gathering the necessary documents and submitting your registration application through one of two methods: online via BizFile+ or in person at the ACRA service center.
Regardless of the method, ensure that all required documents are accurately completed and attached to your application. This attention to detail will facilitate a smooth registration process and minimize any potential delays.
ACRA will review your application and assess its eligibility and compliance with regulatory requirements. Once your application is approved, ACRA will issue the Certificate of Incorporation, marking the official registration of your Halal business.
This certificate serves as official documentation of your business's legitimacy and facilitates various activities, such as opening a corporate bank account and obtaining necessary licenses.
Step 4: Optimizing your financial operations
Effectively managing your financial flow is vital for the success of any business, including Halal business. An important step in this process is opening a corporate bank account, which allows you to handle transactions efficiently and transparently.
For a Halal business, it is not mandatory to choose an Islamic bank or specifically opt for Islamic banking services. Instead, the focus should be on selecting a bank that understands and supports Halal practices. This means choosing a bank that ensures your financial transactions align with Halal principles and comply with Shariah law.
Seeking professional assistance can greatly benefit your Halal business when it comes to opening a bank account in Singapore. Professionals can provide expert guidance and support, helping you navigate through the various banking options available and find the most suitable bank for your specific needs.
Obtaining a Halal Certification for credibility
Halal certification holds significant value for businesses in Singapore aiming to cater to the Muslim market and demonstrate their commitment to Halal practices.
While not mandatory, it provides a stamp of approval and enhances credibility in the eyes of Muslim consumers.
Authority on Halal Certification in Singapore
The Majlis Ugama Islam Singapura (MUIS), or the Islamic Religious Council of Singapore, is the primary authority responsible for providing Halal certification in the country. They establish guidelines and procedures that businesses must follow to obtain Halal certification.
MUIS conducts rigorous inspections and audits to ensure compliance with Halal requirements. They assess various aspects such as ingredient sourcing, premises cleanliness, staff training, and segregation practices. Upon meeting all criteria, MUIS grants Halal certification, recognizing the business's commitment to Halal practices.
Engaging with MUIS and understanding their requirements is essential for businesses seeking Halal certification. By doing so, your business can confidently navigate the certification process and ensure that your products and services meet the necessary criteria for Halal compliance.
Requirements of the Halal application process
To successfully complete the Halal application process in Singapore, it is important to meet specific requirements, which are categorized into three main areas:
Halal requirements
Ensure all raw materials used in your business for Halal certification are Halal-compliant, free from prohibited substances, and processed according to Halal principles.
Provide supporting documents, such as Halal certificates or ingredient invoices, to verify their Halal status.
Staffing requirements
Halal certification requires a minimum number of Muslim staff members in each certified premises, typically two or three individuals.
System requirements
Halal certification applicants must adhere to the 10 principles of the Singapore Muis Halal Quality Management System (HalMQ).
Application process for Halal Certification
Step 1: Online application for Halal Certification
To initiate the Halal certification process for your business, you will need to submit your application through the GoBusiness Licensing portal using your Singpass.
In addition to providing your business information, it is crucial to include the necessary supporting documents as part of the Halal certification application.
Step 2: Fee payment for application
When applying for Halal Certification, payment is required in two stages:
(1) Initial payment: Pay 100% of the Application Fee + 40% of the Certification Fee.
(2) Final Payment: Pay the remaining 60% of the Certification Fee.
All payments can be made online with accepted payment methods including Credit, Debit, PayPal, Interbank Transfers, and GIRO.
Step 3: Await approval
After submitting your application and payment, your request will be processed and verified by the certification authority. During this stage, a certification audit will be conducted to assess compliance with the 10 principles of the HalMQ. Please note that the audit process is rigorous and can take up to 60 days to complete.
The duration of the application process depends on factors such as the application type (normal or express) and the timely completion of audits. Normal applications take under 14 working days, while express applications take under 7 working days from the payment date of the application fee.
Upon application approval, settle the remaining 60% of the certification fee before collecting the Halal certificate. Once audits are completed and fees settled, MUIS will issue the Halal Certificate for your business, affirming your business's compliance with Halal standards and practices.
Renewal of Halal Certification
Halal certificates are typically valid for 1 year from the date of issue. It is crucial to be aware of the certificate's expiration date and the requirements for renewal as specified by MUIS.
To ensure a smooth renewal process, initiate the renewal at least 1 to 3 months prior to the certificate's expiration. This provides sufficient time for all necessary procedures and assessments to be completed.
Auto-renewal submission
The GoBusiness Licensing portal has been updated to streamline the Halal Certification Application process, introducing features such as auto-renewal submission.
Opting for auto-renewal submission is the most convenient way to ensure the timely renewal of your business's Halal certification.
Ensuring compliance with annual filing requirements
Maintaining the compliance and integrity of your Halal business in Singapore requires fulfilling the annual filing obligations. This is a crucial requirement to ensure transparency in your operations.
Financial Statement
As part of your annual compliance, your business must prepare accurate financial statements that provide an overview of your revenue, expenses, assets, and liabilities. Adhering to proper accounting standards and principles is crucial for maintaining transparency and financial integrity.
You should consult with your accountants to determine the frequency of preparation: monthly for high transaction volumes or semi-annual/quarterly for fewer transactions.
It is important to adhere to the Financial Reporting Standards of Singapore (SFRS) when preparing financial statements to ensure credibility and accuracy. While auditing may be required for some businesses, small businesses that meet specific criteria may be exempt from submitting audited financial statements.
Annual Return
When it comes to maintaining compliance for your Halal business in Singapore, one crucial task is filing an annual return. This process involves submitting required documents to the ACRA through BizFile+.
Failing to file the annual return on time can have serious consequences, such as fines or potential legal actions against the company and its officers. Your company should prioritize timely submission to ensure compliance and avoid any adverse outcomes.
Annual Tax Return
The Annual Tax Return is simply a report that details your Halal business's actual income. To meet your corporate tax obligations, your company must file the relevant tax forms (such as Form C, Form C-S, or Form C-S Lite).
The filing deadline for these forms is November 30th. Once you have submitted your tax returns, IRAS will review them and assess the tax amount. By May 31st of the following year, you will receive Notices of Assessment from IRAS, specifying the assessed tax amount.
Your business must ensure prompt payment within the given timeframe mentioned in the Notices.
Final thought
In conclusion, incorporating your business with Halal certification in Singapore is a smart move that can drive your success in the thriving global Halal market. Don't miss out on the immense opportunities it offers to access a growing customer base, build trust, and expand your business internationally.
If you are ready to embark on this journey, BBCIncorp is here to support you every step of the way. Drop us a message via email at service@bbcincorp.com to discuss your business incorporation needs further. Let BBCIncorp is your trusted partner in incorporating your Singapore company.
Disclaimer: While BBCIncorp strives to make the information on this website as timely and accurate as possible, the information itself is for reference purposes only. You should not substitute the information provided in this article for competent legal advice. Feel free to contact BBCIncorp's customer services for advice on your specific cases.
Share this article
Get helpful tips and info from our newsletter!
Stay in the know and be empowered with our strategic how-tos, resources, and guidelines.