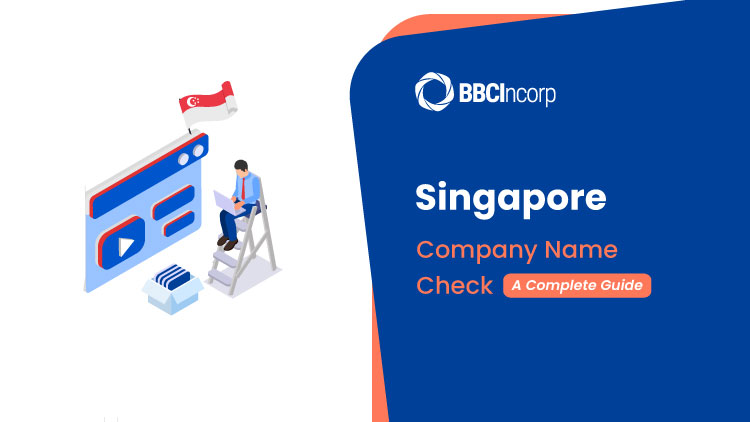 An important part of setting up your business in Singapore is ensuring that the proposed name is available for registration and is legally acceptable.
Checking and verifying names is important to avoid using prohibited or duplicated names that may damage your reputation or result in legal issues. Additionally, having a unique and distinguishable Singapore company name can set your business apart from competitors and establish brand recognition.
Through this article, we'll provide a step-by-step guide on how to conduct a company name check in Singapore, including what information you need to gather and where to find it.
Why conducting a company name check is important
A thorough check of a company's name is an important step in establishing a successful company. Your company name defines its brand identity and can significantly influence its growth prospects.
That is why the company name search and check step in Singapore should be undertaken with the utmost care and diligence to avoid potential legal and financial consequences of choosing a prohibited or identical company name, as it can lead to severe trademark infringement claims.
Your business's reputation will be adversely affected by such legal issues, which are undoubtedly time-consuming, costly, and discouraging. Especially in Singapore, there are laws and regulations governing the use of company names before the company registration process can be completed. You might not even be able to successfully register your company.
Words that do not qualify as sufficiently different
If you try to add words to differentiate your proposed name from the registered entity, be aware that several of them (e.g. Incorporated, Worldwide, Trading, and more) might be disregarded during ACRA's assessment. For instance, Great Restaurant Pte Ltd and Great Restaurant International Pte Ltd are NOT considered distinct enough for registration.
Take another case into consideration, your business name is approved and the company has been running for a while but then faces a lawsuit from another business due to trademark infringement, what will happen then?
There is a high possibility that your company will have to change its name, which involves rebranding and making adjustments to all associated materials, such as business cards and letterheads. You may also lose your existing customers and have difficulty attracting new ones due to confusion over the name.
Furthermore, conducting a company name check properly will protect your brand identity and reputation from being stolen by competitors. Thus the benefit of a uniquely-generated brand name is that it also guarantees to make marketing your business easier through various channels, such as social media, search engines, and advertising.
A fitting one-of-a-kind company name can be a valuable asset for your business, and conducting a company name check is an important step in securing that asset.
Tips
For entrepreneurs who are still debating on the Singapore company name for the business, how about giving our Name Generator Tool a try? Discover short, catchy names for your long-awaited company within a few clicks!
Requirements for a Singapore company name
The Accounting and Corporate Regulatory Authority (ACRA) governs the registration of company names in Singapore and has established guidelines that businesses must comply with when choosing a name.
However, the ACRA may still reject your proposed company name even if it has never been registered before due to other criteria, such as the existence of prohibited words or misleading condiments. Several commonly-known requirements include:
Not identical or too similar to other companies' names
The proposed name must be distinctive and unique among various companies in the market.
No prohibited or undesirable words
No vulgar or offensive language, nor should the name be associated with any illegal activities or unethical practices. The list of prohibited words tends to include terms that are obscene, offensive, or contrary to public policy.
In addition, certain words are reserved for use by government bodies or statutory boards and cannot be used by private companies (e.g. "Singapore", "National", "Central", etc.)
The company name should not create a false impression about your business's nature or scope.
Let's say your company is named "ABC Expert Law Consultant". The name suggests that your company has a team of legal experts who provide legal consultation and advice to clients.
However, if the company does not have qualified lawyers or consultants, and instead only provides general consultancy, the name "ABC Expert Law Consultant" does not accurately reflect the business nature and could lead to misunderstandings and distrust among customers.
Having appropriate suffixes
When selecting a name for your company, it is essential to carefully consider whether a suffix is required to indicate its legal status. The appropriate use of a suffix is important to comply with Singapore's regulations and accurately communicate the structure of your company.
A private limited company must end its name with "Private Limited," while a public limited company must end its name with "Limited.
Once a company name is selected, it must be approved by ACRA before the business can register. The approval process usually takes only one working day.
By taking the time to conduct a thorough name check and considering the legal and cultural implications of the name, businesses can ensure that their chosen name will be suitable to establish a strong brand identity and attract customers.
Additional approval from relevant authorities for regulated names
If your company wishes to include regulated words (words or phrases that suggest a particular business activity, industry, or profession, subject to government regulation or supervision) in its name, it must receive additional approval from the relevant authorities.
For instance, using the word "school" in a company name requires approval from the Ministry of Education, while "bank" requires approval from the Monetary Authority of Singapore.
Other examples of restricted words or phrases in Singapore include "finance," "law," "media," "Singapore", etc. Accordingly, these words can only be used with permission from the Monetary Authority of Singapore, the Ministry of Law, or the Infocomm Media Development Authority.
Step-by-step guide to conducting a company name check and registration in Singapore
ACRA has put in place a comprehensive set of guidelines and regulations for the company name search process to ensure that company names are distinctive, suitable, and in compliance with legal requirements.
Step 1: Choose your company name
Visit the ACRA website and ensure that the proposed company name is not prohibited as stated in the Choosing a name section, as per the law. For instance, names containing "Temasek" are not available for registration. Refer to the requirements section above for more information.
Step 2: Conduct a name availability search
Simply type your proposed business name into the search bar at the top of the BizFile+ portal, then click "Search." to start an ACRA company name search.
If the name has already been registered, you will need to try again with alternatives, which should be prepared in advance. A good rule of thumb is to prepare at least three to five distinct and memorable alternative names.
Step 3: Reserve the name
To reserve the company name, you can submit a name reservation application through BizFile+. After your application is approved, the ACRA will reserve the name for only 120 days, during which time your business must complete the company registration process. The process can be done online through the BizFile+ portal as well and requires payment of a $15 fee.
Step 4: Register the company with the reserved name
The Singapore company registration process involves submitting the necessary documents and paying the required fees to ACRA. The documents typically consist of the company's constitution, particulars of the directors and shareholders, and details of the registered office address.
After that, ACRA will review the application and issue a certificate of incorporation if all requirements are met. The certificate of incorporation confirms that the company has been legally registered and is authorized to conduct business in Singapore.
Step 5: Apply for any necessary licenses and permits
Depending on the nature of the business, additional licenses and permits may be required before operations can begin. Research and apply for any necessary documents from the relevant authorities.
For example, retail businesses, such as those selling alcohol, tobacco, or pharmaceuticals, must obtain the necessary licenses and permits from the Health Sciences Authority (HSA).
Step 6: Apply for your trademarks (if any)
Registering a trademark for your Singapore company requires submitting an application to the Intellectual Property Office of Singapore (IPOS). If the application is successful, your business will be receiving a certificate of registration.
It is important to note that trademark protection is not automatic and must be actively maintained, so you have to renew your registration occasionally and monitor for any infringement or unauthorized use of your trademark.
Helpful Tool For ACRA Name Check
If you are uncertain about the availability of your company name, feel free to seek professional advice from our team, or simply give our intensive Singapore Company Name Check a try to find out whether you can register that name.
What happens to a Singapore company when its name violates the regulations?
If a company's name is found to violate the regulations, ACRA may reject the application for registration or request that the company change its name. The company will need to submit a new name for approval and repeat the registration process, which can result in a delay in setting up the business.
In some cases, the company may also face legal action from third parties claiming that its name infringes on its intellectual property rights. In addition, the company would face reputational damage and loss of business if it had to change its name and rebrand itself.
The ACRA highlights the importance of conducting thorough research on existing trademarks and ensuring that your proposed company name does not infringe on the trademark of another business. Moreover, they underscore the potential legal and financial consequences of not conducting proper name checks and trademark searches.
Get Timely Support For Company Name Check And Incorporation In Singapore
BBCIncorp provides assistance in reviewing your proposed company name through our quick assessment tool, checking its availability with ACRA, and reserving it for your company incorporation.
Once the name is reserved, we will proceed to assist you with the remaining incorporation requirements (e.g. corporate secretary, registered address, nominee director, and more). On top of that, the company registration process can be completed online through e-filing.
Get in touch with us now or visit our Singapore company incorporation site for more references.
Conclusion
In conclusion, conducting a company name check in Singapore is crucial for any business looking to operate in the country. Failing to conduct a name check can lead to legal issues, including fines and even the forced closure of the business.
As seen in practical cases, trademark infringement and passing off will result in serious lawsuits. Ultimately, taking the time to conduct a name check can save your company from legal and financial complications and pave the way for a compliant business venture in Singapore.
Don't hesitate to consult with us via service@bbcincorp.com in case you are planning to set up a Singapore business, and receive unlimited company name checks along with various benefits for your Singapore company incorporation.
Disclaimer: While BBCIncorp strives to make the information on this website as timely and accurate as possible, the information itself is for reference purposes only. You should not substitute the information provided in this article for competent legal advice. Feel free to contact BBCIncorp's customer services for advice on your specific cases.
Share this article
Get helpful tips and info from our newsletter!
Stay in the know and be empowered with our strategic how-tos, resources, and guidelines.